Focal Arche Headphone DAC/Amplifier Review - Get It Before Its Gone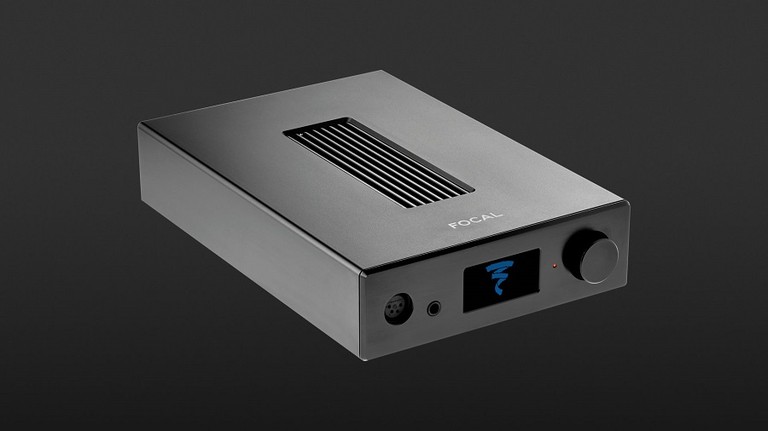 Focal Arche Headphone DAC/Amp
Summary
Specifications
Max Power: 2 x 1W @1kHz into 32 Ω
Frequency Response: 10 Hz to 100 kHz
Total Harmonic Distortion (THD): <0.001%
Signal-to-Noise Ration SNR): > 116 dB @ 32 Ω (Class A)
Power Supply: 85 to 265 Vac / 47 - 63 Hz
Dimensions: (HxLxD) w/ Stand 321x200x297-mm
Dimensions w/o Stand: (H x L x D) without stand 60 x 200 x 297mm
Weight: 10.25 lbs(4.65kg)

Audio Inputs:
Analog: Unbalanced analog RCA
Digital: S/PDIF (TOSLINK and COAX at up to 24 bits/192 kHz) and USB-B 2.0/3.0 (at up to 24 bits/384 kHz and DSD256, AES3-compatible)

Outputs:
Headphone: 6.35mm (1/4") TRS single-ended & 4-pin XLR balanced
Analog: 3-pin XLR balanced, unbalanced analog RCA

Rear Panel Connections
USB Key Input: For firmware revisions.
AC input

Executive Overview
Note: Shortly after we finished writing this review, we were informed that Focal is discontinuing this product. We decided to publish anyway for those still able to purchase a unit before inventory runs out.
To complement its growing line of high-end headphones, Focal launched Arche (pronounced "arch", but with a French accent) an all-in-one pre-amp/DAC & headphone amplifier. All you need is a source and Arche brings the sound to your headphones. Like all of Focal's high-end headphones, Arche is designed and built in France with the same attention to the details that make it a true audiophile-grade system, at an audiophile-grade price. But Arche is no all-in-one trick pony. It brings versatility with an array of ins/outs that let it fill a variety of roles in your hi-fi stereo system. Arche's internal circuitry was designed with an emphasis on purity across the signal path, regardless of how you use it. Arche can fill in as a dedicated DAC/preamp for your home stereo, or be used as a separate headphone amplifier for pure class-A 2x1 W @32-ohm performance. Any way you use it, Arche was designed to be a no-compromises component.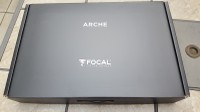 Focal Arche BoxI was surprised to see Arche released under the Focal brand, as the company is known more for making audiophile-grade drivers, speakers and headphones than the components that drive them. But Focal had help, the unit was designed for Focal by Micromega another audio company based in France. The surprise to me was that it wasn't designed by NAIM Audio. NAIM is Focal's sister company that released the widely well-regarded headphone DAC/Amp, DAC-V1 back in 2013, that's since been discontinued. We might have expected to see a NAIM successor headphone amp in collaboration with Focal. One of the stated goals of the Focal/NAIM merger back in 2011 (both under the VerVent Audio Group) was to produce "synergy" between the two. The most recent collaboration was a series of Bentley-branded audio products.
My guess is that Focal turned to Micromega rather than NAIM in order to hit a slightly more consumer friendly price-point. But Micromega has the right experience in headphone DAC/amp design, its own headphone peripherals include the MyZic and MyDAC and both are known for hi-fi quality at a reasonable price. Since NAIM's DAC-V1 was released at a retail price of about $1,000 more than Arche, the Focal faithful may be thankful for Micromega stepping in. But regardless of what might have been, Arche is its own original product and may even be a worthy spiritual successor to the DAC-V1.
Design Fit and Finish
Arche comes exclusively in a flat-black finish, with a sturdy aluminum housing and 10.25 lbs of heft. At just over 2-inches tall (minus the optional headphone stand), 8-inches wide and 11.5-inches deep, it's large for a headphone amp but smaller than your average audio component. Viewed from the front, Arche has the clean, uncluttered design of a low-profile/high-tech monolith that's sure to make the heart of any high-performance audio fan skip a beat. A monochrome digital display in the center is flanked by a multi-function control dial and headphone outputs. Head-outs include your choice of balanced 4-pin XLR or a ¼-inch/6.35-mm. When powered up, the screen maintains the clean theme by displaying only the volume level and selected input. A twist of the dial to turn the music up or down adds the current sample-rate whenever Arche's DACs are in use.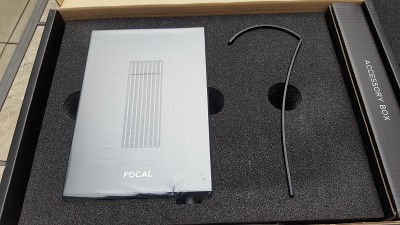 Arche's menu system is intuitive and easily navigated using the push-button/dial. A double press volume dial gets you into the controls where you can select Input, Gain, Phase and some interesting Amplifier output settings (more on those later). Extras include a screen brightness adjustment and optional kill-setting for the sleep feature that puts Arche into standby when not in use.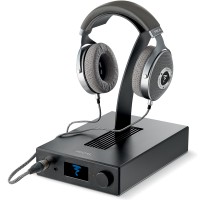 Along the back of the unit, Arche looks as busy as the front looks clean. This is where you'll find an array of input/outputs, master power switch, AC-in and a USB thumb-drive port for firmware updates. The connections in the rear are neatly organized by input and output to keep hook-ups intuitive and painless.
This wouldn't be a Focal if it didn't introduce a unique design element for artistic appeal. For Arche it's an optional headphone stand that fits securely into the heat vent on top. No, it won't interfere with heat dissipation, your cans rest high enough for plenty of ventilation. The addition of the headphone stand raises the height of Arche to about 12.5-inches, so don't plan on using it in a tight space. The stand, standing all alone without a pair of headphones is curved so as to mimic the Focal logo. It turns out the Focal logo is the perfect shape upon which to rest a pair of headphones—who knew? Using the stand to hang your favorite headphones turns Arche into a tempting display of your headphone hi-fi system that beckons you to listen, again and again.
Features

I think any audiophile will agree, Arche's most important feature-set is its versatility in a consistent design philosophy that places a premium on signal purity, regardless of how you use it. As a single component, Arche is a pre-amp/DAC and Class-A headphone amplifier. But added to an existing system it can fill the role of either preamp/DAC or headphone amp. Focal says that Arche "respects" the incoming digital or analog signal from input all the way to the output, I like Focal's use of that word - respect!
All-In-One

Focal recommends using Arche as your all-in-one solution to power-up your headphones from a digital source. Your incoming digital signal is treated to two separate 32-bit AK4490 DACs in separate but balanced signal paths all the way to Acrhe's dual mono class-A amplifiers before going to your headphone jack. You get maximum transparency from source to headphones with no extraneous EQ'ing, signal processing or conversions, Arche's goal is the purest rendition of the source signal. That's respect!
In a Stack

When using Arche as a DAC/preamp, high-quality AKM DACs provide processing power capable of decoding PCM up to 384kHz, and DSD 256 in separate, balanced signal paths that can be sent to another dedicated headphone amp or a home stereo system via balanced or RCA outputs. You can also just use its class-A amps for your headphones using an external DAC and Arche employs the same dual mono signal path construction. Using the analog L/R RCA inputs directly from your turntable's output can be a great way for vinyl fans to achieve an intimacy with every groove in your record.
At Arche's price and status as a premium audio product I feel it's justified to point out some minor nitpicks, so here are mine.
Nitpicks

Arche includes balanced XLR outputs that can be used to connect to another amplifier, it also has a balanced headphone cable output in the front, but there are no balanced XLR inputs, only RCA. Balanced XLR ins would come in handy when using Arche as a separate headphone amp for an external DAC with balanced XLR outs. You could point out that balanced XLR inputs wouldn't make a discernible difference in sound quality over Arche's RCA inputs, and you'd make a good point. I'm certainly not the one to extol the superiority of balanced connectors, unless they're employed to solve a specific problem. Personally, I remain skeptical of sound quality advantages using balanced headphone cables and interconnects in the short runs between stacked separate components. But it's become a headphone trend in recent years and Focal wisely listened and included balanced XLR options in Arche, giving it a competitive advantage in today's hi-fi headphone market. But I don't believe I can actually hear the problem balanced cables were meant to solve (noise/electromagnetic interference) while using old fashioned RCA connectors and a quarter-inch jack for my headphones. But if it's available you can bet I'll use it! Does that make me a hypocrite? I have no idea where they'd fit when you look at Arche's back (below), but for consistency's sake I would have liked to see it include balanced XLR inputs.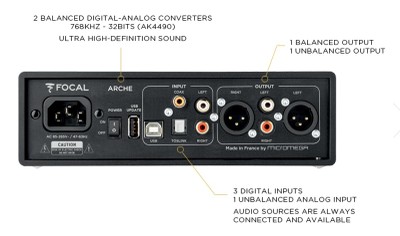 The other nitpick might be in Arche forgoing the modular design used in other high-end DACs that could allow for future DAC upgradability. Not that there's anything wrong with Arche's pair of 32-bit AKM DACs. A 32-bit DAC is already more than needed for most of our high-res music files that tend to top-out at 24-bit, and efforts to "future proof" consumer electronics are usually futile. But it would be interesting to be able to swap out DACs the way tube collectors swap out tubes in their amps for their different sound properties. Perhaps there's even a market out there that would want to collect 'em all!
Amplifier Presets

Arche's emphasis on signal purity and uncomplicated circuitry begs the question, what exactly do the Focal headphone presets do? From the Amplifier menu you can select one of five different high-end Focal headphones: Clear, Elear, Elegia, Stellia, and Utopia. For your non-Focal, civilian headphones there are two available presets: Voltage and Hybrid.
We know that the Focal headphone presets aren't EQing or adding effects to the sound profile as this would detract from Arche's emphasis on transparency. But Focal website is light on the specific details about the presets for each headphone. So, I asked Focal about the presets and here's what a rep told me:
"Within the Arche, we have different settings for each of the high-end Focal headphones. This was introduced into the Arche because most of the models have different impedances and would not necessarily perform optimally if we had a single setting. With these individual settings, we are able to impedance match the Arche to each one of the different headphones. This is not an EQ or DSP placed in the audio chain in front of the amplifiers, but rather an impedance correction circuit placed after the amplifiers, thus not changing the sound. As Focal releases new models of high-end headphones (eg. Radiance), a simple firmware update through the rear USB, allows us to upload the new models into the directory."
This leads us to the Voltage and Hybrid presets. Focal says Voltage-mode is designed to give the amplifier a "tube-like" sound quality while Hybrid provides a more conventional solid-state amplifier sound.
Here is what the same representative from Focal told me about Hybrid vs. Voltage settings:
"Hybrid means that the amplifier will be combining features of both voltage and current amplifier. The aim of offering different types of amplifiers within Arche is to allow the user to always find the most suitable amplifier depending on the headphones they are using as well as his personal preferences."
Amplifier Modes

I experimented with some of the presets using Focal own Stellia and Clear, as well as some of my own headphones and to be honest, comparing respective presets with Hybrid mode didn't present much if any difference to my ears. What did make an audible difference however was Voltage-mode. Voltage is the "tube-like" setting and as one might expect, Arche seemed to gently lean-in to the upper midrange. Acoustic and electric guitars were a little more noticeable in Voltage mode. At higher volumes it can even seem a little grainy, which could be a consequence of using older classic rock recordings, some of which were presented in Tidal's high-res MQA format. But that didn't detract from the listening experience, it was just a little different. Although, I found myself avoiding Voltage mode for most recreational listening, preferring instead to use Focal's cans in their preset and Hybrid mode with my own headphones. The exception was using my Fostex TH-X00 Purplehearts, while not clearly superior in Voltage-mode, it added a different dimension to them, possibly a result of the Fostex being very bass-heavy cans.
In summary, the Amplifier menu settings are definitely a plus for Arche, but not a necessity. If you love to tweak your sound to discover what works best, Arche's presets will provide that extra bit of entertainment, but they won't perform a wholesale transformation to your headphones or source material. Arche was designed for transparency and overall it seems to accomplish its goal of bringing out the performance of your headphones and sources. For more subjective listening details, check out my review of Focal's Stellia.
Conclusion

Arche is a serious component for a serious price that puts its design details in just the right places. Its refreshingly simple construction, built around two discrete class-A amplifiers and an excellent pair of DACs makes it a sound choice for any audiophile. But is it worth the price?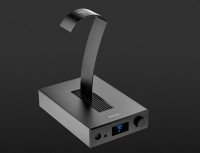 Retailing at $2,500 as much as I love it, I have to admit that the price is a little too much for me to wholeheartedly recommend. Comparable sound quality can be had for less if you shop around. But with Arche now in the headphone market, the law of diminishing returns would suggest there is little reason to spend any more. If Arche's on your list of contenders for your next headphone amp or you're looking to enter the hi-fi headphone world with out-of-the-box top-tier quality, you should be on the lookout for limited-time deals or bundles offered by Focal. Saving a little on Arche could go a long way in making it great buy. We'll post any specials on Focal products that we find out about on Audioholics social media channels.
Don't be too distracted by the Focal headphone presets, even if you own Focal headphones, it's a nice-to-have feature but I wouldn't call it a must-have. That said, Arche could easily replace all of my "mid-tier" stacks and be the only headphone component I owned and I would not complain, whether I owned any Focal headphones or not.
Arche strikes the right balance of power and versatility to find a home, with any headphone. If you already own multiple headphone components and enjoy testing different input/output configurations, all the better! One of the joys of spending time with Arche was testing it out as an amp with another DAC and vice-versa. As a highly revealing DAC/amp of this quality, it will illuminate both the best and worst in your headphones and source music. So if you own a pair of high-end headphones and some high-quality digital or analog recordings Arche will help you make beautiful music together.

Confused about what AV Gear to buy or how to set it up? Join our Exclusive Audioholics E-Book Membership Program!