Cambridge Audio's Evo Streaming Amps Deliver Great Design and All-In-One Convenience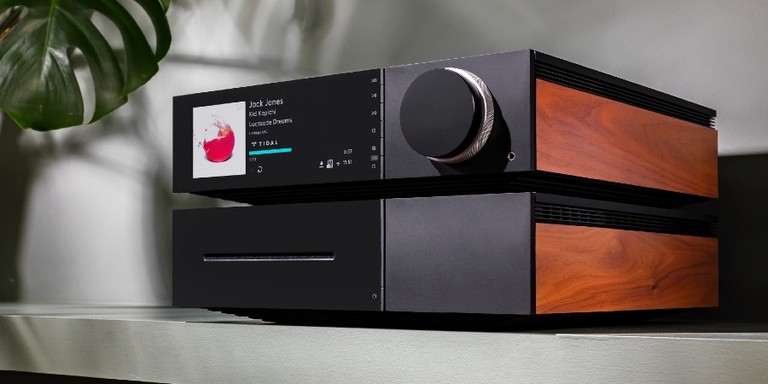 Cambridge Audio Evo
Summary
Cambridge Audio Evo 75
Power Output: 75W into 8 Ohms
Frequency Response: 20Hz – 20kHz +0/-3dB
Dimensions (W x H x D): 12.5" x 3.5" x 13.9"
Weight: 11 lbs
Cambridge Audio Evo 150
Power Output: 150W into 8 Ohms
Frequency Response: 20Hz – 20kHz +0/-3dB
Dimensions (W x H x D): 12.5" x 3.5" x 13.9"
Weight: 11.7 lbs
Executive Overview
Audiophilia can be a lonely hobby. I'm blessed with a lot of wonderful friends, but not one of them has ever picked up a copy of Stereophile, or watched a YouTube video about an amplifier. Some of them are big music lovers, though. Justin is a professional guitarist with a massive record collection. Hannah is a music analyst at Pandora, and plays violin in no fewer than three different bands. Sarah is a professional singer in a vocal ensemble that sells out shows all over the world. But they just aren't interested in high-performance audio. I've preached and proselytized, but to no avail. I've occasionally convinced a friend to attend an audio show, or to come with me to check out the latest megabuck speaker from Wilson or Magico at a retailer's launch event, but I'm still the only card-carrying audiophile in the bunch. The weird thing is that when I first heard about Cambridge Audio's new Evo integrated amps, I immediately thought of several friends who would absolutely love them. These are folks who have never heard of Cambridge Audio, and who don't even know what an integrated amp is. But they would be the perfect customers for Cambridge, if the brand could just reach them somehow. My friends are mostly in their 30s, with a bit more disposable income than they used to have. They love music, but they don't want a complicated mess of components and cables. These days, they listen on laptops, bluetooth speakers, or maybe the occasional Sonos speaker — in mono — but they're old enough to remember that their parents' big stereos from the 1980s made music more fun to listen to. Given some nudging, they might be willing to invest in a piece of music playback gear, if and only if, it satisfies the following important criteria:
1.    It must have a simple, user-friendly interface that can be controlled with a smartphone or tablet.
2.    It must work with Spotify, Apple Music, podcasts, and the like.
3.    It must be small and attractive.

Cambridge Audio's new Evo amps satisfy all three. So what exactly has Cambridge concocted with its newest range of audio electronics? So far, the lineup consists of two all-in-one streaming amps, the Evo 75 ($2,250) and the Evo 150 ($3,000). With these snazzy-looking devices, the company aimed to create "hi-fi ready for today, able to fit into your lifestyle, and made to look as good as it sounds." This ambitious goal was realized by combining "timeless design, cutting edge technology, streaming smarts, and incredible audio performance into one streamlined and compact box." Sharing the same design and tidy dimensions (12.5" wide x 3.5" tall x 13.9" deep), the Evo amps — or "All-in-One Players" as Cambridge calls them — are built around the company's own StreamMagic platform, which has been in constant development for over a decade. The platform currently offers support for pretty much every digital streaming source under the sun, including Roon, MQA, Spotify Connect, Tidal Connect, Qobuz, Apple AirPlay 2, Google Chromecast — you name it. According to Cambridge, the platform is also flexible enough to "adapt to whatever the future may bring." Even video sources are covered with the Evo — simply connect your TV's HDMI ARC output to the amp's ARC input. These sources are fed to an ESS-based DAC (the Evo 75 uses the ESS Sabre ES9016K2M, while the Evo 150 bumps up to the ES9018K2M), and the resultant analog signal makes its way through a custom-designed preamp stage that reportedly provides just enough special sauce to make the units fit into Cambridge's house sound. From there, the Hypex NCore Class D power amp section takes over, providing either 75 watts per channel, in the case of the Evo 75, or twice that (150wpc), in the case of the Evo 150. The user simply adds whatever speakers best suit the room, and that's that.
Of course, Cambridge is not the first audio company to build a product like the Evo. The Naim Uniti Atom ($3,290) leaps to mind, along with NAD's M10 ($2,750) and its larger sibling, the M33 ($5,000). One thing that makes the Evo stand out is its industrial design, which pays homage to Cambridge's first ever product from 1968, the iconic P40 amp. For my money, the Evo is the best-looking of the bunch, thanks in no small part to the beautiful walnut side panels (inspired by the P40), which lend a little warmth, color, and class to an otherwise contemporary design. I think the black anodized aluminum cabinet and glass-clad 6.8-inch high-resolution display contrast nicely with those walnut panels, but if wood's not your thing, a second set of side panels comes included in the box. The user can easily swap out the walnut and install these alternate panels, which eschew the wood's classic vibe in favor of a more futuristic feel. Made from an innovative new material called Richlite (which is composed mainly of recycled paper) these black panels have a textured, 3D wave pattern that is undeniably cool. The Evo's lead designer, Ged Martin, focused on simplicity and strove to achieve a timeless aesthetic that would endure for many years. Hat's off to you, Ged.
Underneath that attractive exterior, Cambridge has crammed an awful lot of functionality. In order to achieve a small form-factor without compromising on connectivity or features, Cambridge's engineers turned to Class D amplification — for the first time ever. Frankly, it's hard to believe that Cambridge made it to 2021 without building a Class D amp, especially when you consider that companies like NAD and Marantz have been on the Class D bandwagon for years now. Cambridge chose the Hypex NCore power modules not only for their efficiency and versatility, but also for their audio performance, citing the NCore's "clear advantages in clarity, resolution, and musicality," and concluding that "it's a big part of what makes Evo such an enjoyable listen." In an interview with What Hi-Fi?, Cambridge Audio's managing director, Stuart George, had this to say about the decision to embrace Class D:
The objective with Evo was to use a much smaller footprint, so we knew we had to go somewhere with Class D. The technology has been around for a while, of varying quality, but over the last few years, it has reached a level where our engineers were saying we had to use it. And Evo was the perfect way for us to do that, with its small form factor and energy efficiency. Hypex is a smart solution; it's a versatile solution. It's good at delivering performance and output in a way that it can handle the varying resistance and impedance in different speaker types.
— Stuart George, Managing Director of Cambridge Audio
For many users, the Evo amps will likely stand alone, tethered only to a power outlet and a pair of speakers. But for those with a CD player, turntable, or other audio source, Evo provides an impressive array of inputs. In addition to the aforementioned HDMI ARC input, digital inputs include optical, and coaxial on the Evo 75, plus an asynchronous USB input on the Evo 150. Bluetooth fans can both send and receive aptX HD signals, so a visiting friend can stream tunes to the Evo from a smartphone during the day, and at night, you can broadcast a signal from the Evo to your wireless headphones. A 3.5mm headphone socket lets you go old school, if you prefer. On the analog side of things, the Evo 75 includes an aux input on RCA jacks, plus a 3.5mm analog input labeled CD. A set of preamp outputs and a mono subwoofer output are also on RCA. The Evo 150 includes all of that, plus an additional line input on XLR for balanced gear, and a MM phono input for a turntable.
At Cambridge Audio, we think evolution is about even more than improving the quality of the sound you hear and enhancing your enjoyment of music. Evolution is also about transforming the convenience and usability of hi-fi without compromising its performance. Evo is the product we've been leading up to for over 50 years.
— Stuart George
What Speakers to Pair the Cambridge Evo With?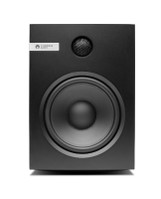 Both Evo amps are available now. Later this year, Cambridge will be adding to the Evo range with a matching CD transport ($950) and a set of fairly pedestrian-looking bookshelf speakers called the Evo S ($750/pair). It would have been nice to see Cambridge aim a little higher with the matching speakers — their physical design is clean, but nothing special, and at $750 they probably won't show off everything that the Evo amps can do. Someone who just dropped 2 to 3 grand on an Evo amp would be better served by going with a more ambitious loudspeaker. I can imagine many Evo buyers being attracted to compact 2-way designs, like the KEF LS50 Meta ($1,500/pair), but a slim tower speaker, such as the Totem Tribe Tower ($5,500/pair) or Elac's Carina floor-standers ($2,600/pair), might not be out of the question. The retro-inspired wood on the Evo would also look right at home next to a pair of JBL L100 Classic speakers ($4,000/pair). And while I'm splitting hairs, I would have liked to see Cambridge include a room correction solution (NAD's M10 and M33 have Dirac built in), especially since many Evo buyers will likely stick their speakers where they look best in the room, and not necessarily where they sound the best. I doubt the Evo will find itself in many dedicated listening rooms with acoustical room treatment. That said, setting up Dirac is fairly technical, and not something that my non-audiophile friends would even think to do. The Evo is all about ease of use. In fact, I think many jaded audiophiles might be quick to dismiss the Evo as a mere "lifestyle" product. According to Stuart George, that would be a mistake. "I can accept the word 'lifestyle,'" he said. "But this is a proper hi-fi product."

Unless otherwise indicated, this is a preview article for the featured product. A formal review may or may not follow in the future.
Confused about what AV Gear to buy or how to set it up? Join our Exclusive Audioholics E-Book Membership Program!