New NAD Masters Series Employ Revolutionary Class D Amplifier Technology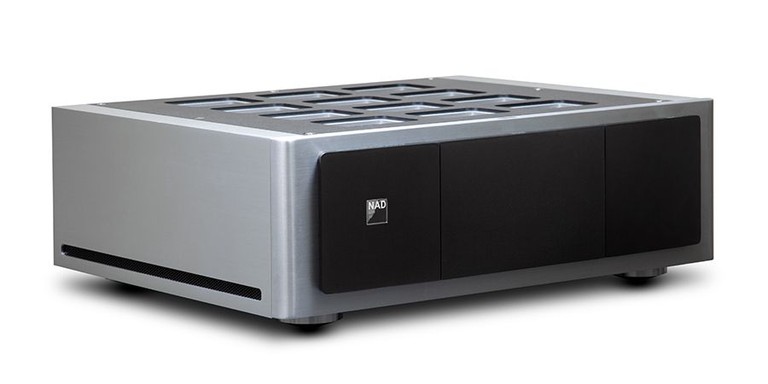 NAD Bruno Putzeys M28 Amp
Summary
NAD M33 stereo integrated streaming amp
Output Power: >200 W into 8 ohms, >380 W into 4 ohms, both channels driven
Frequency response: ±0.2 dB (20 Hz -20 kHz)
THD (20 Hz – 20 kHz): <0.003 % (1W to 200 W, 8 ohms and 4 ohms)
Dimensions (W x H x D): 17 1/8 x 5 1/4 x 15 5/8 inches
Weight: 21.4 lb
NAD M28 seven-channel power amplifier
Output Power: >200 W into 8 ohms, >340 W into 4 ohms, all channels driven
Frequency response: ± 0.1 dB (ref. 20 Hz - 20 kHz)
THD (20 Hz – 20 kHz): ≤0.003 %
Dimensions (W x H x D): 17 3/16 x 6 3/16 x 15 inches
Weight: 46.7 lbs
Executive Overview
NAD just launched two new products to refresh the brand's high-end Masters Series. The M33 stereo integrated streaming amp ($4,999) and the M28 seven-channel power amp (also $4,999) both employ a cutting-edge amplifier technology designed by Class D guru Bruno Putzeys. The Purifi "Eigentakt" (self-clocking) amplifier modules are a refinement of, and evolutionary leap forward from the Hypex NCore technology used in previous NAD Hybrid Digital amp designs. The Eigentakt circuit reportedly makes the amplifier's response indifferent to speaker load and volume level by taking into account previously unknown effects of the output filter in the feedback loop. It's a complex design, but that's to be expected from a technical wiz like Bruno.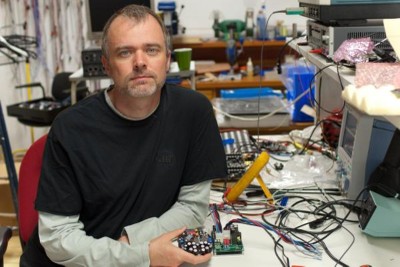 We've been fortunate enough to have Mr. Putzeys share some of his knowledge with the Audioholics community via a number of insightful articles over the years, including this recent piece on negative feedback in amplifier design. But even if you haven't been keeping up with his contributions to Audioholics, you're almost certainly familiar with some of the products that have resulted from Bruno's work. Back in 2001, while working at Philips Applied Technologies in Belgium, Putzeys designed the compact UcD (Universal Class-D) amplifier module, which became the most widely used Class-D amplifier in the industry. The audiophile-favorite Hypex NCore amps he developed a few years later built upon the UcD platform with many improvements, including better load-independence, lower distortion, and lower output impedance. The list of audio manufacturers that have used these designs in their products reads like a veritable hall of fame of high-end audio, including NAD, ATI, Yamaha, Marantz, Bowers & Wilkins, Meridian, Bel Canto, Rogue Audio, Mola Mola, Jeff Rowland Design Group, Theta Digital, and Kharma — just to name a few.
In 2014, Putzeys and his fellow industry veterans Lars Risbo and Peter Lyngdorf founded a new company based in Denmark called Purifi, with a focus on "developing and verifying accurate mathematical models to solve problems in analog and digital sound reproduction." The first commercial product to materialize from Purifi is the aforementioned Eigentakt amplifier module, which the company describes as "the result of years of research… into the self-oscillation behaviors in Class-D amplifiers with algorithms that, when applied in control loops, improve existing designs by an order of magnitude or more." Purifi claims that the Eigentakt circuit outperforms any existing amplifier, regardless of technology or class, "with THD and IMD quoted as below 0.00017% at all frequencies and power levels, and the frequency response in the audio band remains within +/- 0.01 dB under all load conditions." NAD is among the first mainstream audio manufacturers to license this ultra-quiet amplifier module from Purifi, but it certainly won't be the last.
The Eigentakt technology is unique. Amplifiers carrying the technology will be exceedingly indifferent to speaker load, volume level, and signal content, resulting in negligible THD and IMD levels, and will feature exceptionally clean clipping.
— Bruno Putzeys
New NAD!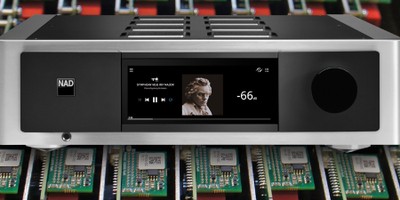 The new NAD M33 is a muscular integrated amplifier with a minimum of 200 watts per channel into 8Ω and 380 watts per channel into 4Ω. Thanks to the high-power, low-noise Purifi Eigentakt amplifier design, the M33 should be suitable for driving everything from high-sensitivity horns to current-hungry Magnepans. NAD claims that the M33's measured performance "exceeds the capability of even the most sensitive and sophisticated test equipment available." While impressive on paper, this measured performance translates in the real world to an astounding level of detail and transparency, but with no listener fatigue, according to NAD. The M33 is described as sounding natural and relaxed, delivering "a smooth flow of music with amazing spatial delineation and natural ambiance recovery." In addition to great sound, the M33 offers an exhaustive list of features, including a 7-inch Gorilla Glass touchscreen, BluOS multi-room streaming with Apple AirPlay 2 and aptX HD bluetooth, a 32-bit ESS 9028 Sabre DAC with full MQA decoding, and Dirac room correction with up to 5 memory profiles. The only buzzword feature lacking on the M33 is Roon Ready certification, though that may come in a future firmware update. Like many other NAD products, the M33 takes advantage of the company's MDC (Modular Design Construction) scheme, fending off the risk of future obsolescence with two MDC expansion slots, which allow the user to add new features and technologies as they become available, even many years after a product's introduction. At launch, the M33 sports six digital inputs, including HDMI eARC, and three analog inputs, including a balanced XLR input and a dedicated phono input with accommodation for both moving-magnet and moving-coil cartridges. In addition to two pairs of high-quality binding posts, the M33 has dual independent subwoofer outputs with a fully configurable digital crossover and compatibility with Dirac's advanced bass management system. NAD says the M33 works with all the leading smart home systems, including those from Crestron, Control4, Lutron, KNX, and many others.
The NAD Masters M33 is a true state-of-the-art audiophile amplifier in the traditional sense yet with a distinct difference: At the same time, it fully caters to the modern world where the majority of music is delivered over the internet with an entire catalogue of recorded music readily available at your fingertips. This is obviously a wonderful convenience. Then, the M33's ability to distribute that music in a multi-room audio system adds that much more enjoyment, simplicity and value.
— Cas Oostvogel, NAD's Product Manager
While two-channel music fans will gravitate toward the M33, home theater enthusiasts might be more interested in the new M28 seven-channel power amplifier, which is conservatively rated to deliver a minimum of 200 watts per channel into 8Ω and 340 watts per channel into 4Ω, with all channels driven. The Purifi Eigentakt modules used in the M28 allow it to boast a THD rating of just 0.003%, along with a high signal-to-noise ratio and a high damping factor. NAD describes the M28 as the most powerful amplifier in the company's history, with the ability to "follow complex dynamic peaks" in both movies and music, lending enhanced realism to "everything from rim shots to asteroid explosions."
NAD has always been known for great sounding amplifiers that punch way above their weight and the M28 does this at a reference level and then some. Using the Purifi Eigentakt technology, the M28 delivers massive amounts of power with sound quality that has to be experienced to fully appreciate. Even better, NAD engineers have managed to deliver all this performance at a cost less than traditional technology.
— Cas Oostvogel, NAD's Product Manager
1ET400A Purifi Amplifier Module Frequency Response under various load conditions

According to NAD, the Purifi Eigentakt amplifier design offers the M28 a few distinct advantages over other solutions. First, it allows the amp to be essentially "impervious to the loudspeaker load it is presented with, maintaining the same wide and even bandwidth response irrespective of the speaker's impedance, and at the same time providing high current capability." The unique sonic character of the M28 is also preserved even in the (highly unlikely) event that the amplifier is driven into clipping. Unlike many Class D amplifiers, which can become unstable under these circumstances, the Eigentakt circuit exhibits "very analog-like behavior… similar to the benign way of clipping with instant recovery of well-executed traditional Class A/B amplifiers." The list of features on a power amplifier is never likely to wow anyone, but the M28 does have a few notable features nevertheless. It offers both balanced and single-ended line inputs for all seven channels, and locking XLR connectors with "special interface electronics" that reportedly allow for long cable runs without noise pickup or signal loss. The amp is stable into low impedances, so it can be used with a wide range of speakers, including those with 4Ω ratings. Finally, NAD says that the M28 boasts extremely high build-quality, from the surprisingly compact aluminum chassis to the rock-solid binding posts.
Our NAD design team, led by Greg Stidsen, Taresh Vadgama and including the late Bjorn Erik Edvardsen, have maintained a close working relationship with Bruno, Lars, and Peter over the years. Clearly, we all share the same commitment to audio excellence so NAD is pleased and proud to be at the forefront of adopting Purifi's class-leading technology.
— Gordon Simmonds, CEO of NAD's parent company, the Lenbrook Group
Conclusion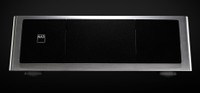 In the near future, we will be seeing more new products from NAD — and from other high-end brands — featuring this new amplifier tech. Bruno Putzeys and his team at Purifi have taken an interesting and methodical approach to solving what they call "the last remaining limitations of audio amplifiers." By seeking out and correcting ostensibly insignificant imperfections in amplifier performance, Purifi aims to make a dramatic difference in overall sound quality. The company's mission of achieving audio perfection via superior technical performance may not be unique, but Purifi's Eigentakt module does seem like the real deal, and Given Bruno Putzeys's track record, it's well-positioned to become the next big thing in Class D amplification.

Confused about what AV Gear to buy or how to set it up? Join our Exclusive Audioholics E-Book Membership Program!