NAD's Masters Series M10 BluOs Streaming Amplifer Does It All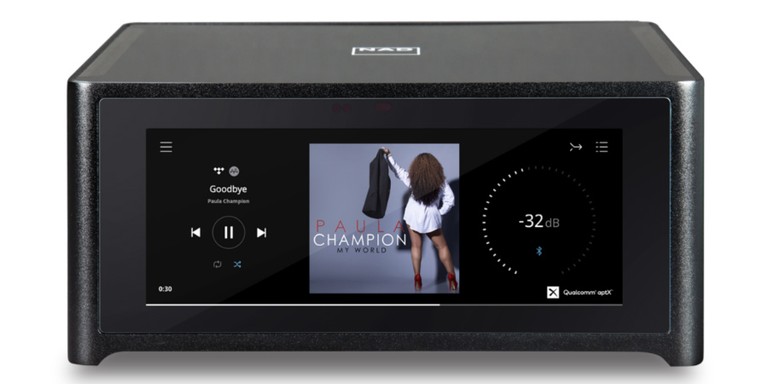 NAD M10 Streaming Amp
Summary
Continuous output power into 8Ω or 4Ω: >100W (20 Hz-20 kHz at <0.03 % THD, 2 ch driven)
Dynamic power: 160 W at 8Ω; 300 W at 4Ω
Frequency response: ±0.6 dB (20 Hz – 20 kHz)
Damping factor: >190 (8 ohms, 20Hz to 6.5kHz)
Dimensions (W x H x D): 8.5 x 3.94 x 10.25 inches
Weight: 11 lbs
Executive Overview
Dirac Research has made a name for itself in the home theater community for its excellent Dirac Live room correction software, which is featured in surround processors and high-end receivers from NAD, Emotiva, Arcam, and many others. But the first time I heard the company's impressive technology in action was actually in the context of a two-channel stereo system. At an audio show several years ago, Peachtree Audio was presenting a simple system comprising an Apple laptop as source, a Peachtree integrated amp, and a pair of Martin Logan Montis hybrid electrostatic speakers. Peachtree's representative, Jonathan Derda (a super nice guy who is now National Sales and Marketing Manager at MoFi Distribution), explained that achieving good bass performance in a hotel room environment was always a challenge, but he had a secret weapon. Sonic Studio's Amarra playback application for the Mac included room correction powered by Dirac. Derda placed the speakers where they sounded best from the midrange on up, and then used Dirac to tame the bass, from about 500Hz down. He gave a brief before-and-after demonstration of the room correction's effects, and the results were truly remarkable. It seemed to me that if audiophiles could make peace with the notion of DSP in the signal path (something many analog purists may never consider), Dirac's tech had the potential to be a game-changer for tackling room acoustics, which has always been one of the trickiest aspects of achieving good sound. Unfortunately, at the time, it wasn't really ready for prime time; it only worked on a Mac running Amarra, and couldn't be applied to any other source component. The user also had to purchase a calibrated microphone from a third party, and needed to be pretty tech-savvy in order to operate the software. Nevertheless, Dirac was clearly onto something special. Fast forward to 2019, and practically all of Dirac's former limitations have vanished. Now the technology has been fully integrated into two stereo hardware products from NAD, with more coming on the horizon. First to arrive was the NAD C 658 BluOS Streaming DAC (originally $1,500 but now $1,649 due to Trump Tariff), which was launched in December of 2018, and just received a software update enabling Dirac Live in the spring of 2019. Next came the subject of this preview, the NAD M10 BluOS Streaming Amplifier ($2,499 but now $2,747 due to Trump Tariff).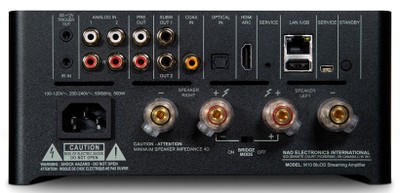 NAD M10 Rear Backpanel - note the dual subwoofer outputs and high quality speaker binding posts

As its name would suggest, the M10 is an all-in-one integrated amp with streaming capabilities built right in. In some ways, it could be described as a lifestyle product. It's small (8.5 x 3.94 x 10.25 inches), sleek, and it provides a simple, one-box audio solution; just add the speakers of your choice and you're good to go. But as part of NAD's high-end Masters Series, the M10 is packed with tech that sets it apart from less expensive all-in-one devices, such as the Sonos Amp ($599), or the Powernode 2i ($799) from NAD's sister brand, Bluesound. From a design perspective, the M10 definitely looks like a premium product. The chassis is made from a single piece of brushed, extruded aluminum, with gently curved edges. The top panel of the unit is covered in Gorilla Glass, as is the front, which is dominated by a 7-inch LCD touchscreen that can display VU meters or album artwork. Most people will seldom touch the M10 though, opting instead to use the free BluOS app, which is available for Android, Apple iOS, desktop computers, and several Smart Home control systems, including Crestron, Control4, and Lutron. Hands-free voice control via Alexa and Siri is also supported. The BluOS system can stream directly from Spotify, Tidal, Qobuz, and many other services, and also supports both Apple's Airplay 2 protocol and Roon. The M10's Bluetooth streaming capability includes support for the latest aptX HD codec, and the amp can also send a Bluetooth signal to wireless headphones. In addition to ethernet, WiFi, and Bluetooth streaming sources, the M10 has three digital inputs (coaxial, optical, and HDMI with eARC), and two line-level analog inputs. Outputs include one pair of high-quality speaker terminals, a set of preamp outs on RCA jacks, and two subwoofer outputs, for which the user can set any low-pass frequency between 40 and 200Hz. (There is no high-pass for the main speakers; they receive a full-range signal whether or not a sub is used.)
NAD M10: Small, But Packs A Punch
The M10's internal DAC is built around a 32-bit/384kHz ESS 9028 Sabre chip, chosen for its "high precision, low noise, and unique jitter reduction circuit," and for its programmable output filter, which allows it to be fine-tuned for MQA certification. The M10 delivers 100 watts of continuous "full disclosure" power per channel (NAD is reliably transparent with power ratings and that's a two channels driven rating), with 160 watts (into 8Ω) and over 300 watts (into 4Ω) of dynamic power on tap. To achieve these numbers from such a small amplifier, NAD uses a Hypex nCore (Class D) amplification stage, which boasts "nearly immeasurable noise and distortion," in addition to high efficiency. The final piece of the M10's puzzle is that built-in Dirac Live room correction, which is now controlled by a user-friendly mobile app, and is set up using a supplied mic. The version included with the M10 allows the user to adjust bass frequencies up to 500Hz, but the full-range version can be purchased as an add-on, as can other Dirac solutions, such as multi-sub management.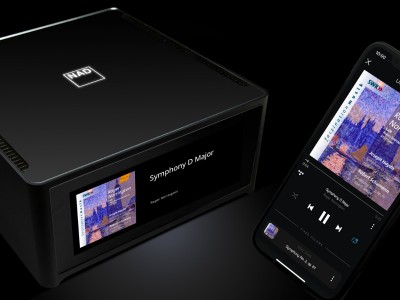 Most of us will never have a custom-designed listening space with room dimensions and building materials chosen for their ideal acoustic properties, and it makes a lot of sense to include a sophisticated room correction system in products like the M10, which will likely be used by people who value style as much as sound quality. But until recently, products like this were a relative rarity. In years past, I have heard just a few compelling room correction demos from specialty audio hardware companies (such as DEQX and Lyngdorf), but now we're starting to see solutions like Dirac Live appear in more mainstream gear. In May of 2019, Arcam announced a new flagship integrated amp called the SA30, which also features Dirac Live. And Anthem's excellent STR Integrated Amplifier features the recently-upgraded ARC Genesis room correction system. Will room correction become a must-have feature for integrated amps moving forward? Share your thoughts in the related forum thread below. 

Confused about what AV Gear to buy or how to set it up? Join our Exclusive Audioholics E-Book Membership Program!
Recent Forum Posts:
davidscott posts on July 02, 2019 19:21
Nice Review. Thanks!
sfseay posts on June 27, 2019 13:25
I bought the M10 about six weeks ago for my full time home office. The room is about 10' x 11' and it is connected to KEF LS50s (just like the guy above). I'm very impressed. It is connected to my wifi and never once have I had issue with stuttering or dropped packets.

it is small, runs cool, and provides all the features and functions I could want or need. Works seamlessly with Roon, sounds great, has tone controls, digital inputs, looks great, and works flawlessly. Purchased it for less than $2200.00 prior to the tariffs going into effect.

Great purchase for a smaller room. A keeper that keeps on giving,
KenM10759 posts on June 26, 2019 06:51
I bought one in February, the day my dealer got their first 2. They use the other as a demo unit, and ordered more the day after I bought and they had a chance to listen to theirs with more speakers and time. They weren't able to get more until about 4 weeks ago!

This unit has proven itself to be everything I needed for my 10'x12' office, paired with KEF LS50's and Kube 10b. I've got it connected directly to my router via Ethernet, though when I demo'd it for a friend it connected to his wireless network without issue.

The first thing I noticed is that the volume control is logarithmic rather than linear, as the Bluesound Powernode 2 it replaced had. It's not capable of ear-splitting volume, though drives the LS50's much louder than I could ever tolerate.

Some users have complained that they forgot to add a headphone output. I don't think the box has room for a separate headphone amp and the port would have to be on the inconvenient back or spoil the look of that cool front panel. I don't need one anyhow.

I know this is Audioholics and will get grief for saying it, but still I think this amp sounds really sweet and better than the Powernode 2. It's probably mostly due to the ESS Sabre 9028 DAC versus the Powernode 2's Burr-Brown PCM5122.

There are many great features I love, but chief among them I'd say the configurable front screen and options are the most useful. I can even check the temperature of each channel's amp.

I love this little box!
gene posts on June 24, 2019 02:19
The small and elegant NAD M10 BluOS Streaming Amplifier is a streamer, dac, and an integrated amp all squeezed into one small and stylish package. The $2,500 M10 features an MQA-capable ESS Sabre DAC and a Hypex nCore amplifier stage delivering 100 real-world watts per channel. Built-in room correction via Dirac Live helps the M10 sound its best even in less than ideal acoustical environments. Read on to learn more.
29928
Read:
NAD M10 BluOS Streaming Amplifier
Post Reply