NAD C 658 Streaming DAC, D 3045 Amplifier/DAC, C 588 Belt-Drive Turntable Preview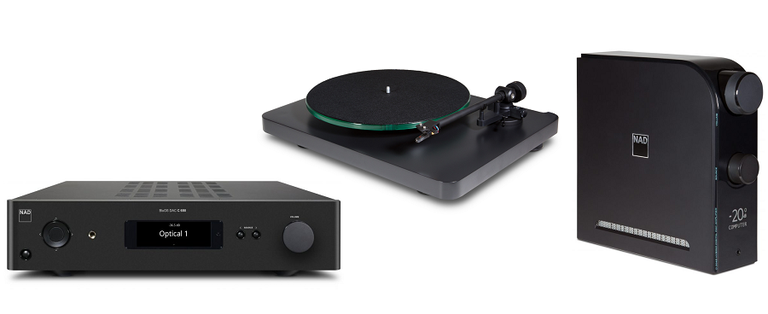 C 658 Streaming DAC, D 3045 Amplifier/DAC, C 588 Belt-drive turntable
Summary
NAD C 658 BluOS enabled Network Streaming DAC

Two-Way Bluetooth aptX HD
Dirac Live Room Correction
DirectDigital DAC- ESS Sabre DAC with MQA Decoding MQA decoding available on all digital inputs
MDC (Modular Design Construction) offers the ability to upgrade to future digital formats as they become available

Two MDC slots provided
High-Quality MM Phono Input Stage
Balanced Preamp Output and Stereo Subwoofer Outputs
High Current Dedicated Headphone Amplifier
CI friendly- RS232 Serial Control Port. Trigger In/Out
IR In with learning function
NAD D 3045 DAC Amplifier
2 x 60W HybridDigital Amplifier
Two-Way Bluetooth powered by Qualcomm aptX HD audio
Asynchronous USB 24/192 Input supports MQA and DSD
HDMI Audio Return Channel Input
Coax and Optical Input
Line Input
High performance Moving Magnet Phono Stage added for vinyl lovers to complement digital connectivity
Preamp and Subwoofer Outputs for additional connection flexibility
Energy-Saving – new design technology consumes less power to operate
Compact footprint – can be used almost anywhere, either vertically or horizontally


NAD C 588 Belt-Drive Turntable

Belt drive with Electronic Speed Control
Precision AC Motor with Isolated AC Power Supply with Universal Voltage
Custom designed 9" carbon fibre tonearm shaft with a fixed metal headshell
Premium quality Ortofon 2M Red cartridge is 8factory installed
Vertical Tracking Angle and Azimuth Adjustment
Alignment Calibration Gauge supplied for precise azimuth and vertical tracking angle
Massive rigid MDF Plinth (Base) with specially tuned vibration damping feet
Glass Platter with Felt Pad and Non -Resonant Dust Cover
Executive Overview
NAD recently released three new products for the Rocky Mountain Audio Fest including the C 658 streaming DAC,  D 3045 amplifier/DAC, and the C 588 belt-drive turntable. All three products feature NAD's legendary reliability with solid build quality and performance.
C 658 Streaming DAC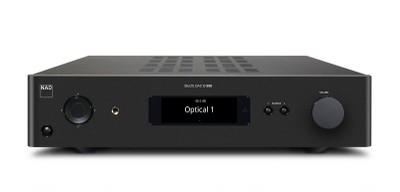 The C 658 is a unique product that combines a quality Preamplifier, DAC and BluOS streamer all in one. The C 658 integrates the latest technologies such as BluOS, Bluetooth aptX HD, Dirac Live Room Correction and Modular Design Construction. We've reviewed other products from Lenbrook Inc. such as the Bluesound Pulse High-Res SoundBar that utilize the BluOS High Res streaming system and found it to be an easy to use whole home streaming option for high resolution audio. BluOS natively supports nearly 20 streaming music services and indexing of over 250,000 tracks from local network sources. In effect, the C 658 becomes a node in the BluOS ecosystem, allowing hi-res network streaming to 64 zones and control options for iOS, Android, Windows, and Mac OS phones, tablets and desktop devices. BluOS also supports all major smart home controllers and is available in a wide range of products making it easy and affordable to create a whole home audio system with the C 658 at its heart. With High Res digital recording and streaming, combined with advanced technology like MQA, record companies are opening their vaults and releasing Studio Master Quality recordings. MQA decoding is available on all digital inputs in addition to BluOS Streaming content.

The C 658 also features two-way wireless Bluetooth capability that is powered by aptX HD for the highest possible sound quality available. As with other products that feature Bluetooth aptX HD, you can easily stream music from smartphones, tablets and laptops or can also use its integrated two-way Bluetooth feature and stream music that is playing on the amp to any pair of Bluetooth enabled headphones. aptX HD is becoming more and more popular for its remarkable sound quality and low power consumption compared to Wi-Fi.

We really like that the C658 comes with a Lite version of Dirac Live room correction software that delivers optimized sound quality for your home theater system. The built-in Lite version of the software, comes with the option to upgrade to a full-featured version for only $99. Dirac Live measures the acoustic performance of the system within the listening room and optimizes playback performance. The setup process is automated and very simple, giving you the control you need to precisely tune for the best results. With Dirac Live, you can build the perfect listening environment that corrects for both the timing and coloration in sound using the supplied microphone and its powerful software.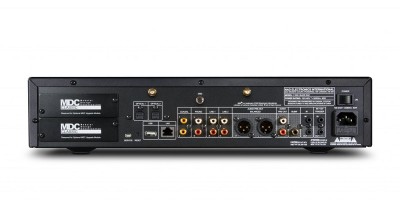 The C 658 also includes a high-quality phono stage, analogue inputs, balanced preamp output and stereo subwoofer outputs and a dedicated high current headphone amplifier with a ¼" jack right on the front panel. CI enthusiasts will be happy to know that the C 658 has an RS-232 serial port with certification and chassis drivers forthcoming for Control4, Crestron, RTI, URC, and ELAN.
"The C 658 combines the best of all worlds in that it is a high-performance preamplifier and streaming DAC with the most compelling digital technologies such as BluOS, MQA, Bluetooth aptX HD and Dirac Live. The extraordinary performance and advanced technologies of the C 658 make it the ideal choice for someone who demands state-of-the-art performance with the most desirable features yet appreciates a single chassis with ease of operation. MDC then helps protect their investment for years to come."
- Greg Stidsen, NAD's Chief Technology Officer.
By far the coolest thing about the C658 is the modular design construction. Modular Design Construction "future proofs" your original investment which means that  the digital audio and video circuits are on replaceable modules. With MDC, all major digital circuits can be upgraded and replaced to keep the unit forever young and capable. This NAD innovation is a unique architecture that keeps pace with the fast-changing world of technology. With MDC, the ability to easily upgrade a component to include future digital formats is totally unique and unprecedented. Though installation and setup of any MDC module is straightforward, NAD encourages you to have this upgrade professionally installed by their authorized NAD dealer. The C 658 comes with two MDC slots for future expansion. The NAD C 658

NAD D 3045 DAC Amplifier
Out of the three new products from NAD I found the D 3045 to be the most intriguing. The feature-packed HybridDigital DAC/Amplifier definitely showcases many of the company's advanced audio technologies. The D 3045 is designed to appeal to the most ardent hi-res digital and vinyl enthusiasts. The D 3045 has it all in a compact size that can be used either vertically or horizontally.
"The NAD D 3045 is everything a modern amplifier ought to be; compact, energy efficient, powerful, silent, high-resolution enabled and packed with cutting-edge features like DSD and MQA playback. NAD's expertise in both digital and analogue engineering is clearly evident in this high performance, flexible yet affordable amplifier."

- NAD Electronics
The D 3045 features a 2 x 60W per channel HybridDigital amplifier in a small form factor. The D 3045 also boasts exceptional connectivity including an Asynchronous USB 24/192 Input. The D 3045 supports both MQA and DSD playback. MQA decoding is available on all digital inputs in addition to BluOS streaming content.

The D 3045 is designed to faithfully and accurately reproduce the full spectrum of sound encapsulated on the studio master. With hi-res downloads and streaming, we can now enjoy exactly the same experience the artist heard in the studio when the recording was first made. Yet, 90% of the products on the market today do not have the full capability required to experience this new higher fidelity.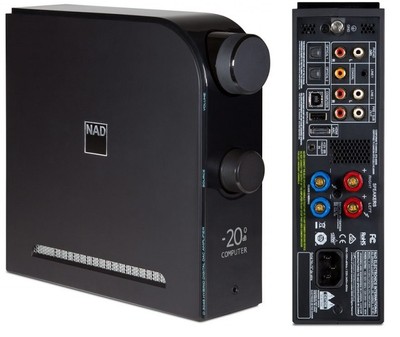 The D 3045 accommodates inputs for the computer along with other digital and analogue sources, including the newly added MM phono input. Coaxial and optical inputs allow many different digital sources to be connected, from CD and DVD disc players to media streamers like Apple TV or satellite and cable receivers. There are also analogue inputs for iPods and older non-digital audio components such as FM tuners, and like the C 658 Streaming DAC above, The D 3045 features two-way wireless Bluetooth capability that is powered by aptX HD.
Also included in the D 3045 is a full-range preamp output as well as a subwoofer output for added connection flexibility. NAD also includes a premium quality headphone jack on the front panel that is connected to a dedicated, high current, low impedance headphone amplifier that will drive all but the most power hungry headphones, including planar magnetic designs.  Drawing on their decades of analogue know-how, vinyl lovers will be impressed that NAD engineers designed the phono stage for exceptional performance, featuring accurate RIAA equalization, ultra-low noise and an infrasonic warp filter.

"Several years ago, NAD launched a revolutionary Digital Series that featured cutting-edge technology with an integrated amplifier, a DAC and networking amplifier. Based on their success, what the market then asked us for was an affordable DAC/Amplifier that utilized our best digital technology with even more power yet retained the compact footprint and versatility. The answer is the D 3045 which checks all the boxes and is destined to become one of NAD's most popular products."
- Greg Stidsen, NAD's Chief Technology Officer

The D 3045 can be used vertically or horizontally. Its compact footprint is equally at home on a desktop, a bookshelf or cabinet to complement any lifestyle. The D 3045 is available this month for $699.
NAD C 588 Belt-Drive Turntable

The C 588 is a turntable for discerning vinyl lovers seeking higher performance. The company's newest turntable offers several upgraded features such as Belt Drive with Electronic Speed Control, an AC Motor with isolated power supply and a custom-designed Carbon fiber tonearm, that should deliver exceptional performance and value for its class.
As with all NAD products, the C 588 turntable prioritizes the engineering investment where it provides the maximum ROI for the consumer. For example, this turntable features a Belt Drive (playing 33 and 45) for maximum noise isolation, a precision AC motor with speed control and isolated AC power supply with universal voltage. Other important features include a glass platter with a felt pad, an MDF plinth (base) and a low resonance dust cover.
Having exact pitch (speed) is important but human hearing is much more sensitive to momentary changes in speed which we express with the terms Wow and Flutter.  As its name sounds, Wow is a slow cyclical speed variation. The most severe example is the sound of a severely warped record, where the stylus travels faster on the rising side of the warp and slower on the descending side, causing abrupt changes in musical pitch.  Flutter is the term used to describe very fast and small variations that are usually generated by the motor.

To combat this, the C 558's specialized, high precision, synchronous clock motor is both very smooth and accurate, especially when driven from a stable AC voltage. To ensure a clean and stable AC voltage NAD isolates the AC Mains by first converting it to a clean DC voltage, and then electronically generating the precise AC frequency to regulate the synchronous motor. Using a specially formulated belt to drive the platter further filters and isolates any remaining vibration. All rotating parts are made from aluminum alloy machined to very tight tolerances to eliminate any eccentricity or vibration in the drive system.
"NAD continues to be at the leading edge of the high-res digital revolution, however, we also recognize that there is an equally enthusiastic and growing market for vinyl playback. Staying true to the company's roots, NAD's formative years always revolved around quality vinyl playback as the source. At $799, the C 588 delivers on our longstanding philosophy of outstanding performance and value."
- Greg Stidsen, Chief Technology Officer for NAD
For extra value, the C 588 is pre-fitted with a high-quality Ortofon 2M Red moving magnet phono cartridge in a 9" carbon fiber tonearm that offers vertical tracking angle and azimuth adjustment. The tonearm length was chosen to optimize overhang and reduce tracking angle error. To perfectly align the stylus NAD provides adjustments for azimuth and vertical tracking angle and even includes a gauge to calibrate the alignment, a rarity at this price point.
Reducing all spurious vibrations to a minimum is critical to getting the best result when playing vinyl. Since these vibrations can come from various sources, both internal and external, the materials and dimensions must all be carefully calculated reduce and balance all the resonances to prevent a buildup of energy at particular frequencies. To isolate external vibrations from the loudspeakers or footfalls bouncing the floor, NAD uses a massive MDF base with specially tuned vibration damping feet, along with a thick non-resonant dust cover.  The choice of glass platter, felt pad, MDF base, and carbon fiber tonearm, were carefully considered to work together to limit and reduce spurious vibration. The C 588 will be available later this month for $799.
What we think
With the popularity of vinyl increasing exponentially in recent years, we think NAD has an exceptional group of products on their hands. Hook the D 3045 amplifier up to their C 588 turntable and a pair of good quality speakers and you have a two-channel system that should accurately and efficiently reproduce sound the way the artist intended it to. We like the fact that the C 658 Streaming DAC is upgradeable for future formats and features thanks to its modular construction. The inclusion of Dirac demonstrates NAD's desire to offer useful room correction features to further optimize sound quality for the modern audiophile serious about getting the best possible sound in their room.
Does NAD have you interested in getting back into two-channel again or to upgrade your existing equipment with these products? Share your comments in the related forum thread below.
Unless otherwise indicated, this is a preview article for the featured product. A formal review may or may not follow in the future.