NAD's New Streaming Amps Are Small In Size But Big On Features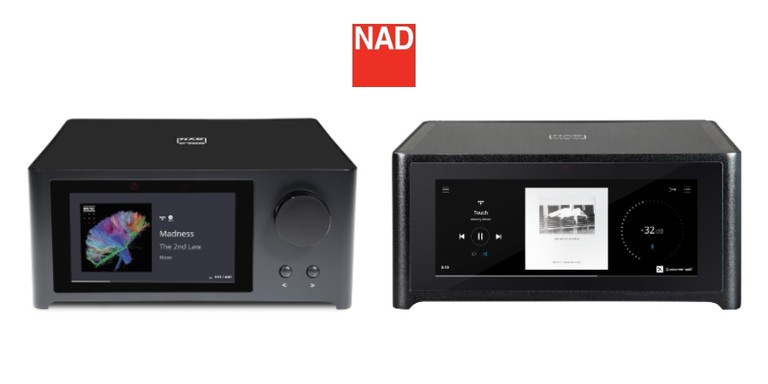 NAD M10V2 & C700
Summary
NAD M10 V2 streaming integrated amp
Power output: 100 watts per channel into 8 or 4 ohms (Continuous, both channels driven)
THD (20 Hz – 20 kHz): <0.03 % (250 mW to 100 W, 8 ohms and 4 ohms)
Damping factor: >190 (ref. 8 ohms, 20Hz to 6.5kHz)
Frequency response: ±0.6 dB (20 Hz - 20 kHz)
Dimensions (W x H x D): 8 1/2 x 3 15/16 x 10 1/4 inches
Weight: 11 lbs
NAD C 700 streaming integrated amp
Power output: 80 watts per channel into 8 or 4 ohms (Continuous, both channels driven)
THD (20 Hz – 20 kHz): <0.04 %
Damping factor: >90 (ref. 8 ohms, 20Hz to 20kHz)
Frequency response: ±0.18 dB (20 Hz – 20 kHz)
Dimensions (W x H x D): 8 5/8 x 3 13/16 x 10 1/2 inches
Weight: 10.6 lbs
Executive Overview
Ever since NAD launched the original 3020 amplifier ($135 in 1978, or about $570 in today's money), the company name has been synonymous with high-value integrated amplifiers. In the intervening decades, NAD has also branched out into home theater products (ie. M17 Prepro), and has moved upscale with its Masters Series separates, offering elevated style, build-quality, and performance, at higher (but still reasonable) prices. For me, the quintessential NAD product will always be an affordable integrated amp, like the D 3020 V2 ($449) that my friend Lauren uses to drive his Elacs. But higher up the price ladder, NAD has found great success with the "just add speakers" Masters Series M10 ($2,500) and M33 ($5,000) all-in-one integrated amps, which pack an amp, DAC, streaming device, touch screen interface, and BluOS multi-room audio endpoint into a single chassis. Now the company has launched a new-and-improved version of the M10, along with an equally compact "just add speakers" amp from the brand's less expensive Classic Series. The NAD M10 V2 ($2,749) adds new home theater features to an already-feature-packed design, while the NAD C 700 ($1,499) aims to offer a similar stereo experience for significantly less money.
The original M10 caught the industry off-guard and made audiophiles and non-audiophiles reimagine what hi-fi can and should be. The M10 V2 continues where the first left off and adds even more versatility as a two-channel or potentially a wireless home theatre system.
— Cas Oostvogel, Product Manager for NAD Electronics
The M10 V2 BluOS Streaming Amplifier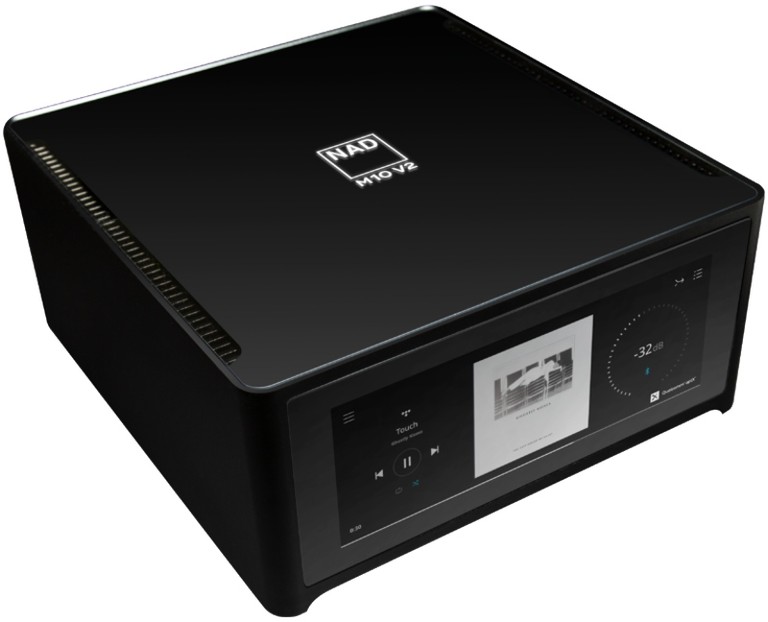 The M10 V2 looks virtually identical to the original V10, but that's not a bad thing. The solid brushed aluminum chassis measures just 8.5 inches wide, by about 4 inches tall, and a little over 10 inches deep, making it easy to display on a sideboard or tuck away on a shelf. The top panel is covered in a sheet of Gorilla Glass, as is the front face of the amp, which is dominated by an upgraded 7-inch IPS touchscreen. The new screen boasts a wider viewing angle and better color reproduction than its  predecessor. Looks-wise, the M10 competes well with other compact do-it-all streaming amps, such as the Naim Uniti Atom ($3,290) and the Cambridge Audio Evo 150 ($3000). But in the features department, those competitors don't even come close. The original M10 was already packed with features, from BluOS streaming, to MQA decoding, to Dirac Live room correction. The M10 V2 now adds Dolby Digital Surround decoding to that list — more on that in a moment. Let's start with a brief laundry list of features carried over from the original, including a robust suite of streaming smarts thanks to BluOS. The M10 V2 is Roon Ready, and supports Apple AirPlay 2, along with BluOS for multi-room audio. The amp also features two-way aptX HD Bluetooth, meaning you can stream audio from your phone to the amp, or send whatever is playing on the M10 V2 to your bluetooth headphones. If you don't want to use that lovely touchscreen or the BluOS app to control the M10, you can use Amazon Alexa, Google Assistant, or Siri to tell the M10 V2 what you want to hear. Smart-home owners can easily integrate the M10v2 into their Control4, Crestron, or Lutron systems.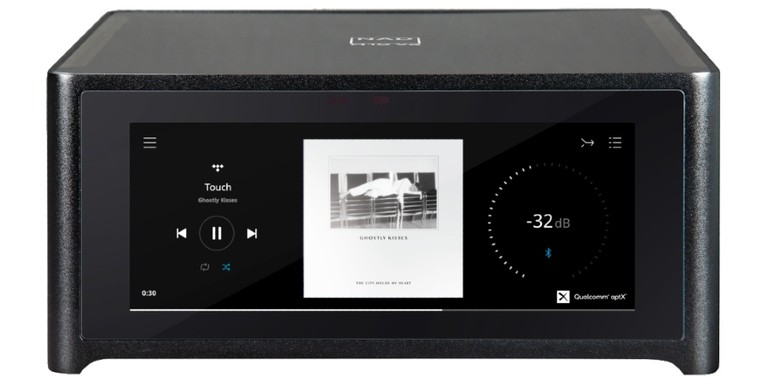 Of course, all this connectivity doesn't mean much if the amp can't deliver the sonic goods. But behind the glass-clad touch screen, the M10 V2 is packing audiophile-grade Hypex nCore amplification, conservatively rated to deliver 100 watts per channel into 8 or 4 ohms, with both channels driven. (Dynamic power is rated at 160 watts into 8 ohms and 300 watts into 4 ohms.) Compared to the original M10, the V2 can deliver higher output levels with inefficient speakers, thanks to updated gain algorithms. The dual independent subwoofer outputs also feature higher gain, allowing for a wider range of speaker/sub combinations, according to NAD. The DAC section is based on the highly acclaimed ESS Sabre ES9028 chip, handling PCM files up to 24-bit/192kHz and providing full MQA decoding and rendering. The built-in BluOS streamer provides access to locally-stored files, along with streaming services including Spotify, Amazon, Tidal, and Qobuz. (Apple Music is supported via AirPlay.) For many users, the internet will provide all the audio content they need, but the M10 V2 also crams RCA analogue, optical digital, coaxial digital, and USB-A inputs on its tiny back panel, in order to accommodate connections to CD transports, game consoles, and/or external hard drives. Perhaps most significantly, the M10 has an HDMI eARC input, allowing the amp to serve as the basis of a 2-channel home theater. But it doesn't have to stop at stereo.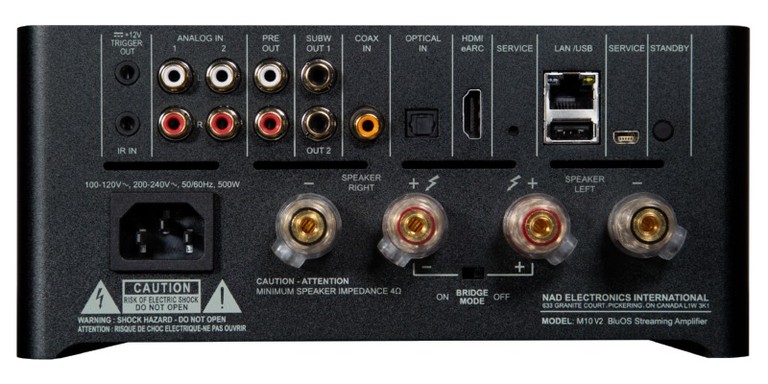 New to the V2 version of the M10 is Dolby Digital surround sound processing. Like the recently-updated $900 Bluesound Powernode (Bluesound and NAD are both owned by The Lenbrook Group), the M10 V2 can decode an incoming Dolby Digital soundtrack from its HDMI eARC input, and wirelessly send the audio for the rear channels to a pair of BluOS wireless speakers located behind or next to the listening position. NAD claims that the transmission is very low in latency. The center channel information is apparently divided among the two front speakers being driven by the amp, resulting in a 4.0-channel home theater (or 4.2 channels, with the addition of subs). This is an interesting setup, offering much better 2-channel music performance than you'd get from any soundbar, and at the same time, much less complexity than you'd have with an AVR-based system using 5 or more wired speakers. You still get to use whatever speakers (and subs) you like best for music, while a pair of Bluesound's wireless speakers, such as the Pulse Flex 2i ($299 each), add surround-sound immersion for TV, movies, and gaming. I think this is a compromise that will appeal to a lot of people. It's definitely not something you'll be likely to find on any other stereo integrated amp I'm aware of (with the exception of the Bluesound Powernode mentioned above).
The final killer feature on the M10 V2 is Dirac Live processing, which can work wonders for taming the acoustical properties of a typical living room, or any other room where the M10 is likely to be deployed. NAD understands that a small, stylish component like the M10 V2 is not destined for a dedicated audiophile listening room with scientifically-derived dimensions and judiciously-applied acoustical treatments. The inclusion of Dirac in the M10 (which comes with a calibrated microphone) allows more people to achieve good sound in their real-life settings, which are bound to suffer from unpredictable frequency peaks and dips. The included version of Dirac corrects a room's acoustics up to 500Hz, which will probably be sufficient for most M10 users, but those who want the full-bandwidth Dirac treatment can upgrade via Dirac's website for $99.
The C 700 BluOS Streaming Amplifier
The C 700 creates exceptional value for those seeking a modern and easy-to-use standalone music system. Ever since NAD introduced the legendary 3020 integrated amplifier in 1978, the NAD brand has been renowned for value, performance, and innovation. With the C 700 BluOS Streaming Amplifier, NAD has completely updated that tradition for the streaming era.
— Cas Oostvogel
The new C 700 streaming amp is like a scaled-down version of the M10 V2. It's still small and feature-rich, but it gives up some of the M10's refinement and features in order to reach a much lower price-point of $1,499. In a nutshell, the C 700 still includes BluOS streaming, an ESS-based DAC section, class-D amplification, and a stylish design featuring a high-definition display. Its dimensions are very similar to that of the M10, and it delivers a similar "just add speakers" experience. The C 700's aluminum case and glass front panel look very nice, and the inclusion of a volume knob is welcome. It's just a less premium package, both physically and sonically, than the M10 V2. NAD says the C 700 is "designed with a listener in mind who seeks an uncompromised listening experience with a focus on value." I can't say if the listening experience delivered by the C 700 is compromised or not — I haven't heard the amp yet, and surely that's a matter of opinion anyway. But NAD did have to make some compromises while trying to replicate the M10 experience for a little more than half the price. The smaller 5-inch color display on the C 700's front panel isn't as large and impressive as the 7-incher on the M10, and it's not a touch-screen. But it will display album artwork, track status, and system settings, and most users will control either amp via the BluSound app, so the loss of touch control on the amp itself isn't a huge deal. For those who prefer a physical remote, the M10 V2 comes with a nice remote control, while the C 700 relies on the ability to learn commands from any pre-existing remote control the user might have around. For most perspective C 700 owners, the more important compromises are on the inside.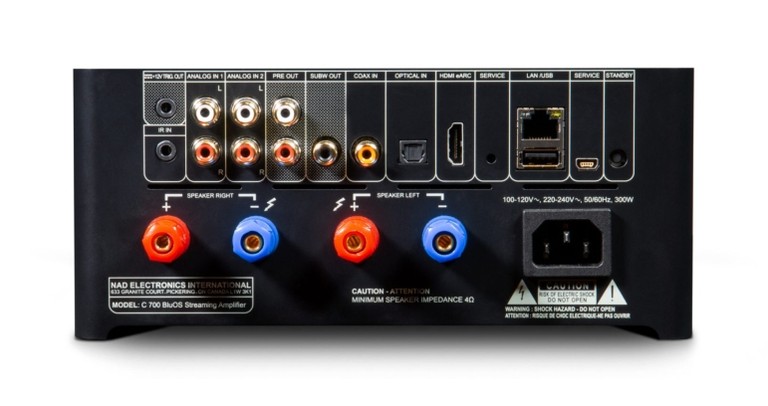 While the M10's 100-watt amp uses Hypex nCore modules, the less powerful C 700 uses less advanced UcD modules to deliver 80 watts per channel of continuous power, and 120 watts of instantaneous power. These are the same class-D modules used in NAD's C268 stereo power amp ($899) and C368 integrated amp ($999). These are good quality modules that deliver solid performance; they just aren't as refined as the Hypex nCore modules (and Purifi Eigentakt modules) used in NAD's Masters Series components. I suspect that the C 700's amp section is very similar to that of the Bluesound Powernode, which also delivers 80 watts per channel. Like the M10 V2, the C 700 features an MQA-capable, ESS-based DAC section. But while the M10 uses the high-performance ES9028 chip, the C 700 uses the less costly ES9010 chip. (This is the same chip used in Audioquest's excellent $99 DragonFly Black USB dongle DAC.) Like the M10, the C 700 has HDMI eARC, but it doesn't have Dolby Digital processing, and can't be used in tandem with wireless Bluesound speakers for 4-channel home theater. It has all the same physical inputs and outputs as the M10, including subwoofer outputs with adjustable high-pass/low-pass settings that can be configured in the Bluesound app. The C 700 offers the same two-way aptX HD bluetooth functionality found on its more expensive sibling, but — and this might be the biggest "but" for many folks — it does not have Dirac Live room correction. Still, for about 55% of the price of an M10 V2, you get something that looks almost as good and offers much more than 55% of the functionality. Whether the M10's superior performance and features are worth the extra $1,250 is up to you.

Unless otherwise indicated, this is a preview article for the featured product. A formal review may or may not follow in the future.
Confused about what AV Gear to buy or how to set it up? Join our Exclusive Audioholics E-Book Membership Program!