Denon Releases 3 More 110th Anniversary Edition A110 Components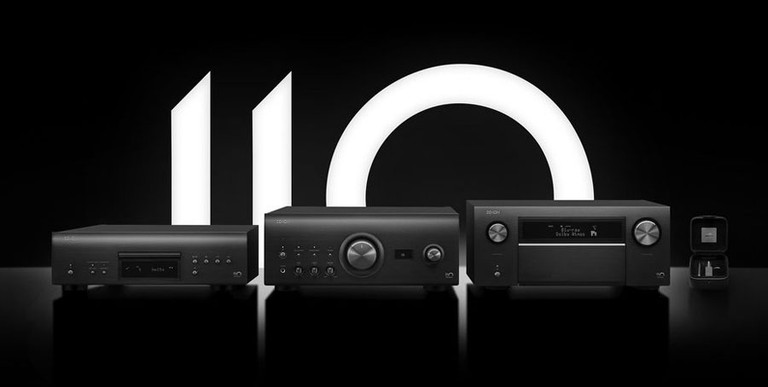 Denon 110th Anniversary Edition Audio Components
Summary
Executive Overview
We recently released details on Denon's new 110th Anniversary Edition AVR-A110 13.2 Channel 8K AV Receiver which is based on Denon's AVR-x8500H. We found the AVR-x8500H to be one of, if not the BEST receiver of 2019, so any additions to the Anniversary Edition is icing on the cake! The $5,500 AVR-A110 is not just a $1,500 nameplate over the $4,000 AVR-x8500H and as Denon put it:
We went crazy doing the stuff we usually don't do for our regular lineup due to cost limitations, competitiveness and so on. Instead, we made it something unique and special for the anniversary. We just unleashed our sound engineers so that they could make their dream product and we spent a lot of time and effort on the authenticity of the product, not just external cosmetics, but inside of the product as well. You will not likely see anything like this in the future from us.
Now, Denon has announced three new cutting-edge products in honor of the brand's 110-year anniversary. These include the Denon PMA-A110 integrated amplifier, DCD-A110 SACD player, and DL-A110 MC phono cartridge. All three products are leverage Denon's century-plus experience. Each new anniversary edition product features an exclusive silver-graphite colorway, 110 Anniversary logos on the front panel and are meticulously tuned by Denon Sound Masters to set them apart from their standard counterparts. In addition, each new product comes with a special certificate of authenticity stamped with the approval of Denon's head engineer and a five-year out-of-box warranty. All three 110 Anniversary products are manufactured exclusively at the Denon factory in Shirakawa, Japan and undergo an extended quality assurance process prior to delivery.
PMA-A110 Integrated Amplifier ($3,499)
The Denon PMA-A110 would be a great choice for Denon enthusiasts seeking to build their dream two-channel Hi-Fi system. It marks the highest-end integrated amplifier Denon has introduced to the North American market. The PMA-A110 is powered by Denon's patented 7th generation advanced Ultra High Current (UHC) power amplifier which delivers 80 watts/ch at 8ohms (20kHz-20Hz, THD: 0.07%) and 160 watts/ch at 4 ohms (1 kHz, T.H.D. 0.7%). Note the dual heat sinks and dual power transformers. Denon packed a serious power section into the PMA-A110 and we can't wait to bench test it to see if it's the over achiever we think it may be.
Denon engineers carefully constructed the amplifier circuit to secure a frequency response they measured up to 100-kHz during applied use. Denon claims the volume circuit suppresses noise in the amplifier, achieving high sonic resolution. The PMA-A110 should be able to handle a wide, dynamic range of Hi-Res audio sources.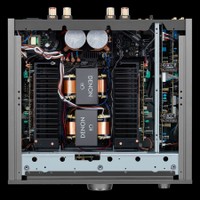 The PMA-A110 comes with a Quad D/A converter which uses the Burr Brown PCM1795 chip which operates in a quadruple configuration for "optimal" high-grade sound. Each channel has two PCM1795 chips working in a different mode to achieve what Denon claim to be "the highest accuracy and best signal to noise ratio." We remember this DAC configuration in the legendary AVR-5800 series of AV receivers. These DAC's sound sweet and the measurements prove it.
The PMA-A110 is also equipped with Ultra AL32 Processing, the latest in analog waveform reproduction technology from Denon. By using data interpolation algorithms and supporting Hi-Res 384-kHz/24-bit PCM signal input, these algorithms interpolate points that should exist before and after the points in large quantities of data to achieve a smooth waveform that is close to the original signal.
The PMA-A110 can connect to both analog and digital sources including a built-in phono preamp compatible with both Moving Magnet (MM) and Moving Coil (MC) cartridges. High-resolution digital audio content can be accessed via Coaxial, Optical or USB-B inputs all connected to an exceptional Quad DAC for playback quality of PCM up to 384kHz and DSD up to 11.2Mhz (aka DSD 256).
DCD-A110 SACD Player ($2,999)
As part of the special edition 110 Anniversary Series, Denon is also introducing a limited edition DCD-A110 flagship SACD player. The new model offers playback of CDs, Super Audio CDs, DSD (2.8-Mhz/5.6-MHz) files and high-resolution audio files up to 192-kHz/24-bit recorded on DVD-R/RW and DVD+R/RW discs. The DCD-A110 can also play music files with sampling frequencies of up to 48kHz recorded on CD-R/RW discs.
Denon states that the high quality of the DCD-A110 is "attributed to Denon's patented Suppress Vibration Hybrid (S.V.H.) mechanism, unparalleled audio processing, premium components, and power supply". The S.V.H. mechanism, used on other high-performance players from Denon, features a short signal path to reduce noise along with related parts made from premium materials such as a copper plate for the top panel to strengthen rigidity, die cast aluminum for the disc tray, and 2-millimeter thick steel for the mechanism brackets. These high-mass, vibration-resistant properties should contribute to vibration resistance, and the mechanism's low center of gravity should help suppress any vibration occurring inside the player due to disc rotation.
The DCD-A110 also introduces a new Quad DAC configuration, converting the large amount of data coming from the Intel Cyclone 10-driven Ultra AL32 processing engine. The DCD-A110 casts aside traditional OP-amp post filter circuits in favor of a fully discrete filter stage with carefully selected custom-tuned audio parts. The DCD-A110 is also equipped with two clock oscillators, one for each sampling frequency (44.1-kHz and 48- kHz) that can be switched between the frequencies to thoroughly suppress jitter. This high-quality clock is the reference for the Quad DAC operation and should ensure that the digital audio circuitry performs at its maximum potential regardless of source format.
The limited edition SACD player also features fully independent power supplies for digital and analog circuits to reduce interference or noise. The analog power supply circuit boasts a fully discrete design optimized for audio with the original Denon large-capacity (3,300 μF) block capacitor used for the power unit of the analog audio circuitry after the D/A converter. The DCD-A110's power supply is built around an impressive array of custom parts, including high-power bipolar junction transistors, a fully discrete voltage regulator circuit, high-sound-quality electrolytic capacitors, and polyphenylene sulfide capacitors.
DL-A110 Phono Cartridge ($599)
The new Denon DL-A110 phono cartridge is made with a premium Moving Coil design in the Denon Audio Works factory in Shirakawa, Japan just as it was in the 1960s when it was first introduced as the DL-103 cartridge. These anniversary edition Denon cartridges represent the longest-running products to wear the Denon badge and maintain the original headshell design initially developed for wideband stereo FM radio broadcast applications.
Weighing only 6 grams, the lightweight DL-A110 silver-graphite headshell  should ensure that the cartridge is held securely in place and help keep everything perfectly aligned. The DL-A110 is equipped with a bayonet connector also known as the SME tonearm interface.
Audioholics 2CH Dream Stack: Polk with Denon?
Three special edition 110 Anniversary Products will be available at authorized Denon retailers in October 2020, including the AVR-A110, PMA-A110 and DCD-A110. The final special edition product, the DL-A110 will be available in November 2020. Of course we can't help wonder how the recently reviewed Polk L800 Legend Towers with SDA technology would sound with a stack of this new Denon A110 gear providing the amplification and source playback. Perhaps we will find out once the Audioholics SmartHome is complete and we get our systems all set up. Stay tuned...
Confused about what AV Gear to buy or how to set it up? Join our Exclusive Audioholics E-Book Membership Program!