McIntosh Debuts New Flagship Home Theater Processors and Amp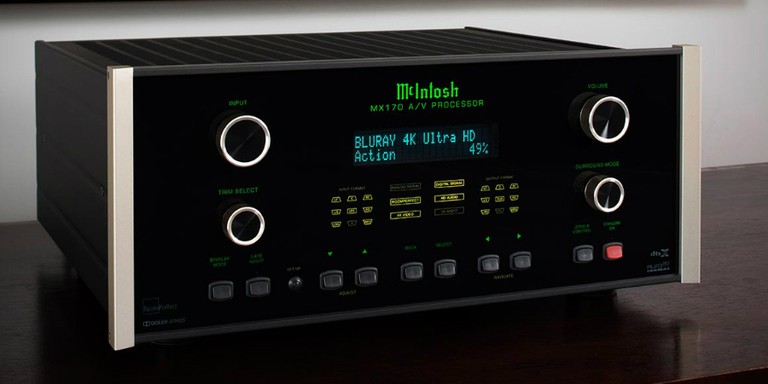 McIntosh Amps
Summary
Product Name:

MX170 AV processor, MX123 AV processor, MC255 5-channel power amplifier, MC257 7-channel power amplifier, and MC901 Dual Mono Amplifier

Manufacturer:

McIntosh

Review Date:

March 17, 2020 06:00

MSRP: $15,500 - MX170, $8,000 - MX123, $8,000 - MC255, $10,000 - MC257, $17,500 - MC901
First Impression:

Pretty Cool
Executive Overview
As the coronavirus crisis continues to unfold around the world, large industry trade shows like Munich's High End audio show, originally scheduled for May 2020, have been among the first major events to be canceled in an attempt to curb the spread of the disease via social distancing. While this is undoubtedly the right move from a public health perspective, it's a tough blow to the approximately 500 companies (from 40 different countries) that were planning to attend the Munich show and introduce their latest products to the European market. Luckily for the folks at McIntosh, they had the chance to showcase their newest home theater gear at the ISE (Integrated Systems Europe) AV show, which took place in Amsterdam in February. The stars of the show were the MX170 and MX123 AV processors, and the MC255 5-channel amplifier. 
The MX170 AV processor ($15,500) is the new flagship in the McIntosh lineup. Behind the timeless black glass front panel and illuminated logo, there's a fully-featured 15.1-channel processor with balanced outputs and support for Dolby Atmos, DTS:X, and Auro-3D. If you have fewer than 15 speakers, 4 of the outputs can be used to bi-amp your main speakers. The MX170 uses Peter Lyngdorf's RoomPerfect room correction technology, which claims to deliver "demonstrably better results" than competing solutions, such as Audyssey and Dirac. According to McIntosh, RoomPerfect delivers "optimized frequency response, calibrated speaker volumes, and bass control that perfectly combines your speakers with your subwoofer(s)." It also promises greater flexibility in speaker placement and can set a unique crossover frequency for each speaker. 
The acoustic errors a room creates are a complex three-dimensional problem. The only way they can be fully understood is by measuring all of the room in a three-dimensional way. This requires placing the microphone across the full height, width, and length of the room rather than just across the seating area. RoomPerfect is unique in this. Only by fully understanding your room's acoustics and the intended response of your speakers can the system produce such high fidelity.
 — Peter Lyngdorf
On the video side of things, the MX170 features 8 HDMI inputs and 4 outputs. Three of the outputs have Audio Return Channel (ARC) capabilities, while the fourth features Enhanced Audio Return Channel (eARC) functionality. Each HDMI port is HDCP 2.2/2.3 compliant and can support 4K Ultra HD picture, full 4:4:4 color spacing, and HDR in the HDR10, Dolby Vision, and HLG formats. One feature that will be of special interest to installers is the inclusion of an HDBaseT output, which allows for long cable runs between the MX170 and the TV/projector, without signal loss or degradation. It also features IP-based control and a robust web interface.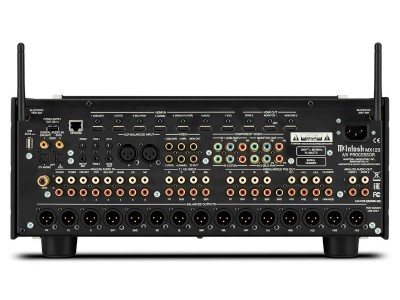 If you want a McIntosh processor but can't stretch your budget quite so high, perhaps the MX123 AV processor ($8,000) will fit the bill. The MX123 is a 13.2-channel unit with some of the latest buzz-word features, including IMAX Enhanced certification and Apple's AirPlay2 support. It has 7 HDMI inputs and 3 HDMI outputs, one of which supports eARC. The MX123 lacks the pricier MX170's RoomPerfect implementation, instead offering a more run-of-the-mill Audyssey MultEQ XT32 calibration tool. Its 13.2 channels are delivered via both balanced and unbalanced outputs for greater compatibility with power amps. Like its bigger sibling, the MX123 audio inputs include multiple digital and analog audio inputs, including a moving magnet phono input.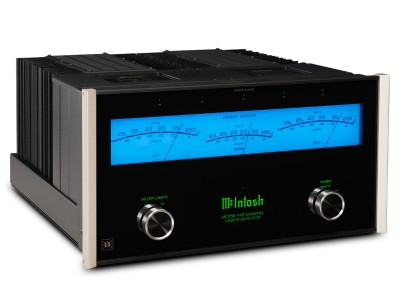 The MC255 5-channel power amplifier ($8,000) is essentially a 5-channel version of the 7-channel MC257 ($10,000), which was introduced in September of 2019. Compared to the previous 5-channel and 7-channel amps from McIntosh, these new models feature 50% greater filter capacity, which has resulted in an increase in dynamic headroom from 1.7dB to 3.6dB. Low-frequency performance has also been improved. The MC255 delivers 200 watts per channel with all channels driven, or 250 watts per channel when only the front left, front right, and center channels are used. McIntosh's Dynamic Power Manager (DPM) technology ensures that consistent power is delivered to either 4Ω or 8Ω speakers. The amp's front panel features the brand's cool-looking TripleView Power Output Meter, which independently indicates the real-time power reading of the amplifier's three front channels. The meter's signature blue lighting can be turned off when you're watching a movie in a darkened theater.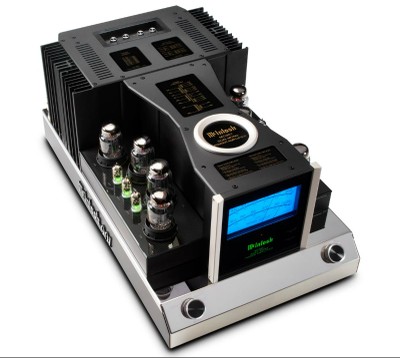 In addition to these new home theater components, McIntosh was expected to show off its colossal new bi-amping monoblocks at the Munich show. The MC901 ($17,500 each) is really two amps in one. Weighing in at 180 pounds, each amp contains a 300-watt vacuum tube amp for powering a speaker's midrange drivers and tweeters and a 600-watt solid-state amp for powering the woofer section. The tube section uses eight KT88 output tubes, plus four 12AT7 and two 12AX7A signal tubes, and each amplifier section has its own discrete power supply. This is certainly a unique design, and as you would expect, it's visually both impressive and imposing. With any luck, the MC901 will get its chance to shine at Chicago's Axpona show, which was originally planned for April, but now has been rescheduled for August. We can only hope that the coronavirus pandemic is under control by then. Until then, we've got some great photos in this preview article for audiophiles to delight over.

Confused about what AV Gear to buy or how to set it up? Join our Exclusive Audioholics E-Book Membership Program!