Denon PMA-600NE Stereo Integrated Amp Inflates Power But Not Price
Denon PMA-600NE
Summary
Rated Power: 45W + 45W (8ohm, 20Hz-20kHz, THD 0.07%)
70W + 70W (4ohm, 1kHz., THD 0.7%)
Total Harmonic Distortion .01% (Rated Output –3dB) 8ohm 1kHz
Ports
Phono (MM) x 1
CD x 1
Aux x 1
Optical Input x 2
Coaxial Input x 1
Recorder (Playback) x 1
IR Control Yes
Preout Yes (Subwoofer)
Recorder Out Yes
IR Control Yes
Dimensions (W x D x H): 17.1" x 12.1" x 4.76"
Weight: 15 LBs
Executive Overview
Denon announced the release of two new Hi-Fi listening products aimed at recruiting two channel listeners at a reasonable price. the PMA-600NE Integrated Amplifier and DCD-600NE CD Player are designed to enable music aficionados to enter the next level of music enjoyment with high fidelity playback. 
"Getting started with a serious two-channel listening system can seem daunting when the majority of components boasting Hi-Fi qualities tend to be tens of thousands of dollars. Denon wants to take the risk out of choosing your first Hi-Fi system. The PMA-600NE and DCD-600NE deliver the power, build quality, essential features, and sonic precision found in much more expensive components. The amp and CD player are a great steppingstone for the music enthusiast looking to begin their journey into Hi-Fi."
- Michael Greco, Senior Director, Denon Brand Management
PMA-600NE Integrated Amplifier

At first glance the PMA-600NE looks like a great entry level amplifier for those wanting to get into Hi-Fi two channel listening. It features five analog inputs including a MM Phono input featuring a new high-gain EQ circuit, two optical inputs and one coaxial input. Denon says it went to great lengths to eliminate interference and maintain exceptional sound quality in nearly every aspect of the new 600 series. The PMA-600NE Integrated Amplifier is engineered with Denon's Advanced High Current (AHC) single push-pull circuit power amplification technology. Similar to the Denon 800 and 1600 Series Hi-Fi components, the PMA-600NE features a 24-bit/192kHz digital-to-analog converter. 
Denon engineers constructed the amplifier circuit to secure a frequency response of up to 100 kHz. The main power transformer has separate coiled wires for the audio and control circuits as well as an integrated micro-processor that features a Stop Mode. The user-selectable Analog Mode allows the amplifier to operate as a purely analog amp by disabling digital inputs as well as Bluetooth. To minimize vibration and the effects of the surrounding environment, the PMA-600NE features direct mechanical sound construction and its proprietary Signal Level Divided Construction (SLDC) chassis to ensure only the true and intended nuances of the music are amplified and transmitted.
"No product leaves the Denon factory until it has the Sound Master seal of approval, for which our team in Japan meticulously listens to every product to ensure the voicing and build quality is consistent with other Denon New Era series products. The new 600 series products have the same precise, clean and powerful Denon sound because they have the same Hi-Fi engineering concept, including advanced components, circuitry, amplification, and layout as other Denon Hi-Fi products. The overall aesthetic, sound quality and design integrity of the PMA-600NE is unparalleled at the price."
-Shinichi Yamauchi, Sound Master at Denon
So here's where it gets  tricky...
We praised Denon back in July with their AVR-X3600H 9.2 Channel IMAX Enhanced Receiver for releasing unclipped full bandwidth power ratings with two-channels driven into 8 ohm loads per FTC mandate. Our consistent complaints and our TIP movement to audio manufacturers about this trend and our Power Manipulation in Dolby Atmos AV Receivers article were really starting to make a difference.

Then you see this: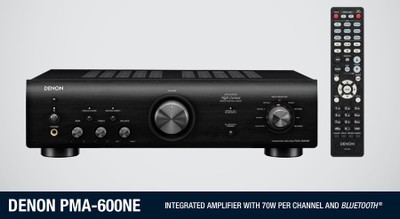 Seems pretty straight forward. The Denon PMA-600NE is a 70W per channel integrated amplifier with bluetooth. It's not until we get to the very end of Denon's product information sheet that we see this: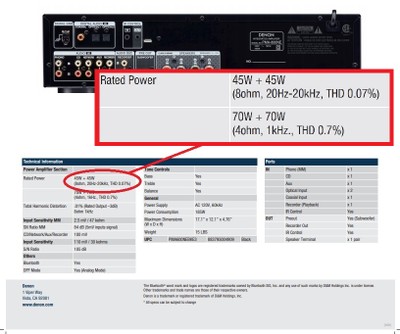 This is literally the last piece of information in the product information sheet for the PMA-600NE. We were hoping after ALL of the exposure we've given to the TiP movement, that Denon, a Sound United brand, would go back to providing 2CH driven, 8 ohm full power bandwidth power specifications instead of this "70 Watts (4ohm, 1kHz, THD: 0.7%) per channel" we see featured as the primary rating method on their online product page. We do however give a little credit for rating power into 4 ohms, as most of the 1CH driven power specs in AVR's are often down at 6 ohms since 4 ohms is a tougher load to drive due to higher current demand. The fact that this integrated amplifier is rated and stable into 4 ohms is a feather in Denon's proverbial cap for a product only costing $399. Yet, why rate a stereo amplifier with only 1CH driven? Power inflation is the answer. Still, if Denon would have just come out and declared the PMA-600NE to be an honest 45wpc x 2CH driven, 8 ohms, we wouldn't have had to dedicate so much writing real estate in this article to this and at the meager asking price of $399, nobody would have called this product under powered. Even their beautifully crafted $1,600 flagship PMA-1600NE with dual power supplies and rows of heatsinks isn't immune from power inflation. They call it a 140wpc integrated amplifier (per channel rating @ 1kHz, 4 ohms) while it's really rated 70wpc, both channels driven, 8 ohms, full bandwidth. Come on Denon, you can do better than this!
DCD-600NE CD Player

For over 35 years, Denon has engineered premium consumer and commercial CD-players. The Denon DCD-600NE CD Player builds on this heritage. It supports CD, CD-R/RW, MP3 and WMA formats and features Denon AL32 Processing technology to help ensure that discs always sound their best.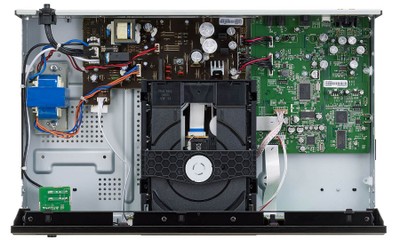 The CD player is outfitted with power transformers fitted near the bottom of DCD-600NE, and immediately above the insulators to help prevent unwanted vibration. The Pure Direct Mode feeds sound directly to the amplifiers by deactivating the front display that might otherwise color the sound.
Additionally, the circuit design in the DCD-600NE is thoughtfully engineered to make signal paths as short as possible. With layered circuit boards and shorter circuits, the interference between left and right channels is reduced, and the adverse influences on audio signals are minimized. As a result, the circuit paths in the DCD-600NE should reproduce cleaner audio signal that remains faithful to the original recording.
Conclusion
Denon has more than 100 years' experience innovating the design and engineering of premium Hi-Fi products like the latest 600 series integrated amplifier and CD player. Both products appear to be beautifully crafted with excellent attention to detail in separating audio paths to maintain signal integrity. Even with the gripes about power ratings, the two new products from Denon are great options to begin building a Hi-Fi system in small to medium sized rooms.
The PMA-600NE Integrated Amplifier is offered at $399 and DCD-600NE CD Player at $299 and will be available in September 2019 at authorized Denon retailers.

Confused about what AV Gear to buy or how to set it up? Join our Exclusive Audioholics E-Book Membership Program!
See also:
Recent Forum Posts:
DigitalDawn posts on September 12, 2019 07:24
Gene, are you here at CEDIA? If yes, let's have coffee or something.
gene posts on September 10, 2019 22:04
2019 was a busy year in consumer audio as evident by all of the new and exciting products released by some of the big name brands like Polk, Denon, Pioneer, MartinLogan, Monoprice, etc. We haven't seen this much enthusiasm among manufacturers for a CEDIA show in a very long time. We plan on covering the latest advances in loudspeakers, immersive surround processors, and more. This is our official forum page where we will be uploading show coverage and pics. Feel free to make requests on what you'd like to see here as well.

Stay tuned for our live CEDIA coverage broadcasts on our Facebook and Youtube pages as well as one on one interviews.

31190

CEDIA 2019 Show Coverage
Post Reply