Starke Sound's 4-Channel AD4.320 Amplifier Uses Proprietary Class D Tech, BIG Power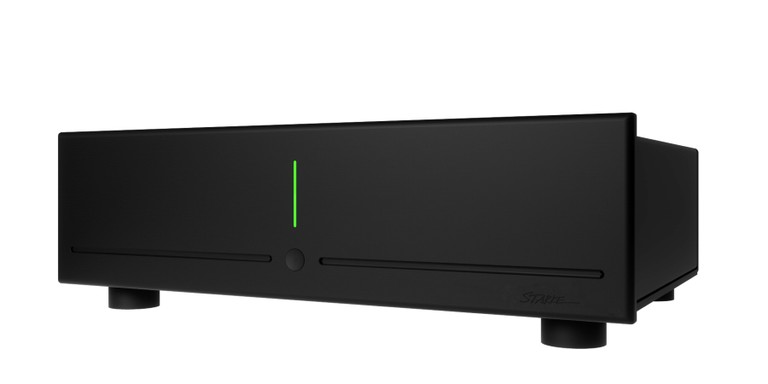 Starke Sound AD4
Summary
Output Power: 225 watts/channel RMS at 8Ω, 320 watts/channel RMS at 4Ω(all channels driven)
430 watts/channel RMS at 4Ω, 650 watts/channel RMS at 2Ω (BTL mode, 2-channel output)
Frequency response: 5Hz-100KHz -1.5dB
Maximum output current per channel: 16.5A/33A Bridged
SNR: 112dB, "A" weighted
Executive Overview
Audiophiles are a notoriously opinionated bunch. Some analog devotees will never embrace digital audio, just as some digital fans dismiss vinyl, citing its technical and practical limitations. When it comes to amplification, some swear by tubes, while others prefer the fuss-free operation — and generally better measured performance — of solid-state designs. (Usually, I don't take sides; whatever you enjoy listening to is the best thing for you.) But every once in a while, even audiophiles can come to a consensus. If you had asked any given group of audiophiles in the year 2000, I bet every one of them would agree with the following statement: Class D amplification sucks. Of course, class D has come a long way in the last two decades, but much of the stigma remains. For some audiophiles, an amp is no good if it doesn't have a massive toroidal transformer, huge heat sinks, and an imposing footprint. Despite my tendency to stay out of audiophile feuds, this is one soapbox I'll climb up onto. I believe that Class D amplification has gotten so good that it can now compete, without excuses or provisos, with Class AB, both in terms of value for money, and in terms of pure sound quality. But before I go off on a tangent, let's look at some of the objective advantages that Class D offers.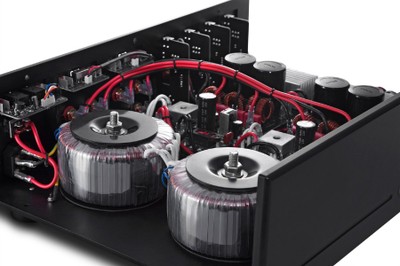 We all know that Class D amps are more efficient and run cooler than their Class AB counterparts. That often means no cooling fans, no heat sinks, and smaller casework. A smaller, lighter, and more efficient package is usually less expensive to build, less expensive to ship, and less expensive for the end user to operate. High efficiency also means high power output, making Class D a smart choice for those with the need for extra juice. Most hifi manufactures that use Class D amplification in their products reap additional benefits from the ready-made amp modules sold by companies like ICEpower (formerly a subsidiary of Bang & Olufsen) and Hypex. By incorporating one of these amp modules into a new product, audio manufacturers can get to market more quickly, and can focus their development resources on the features and performance attributes that will make their product stand out. There are significant savings to be made on the upfront investments that would be necessary to design and engineer a home-grown solution, and then to test it for quality, reliability, and safety after it's built. And so it makes sense that most manufacturers choose to purchase an amp module rather than start from scratch. When a manufacturer does decide to go it alone, it requires some serious engineering chops and a healthy helping of what my people call chutzpah.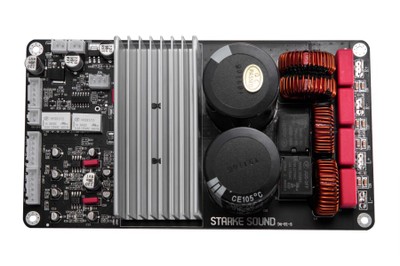 A Clean Slate for Class D Amplification
I can only think of a few companies that have executed a clean-sheet design of a switching amp in recent years. Mark Levinson's No. 53 monoblock ($50,000/pair at launch) was one of the first attempts at a truly high-end switching amp when it debuted over a decade ago. (Audio Research launched its first Class D amp, the DS450, at around the same time.) Back in 2010, Mark Levinson admitted that Class D amps were "viewed with skepticism from the audiophile community due to the technical limitations inherent in switching designs and assumptions about the resulting sound quality." But time waits for no audiophile (as Jerry Del Colliano explains in Audiophiles Need to Embrace Science), and the company pressed on anyway. Rather than relying on an existing Class D architecture, Mark Levinson built the No. 53 from the ground up. Classé also designed its own custom Class D solution, to outstanding effect, for its Sigma 2200i Integrated Amplifier ($5,500) back in 2016. And now Starke Sound has done the same for its new 4-channel AD4.320 amplifier ($1,399). At this price point, it looks like Starke Sound has companies like Emotiva and Outlaw Audio in their radar.
We conduct our own research into fundamental technologies and unique development processes. We work only with leading material suppliers and apply our own technologies to develop the best performing modular architectures, such as common transducers and amplifier modules. We integrate these subsystems to create high-performance speakers, amplifiers, and subwoofers, resulting in the best-sounding multi-channel systems.
— Starke Sound
Starke Sound was founded in 2009 by a group of "Southern Californian designers, engineers, and audio enthusiasts," who set out to "challenge the status quo and create a world-class creative audio company that combines state-of-the-art technology with an elegant, contemporary design aesthetic." The company started out with a focus on loudspeakers, particularly for multichannel use, and later branched into amplification. In addition to the company's larger, more expensive Class AB amps, Starke offers one Class D amp in the lineup, for those who gravitate toward smaller chassis and lower prices. The older D7-300 used amp modules from ICEpower, but that model has now been replaced by the 4-channel AD4.320, which has at its heart the newly-developed, Starke-designed NS600 amp module. This innovative design utilizes a linear analog power supply and a high sampling rate of 600 kHz, combining "the high efficiency of class D and the warm sound of class AB amplifiers," according to Starke Sound. There is certainly a mix of the old and the new at work here, as Starke employs an old-school, heavy-duty power supply with dual 30-amp transformers to power the proprietary Class-D NS600 output modules.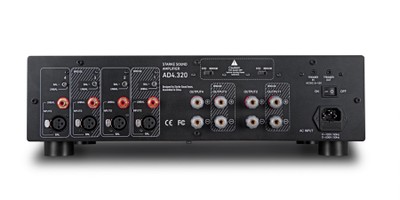 Starke Sound Flexible Power Options
The AD4 is unusually flexible, and as a result, there are countless ways in which it could make itself useful in a home audio setup. As a 4-channel amp, it can be used to power the 4 in-ceiling speakers in a 7.1.4 Dolby Atmos home theater. With 4 channels driven, the AD4 delivers 225 watts/channel RMS at 8Ω, and 320 watts/channel RMS at 4Ω. Combine the AD4 with the 7-channel amp of your choice — the folks at Starke would point you toward the company's gargantuan A7.480 ($7,900) — and you'll be in home theater heaven. Or you could use the AD4's 4-channel design to bi-amp a pair of speakers, such as your front left and right speakers. If you need (or simply want) more power, the AD4 can be bridged with the flip of a switch, becoming a 2-channel amp capable of delivering 430 watts/channel at 4Ω and a chest-thumping 650 watts/channel at 2Ω. It's impressive that the amp is stable down to 2Ω, even in bridged mode. Many amps that can be bridged to deliver more power into fewer channels sacrifice the ability to drive low-impedance speakers in exchange for the gains in power. The AD4 can also bridge 2 channels while leaving the other two as is, resulting in a 3-channel amp. This could be used to drive the front stage of a home theater, for example. Glenn Young over at Secrets of Home Theater and High Fidelity had a chance to review the AD4, and came away impressed, particularly with the voicing of the amp, which he said stayed consistent in both bridged and unbridged modes — which is no small feat.
The Starke AD4.320 sounds very much like a tube amplifier in the midrange, but with the speed, detail, and control of a high-powered Class A/AB amplifier in the treble and bass.
— Glenn Young of Secrets of Home Theater and High Fidelity
Conclusion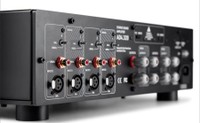 Starke Sound sums up the AD4.320 amp thusly:
"Audio enthusiasts can now invest in an advanced, compact, high-power, sweet-sounding and affordable Class D amplifier with the versatility to address their needs in both two-channel and multi-channel applications."
I think it's telling that so many high-end audio companies, both big and small, young and old, are embracing Class D amplification. McIntosh and ATI are champions of old-school Class AB muscle, and yet both now offer Class D amps as well. And while I applaud any company that sets out to build a Class D product from scratch — especially a smaller outfit like Starke Sound — the truth is that there is no one "best" way to build a Class D amp. The technology has reached a level of maturity that allows world-class sonics to be reached via a variety of paths. For example, Legacy's iV7 7-channel amplifier ($7,950) uses ICEpower's latest ICEedge modules to deliver a staggering 600 watts/channel into 8Ω with all 7 channels driven. PS Audio uses the very same ICEedge technology for the output stage in its Stellar M1200 monoblocks ($6,000/pair), partnered with a discrete, Class-A vacuum tube input stage. But when Marantz set out to design its new Model 30 integrated amplifier ($2,500), the Hypex NC500 module was chosen for power-delivery duty. That same NC500 module is used in Rogue Audio's new DragoN stereo power amp ($3,995), where Rogue's "proprietary TubeD technology… integrates the tube input stage into the Hypex output stage to provide outstanding tube sound, yet with a remarkable 300 Watts of power." NAD also uses Hypex modules in some products, but has recently switched over to the cutting-edge Purifi "Eigentakt" (self-clocking) Class D amplifier modules in the company's M33 integrated amp ($5,000), M28 7-channel power amp ($5,000), and C298 stereo power amp ($2,000). All of the products that I have mentioned here deliver superb audio performance by any standard, even though they take different paths to arrive at their own versions of excellence. (And no, two amplifiers that use the same amp module don't necessarily sound the same, just as two digital products using the same DAC chip don't necessarily sound the same.) I haven't yet heard Starke Sound's AD4.320, but early reports suggest that the company's home-grown NS600 amp module provides yet another avenue to excellent audio.

Confused about what AV Gear to buy or how to set it up? Join our Exclusive Audioholics E-Book Membership Program!