Anthem's MDX Audio Distribution Systems Promise Audiophile Performance In Every Room Of The House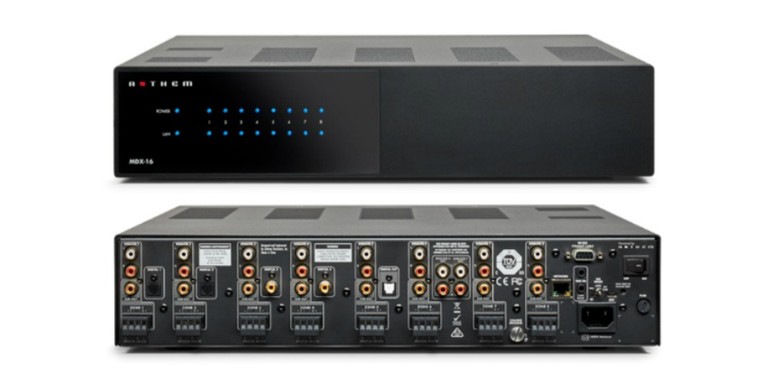 Anthem MDX
Summary
Number of stereo zones (MDX-8): 4

Number of stereo zones (MDX-16): 8

Power Output: 60 Watts/channel into 8 ohms, 120 Watts/channel into 4 ohms, all channels driven

High Output Mode (Bridged) RMS per Channel: 200 Watts/channel into 8 ohms

Frequency Response: 10Hz – 20kHz ±0.5dB
Dimensions (H x W x D, with feet): 3.9" x 17" x 17"
Weight (MDX-8): 21 lbs
Weight (MDX-16): 24 lbs
Executive Overview
Anthem has released a new series of the "world's most advanced" high-resolution audio distribution systems called the MDX Series. Based in Ottawa, Canada, Anthem's research and engineering division reportedly spent more than two years developing the 8-zone, 16-channel MDX-16 ($2,999), and its smaller sibling, the 4-zone, 8-channel MDX-8 ($1,999). Anthem says that these rack-mountable components are the first of their kind, featuring fully powered independent-zone subwoofer connections, as well as Anthem's third-generation ARC Genesis room correction processing for each zone. Central to the MDX feature list are its advanced DSP processing capabilities, with up to 3.2 million instructions per second of DSP power on board to handle zone-specific bass management and room correction. All DSP functions are executed at 32-bit/48kHz. According to Anthem, the MDX Series has been "engineered to simplify custom audio system installations and to blow listeners away with extreme performance in any setup."
One key to delivering that extreme performance is Anthem's cutting-edge "Ultra-Class-D" amplification technology, which the company claims provides "smooth, efficient, consistent high power and reliability," allowing the user to connect a wide range of speakers and subwoofers in various configurations around the home. Into a typical 8-ohm load, both the MDX-8 and MDX-16 are rated to deliver 60 watts per channel, with All Channels Driven (ACD). Output power doubles to 120 watts per channel into 4 ohms; this ideal amplifier behavior suggests the presence of a robust power supply. Anthem specifies a "large power supply unit with 16,000 µF of reservoir caps to deliver that extra peak power during low frequencies and large transients." The amps are supported by Anthem's proprietary Advanced Load Monitoring technology, which reportedly ensures reliable performance even when the amplifiers are presented with an unusually demanding load. Bridging a pair of amplifier channels allows up to 200 watts per channel (into 8 ohms) for high power applications, such as subwoofers. All power is delivered to the MDX via a shielded AC filter to suppress noise. Fully buffered input stages isolate the sources from the amp, minimizing distortion.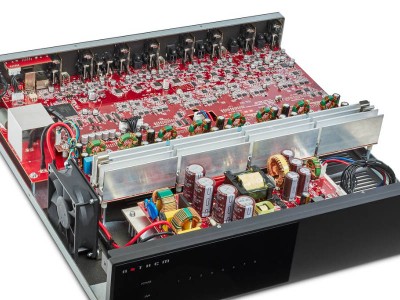 Boldly Going Where No Multi-Zone Distribution Amplifier Has Gone Before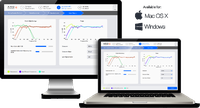 Inputs are plentiful on the MDX-16, which offers 8 sets of stereo analog inputs on RCA jacks, plus an ethernet network connection, 2 coaxial digital S/PIDF inputs on RCA jacks, and 2 optical digital S/PIDF inputs via Toslink. The smaller MDX-8 has 4 sets of stereo analog inputs, an ethernet network connection, and a single optical digital input. The digital inputs of multiple MDX-16 units can be linked via the "smooth, instantaneous" digital matrix switching output, also on Toslink. The MDX-16 also features 2 stereo analog pass-through connections, allowing you to daisy-chain multiple units. Both the MDX-16 and MDX-8 use removable Phoenix-style (Euroblock) stereo speaker-level connectors, which can accommodate bare 12-gauge wire suitable for long runs. Both units also provide a separate RCA line-level subwoofer output for each of the 4 or 8 zones (depending on the model), to be used with a powered sub or an outboard subwoofer amplifier. Alternatively, the user can assign a zone's amplifier output to power a passive subwoofer. Anthem says that the MDX units are the first audio distribution systems that allow this level of flexibility to expand a system by adding external subwoofers in each zone. Best of all, every sub connected to an MDX Series unit benefits from ARC Genesis processing, which "not only corrects acoustic output for an ideal response but also sets bass management settings (including subwoofer phase) for a flawless transition to the main speakers," according to Anthem. Users can manually set the crossover frequency, level, phase, and polarity for each zone if they prefer a more hands-on approach to bass management. This is the first multi-zone amplifier that we are aware of featuring advanced PC based room correction which is accessible to any zone in the home independent to where the MDX is located. What a revelation to perfecting the audio throughout your entire home!
All of this functionality is governed by the MDX's intuitive web-based controls, with a "specially designed, adaptive user interface" that works on any device, from desktop computers to smartphones. The interface allows the user to: adjust the volume and bass/treble tone controls of each zone independently; customize zone configurations, from input assignments to zone names; run ARC Genesis room correction with separate custom settings for each zone; and run network firmware updates with the touch of a button. As you would expect for a product aimed at the custom install market, the MDX Series also offers robust IP/RS-232 connection capability, with guaranteed compatibility with Control4, Crestron, Elan, RTI, Savant, and URC via free, downloadable drivers for those home automation systems.
Finally, the MDX Series includes custom pre-set DSP profiles for a variety of speakers and subwoofers from Anthem's sister company, Paradigm. These profiles allow the MDX to equalize frequency response to deliver the best possible experience from this strategic product pairing. This solution also "provides the added advantage of tracking voltage, current, frequency, and impedance for output management and integration with Advanced Load Monitor of the channels," according to Anthem. The MDX Series is shipping now. Is it the audio distribution solution you've been waiting for? Share your thoughts in the related forum thread below. 

Confused about what AV Gear to buy or how to set it up? Join our Exclusive Audioholics E-Book Membership Program!