Theory Audio 9CH System Demo Sets the Bar in Soundbar Performance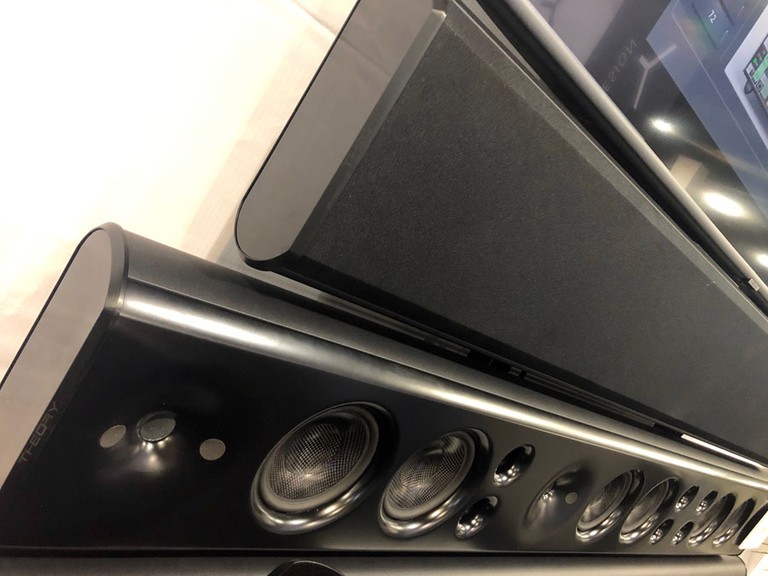 Theory Audio Design
Summary
Executive Overview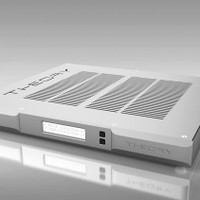 Theory Audio Design, founded by Paul Hales, 30-year loudspeaker engineer and AV industry veteran, launched their first 7 products that are unlike anything else on the marketplace right now. Paul is the founder of Pro Audio Technology (PRO), a brand known for high output pro level products. His goal with Theory Audio is to marry PRO's startling acoustic performance and professional features with sophisticated contemporary design at a much lower cost.
Speaker models in the Theory line-up consist of three soundbars (sb65, sb75, and sb85) designed to perfectly match with 65-inch, 75-inch and 85-inch flat panel TVs, an all-purpose on-wall loudspeaker model (sb-25) with dual 5.5-inch carbon fiber woofers, as well as two passive subwoofers (sub12 and sub15) with 12-inch and 15-inch drivers.
Theory Audio hosted a well organized demo to show off the full capabilities of this system using 5 ear level speakers, 2 height speakers and dual 15" subwoofers.
Theory Audio 5.2.2 Soundbar @ CEDIA 2019 YouTube Video Overview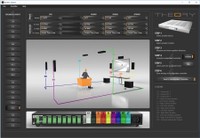 At the core of all Theory systems lies a 9-channel Amplified Loudspeaker Controller (ALC-1809) that is akin to an integrator's AV swiss army knife. With 1,800W per system and 96kHz/32-bit digital signal processing, the ALC-1809 uniquely combines the functionality of five products in one; A multi-channel DSP processor, high power multichannel home theater and distributed audio amplifier, multichannel mixing amplifier, multichannel bass manager, and high-resolution loudspeaker processor, all of which fits into a single, stylish, 1U unit.
"Theory brings professional audio performance to residential theaters, media rooms, and distributed audio systems, by marrying high-power loudspeakers with high amplifier power, all in compact, visually attractive packages suited to high-end residential and commercial environments. The result is a complete lineup of products that define a new product category: high power but attractive solutions for every residential and commercial audio application. Full surround systems up to 7.2 or 5.2.2 can be put together with a 9-channel Amplified Loudspeaker Controller for under $10,000 US, which is truly remarkable at this level of performance."
- Paul Hales

Initial Impressions
We sat down for a demo of this system at CEDIA 2019. The first thing we noticed was how impressive just the two SB-25 speakers sounded on their own with 2CH music. When Paul fired up 5.2.2 surround demos we got to really hear the full capability this system offered. The LCR soundbar had an expansive sound envelope that exceeded it's horizontal width. We heard great separation from the front LCR's and a very enveloping surround field from the height and surround speakers. The ALC-1809 powered ALL of the speakers (including the subs) with aplomb. The fact that Theory Audio was able to pack this much power into a 1U chassis was truly remarkable. You're able to bridge channels for more power for systems using less than 9 speakers. I found  their approach to doing DSP and bass management inside of the 9CH amp interesting but wished they would have also included HDMI and the audio CODECs for surround processing so the end user wasn't still required to purchase a separate AV processor to complete the system. Regardless, the Theory Audio system was truly enjoyable to listen to.The gun shots from the movie Open Range had lifelike dynamics that had me ducking for cover when Kevin Costner unloaded his pistol on the villains. I wasn't sure if the system's clean cinematic sound was a function of the quality carbon fiber drivers, fully differential circuity, state of the art Class D amplification, or powerful DSP processing or a combination of ALL of the above. In any event, Theory Audio proved to us that that a soundbar form factor can be every bit as good as an upscale discrete LCR system.

Confused about what AV Gear to buy or how to set it up? Join our Exclusive Audioholics E-Book Membership Program!
See also:
Recent Forum Posts:
gene posts on October 09, 2019 02:20
Savant Smart Soundbar, Precision Audio Meets Ultimate Home-Connectivity
gene posts on October 06, 2019 22:36
_Y6zjojfJBQ
utopianemo posts on October 02, 2019 13:54
I'll have to check that end clip out at home on my dual 18" sub setup. I love how the low frequency waves cancel out all other sounds. At home, on certain very low frequency-heavy clips, those large sine waves literally cancel out my voice. I'll talk to somebody ten feet away and almost no sound I'm making reaches them.
hangin7 posts on October 01, 2019 18:55
CyberAthlete, post: 1341296, member: 56538
Doesn't sound like (pun intended) that they're any different in drivers than the ones they're replacing. Just an aesthetic over haul but that's about it.
Your joking right,aesthetic overhaul better reread dude!!!!!
VonMagnum posts on October 01, 2019 07:42
Sadly, according to the Monoprice web site, that "beast" only supports 11.1 DTS:X. With 15.1 support, it really NEEDS DTS:X Pro….

Edit: I've been told elsewhere it WILL be getting DTS:X Pro early next year. That would improve things quite a lot.
Post Reply