Anthem's New MCA 225/325/525 Amplifiers Boast BIG 600 Watts of Power!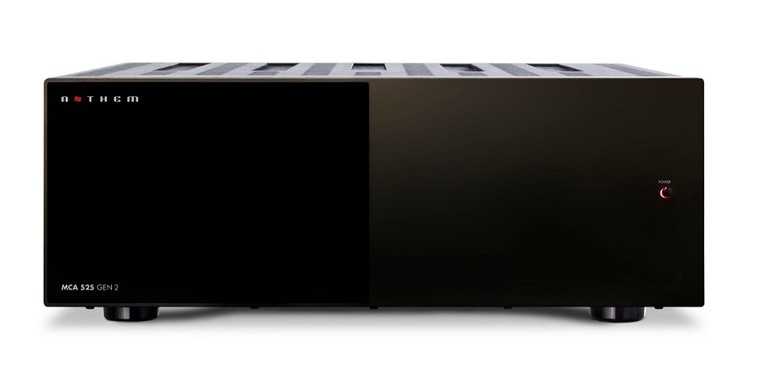 Anthem MCA 525 Amplifier
Summary
MCA 525 GEN2 Power Amplifier 5-channel power amplifier: 225 watts per channel continuous power into 8 ohms.
MCA 325 GEN2 Power Amplifier 3-channel power amplifier: 225 watts per channel continuous power into 8 ohms.
MCA 225 GEN2 Power Amplifier 2-channel power amplifier: 225 watts per channel continuous power into 8 ohms.
Power Output: Continuous 20 Hz to 20 kHz, <1% THD (all models)
load watts
8 ohms 225 W
4 ohms 400 W
2 ohms 600 W
at 1 kHz: .0010%
at 20 kHz: .015%
ITU-R (19kHz + 20 kHz) .005%
SMPTE (60 Hz + 7 kHz) .002%
SNR, IEC-A, ref. 225 W: 120dB
Frequency Response, 20 Hz to 20 kHz:
open circuit ± 0.1 dB
8 Ω ± 0.1 dB
4 Ω ± 0.1 dB
2 Ω ± 0.2 dB
Power Bandwidth, -3 dB at 200 W into 8 ohms: 90 kHz
Damping Factor, 20 Hz to 1 kHz: 300
Channel Separation, 100 Hz to 10 kHz: >65 dB
Input Impedance RCA / XLR 10 kΩ / 15 kΩ
Input Sensitivity, 225 W into 8 Ω : 1.5 Vrms
Dimensions (all models HxWxD): 6 5/8"x17 1/4" x 18 1/8"
MCA 525 61 lbs
MCA 325 43 lbs
MCA 225 40 lbs

Executive Overview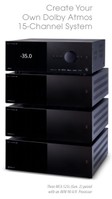 On the heels of unveiling their A/V Processors and A/V Receivers audio company Anthem released three new power amplifiers that are sure to be on all the immersive audio enthusiasts wish lists to start off the New Year with a bang. The MCA 225, 325, and 525 are designed to compliment the new AVM 70 and AVM 90 A/V Processors from Anthem.  Anthem's new MCA Power Amplifiers are available in 2, 3 and 5 channel configurations and would be a great match for the AVM70 and AVM90 A/V Processors that we recently previewed. Anthem is posting a 120dB signal-to-noise ratio (96dB @ 1 watt a-wt) which should help bring background noise to near zero. Anthem is also claiming power ratings which start at 225 watts into 8 Ohms and go up to 600 watts into 2 Ohms. While we appreciate Anthem specing their amplifier into a 2-ohm load, that 600 watts rating is likely time-limted and not continuous like we found with their STR amplifier. We've seen our share of power rating exaggerations from name brand companies, but Anthem is usually spot on with theirs and at least gives us unclipped full bandwidth power with two-channels driven into 8 ohm loads per FTC mandate. The new amplifiers also give us Advanced Load Monitoring which ensures protection from clipping and should maintain long-term performance and reliability.
It was just five years ago that Anthem got into the immersive sound game, and today's premium home theaters need support for as many as 15 speakers and 4 subwoofers to handle the latest Dolby Atmos and DTS:X object-oriented audio codecs. If you have the money, we think pairing an AVM 70 or AVM 90 A/V Processor with a stack of MCA amplifiers will produce sound that should compete with and even rival the best commercial cinemas. MCA's scalability means customers can purchase only the channels needed to power their vision of home entertainment. With the AVM Processors now managing configurations up to 15.4 channels (up from 11.2) and ARC Genesis Room Correction, we think these new pairing from Anthem should give you absolutely amazing sound in every seat of your home theater.
Additional features include:
 • High current output for lower distortion.
• Cosmetic match for AVM 90 and AVM 70 A/V Processors.
• Advanced Load Monitoring system ensures long-term performance.
• 8 paired bipolar output devices per channel for less stress on each device.
Anthem says "It's The Little Things That Count!" like reducing the use of internal cabling, the use of low-flux toroidal transformers and input transistors, and improving on other performance benchmarks including power bandwidth and slew rate. Both power supply impedance and internal cabling inductance have been minimized to help deliver a clear path for maximum power. We've seen many 5-channel amps from other companies using a single power supply for all channels, whereas the new MCA 525 features two oversized power supplies.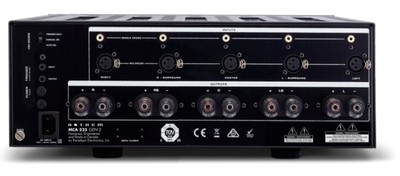 The new amplifiers also feature Advanced Load Monitoring Technology which monitors internal temperature, current and voltage to help ensure safe and uninterrupted longterm operation,and eliminating the need for internal fuses. ALM is not in the signal path, so it never gets in the way. Instead, ALM engages instantly, but only in the most extreme circumstances, to protect your amplifier (and speakers) from damage. ALM lowers the chance of a line fuse blowing during an over-current condition. Should a fault condition arise, unaffected channels continue to play and all-channel operation resumes automatically once conditions are back to normal. The LED on the front panel confirms status at all times. As with all Anthem amplifiers, they can be switched on manually, via trigger, or by sensing an input signal. Larger, more conductive audiophile binding posts maximize contact and maintain a firm grip on the speaker cable.
What We Think

If you're in the market for cutting-edge audio component separates, Anthem's new MCA Amplifiers balance the complex dynamics of today's most demanding multichannel media with the rare finesse required to satisfy the audiophile in you. MCA Amps provide an abundance of conservatively-rated power into demanding low-impedance loads. We know the incredible reliability of Anthem products so it's a no-brainer to pair them with the new AVM90 or AVM70 Pre-amplifier/Processors. The entire new lineup from Anthem are currently available for purchase from authorized Anthem retailers.

Confused about what AV Gear to buy or how to set it up? Join our Exclusive Audioholics E-Book Membership Program!