Mark Levinson Celebrates 50 Years in Audio; New $50K Amp & NC Headphones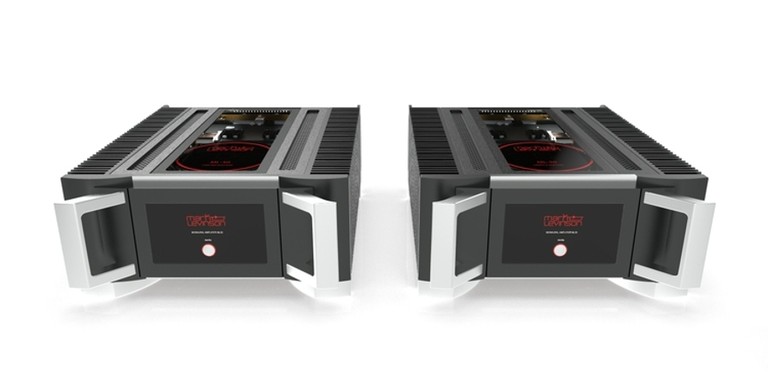 Mark Levinson ML-50 Monoblock Amp
Summary
Mark Levinson № 5909 ANC Bluetooth headphones
Driver Size: 40mm Beryllium Driver
Frequency Response (Passive): 10Hz - 40kHz
Frequency Response (Active): 20Hz - 20kHz
Sensitivity: 97dB SPL @1kHz/1mW
Maximum SPL: 98dB
Impedance: 32 ohm
Wireless Music Playtime with ANC off: 34 hrs
Wireless Music Playtime with ANC on: 30 hrs
Dimensions (H x W x D): 7.9 x 8.1 x 2.6 inches
Weight: 340g (12 oz)
(Specs for ML-50 not yet available)
What Type of Headphones Sound Best w Dr. Sean Olive
Executive Overview
Founded in Woodbridge, Connecticut, in 1972, the luxury audio manufacturer Mark Levinson is celebrating its 50th anniversary the only way it knows how, by launching new, meticulously-crafted and thoughtfully-engineered audio gear. So far, 2022 has brought us two new Mark Levinson products, and they couldn't be more different from each other. First up is the massive, limited-edition ML-50 monoblock amplifier package ($50,000/pair), which features a design echoing "some of the most popular and important models of the brand's storied history," according to the company. This beast of an amp is precisely the type of design I'd expect for a 50th anniversary product from Mark Levinson, boasting high power, heavy-duty construction, and the brand's signature style, which I'd describe as "refined masculinity." And of course, that high price reflects Mark Levinson's position as the flagship electronics maker within the Harman Luxury Audio Group, with a loyal fanbase accustomed to parting with large sums of money in exchange for a well-made, high-performance product. The discussion of price-tags brings us to the second (and somewhat surprising) new product from Mark Levinson, the № 5909 noise-cancelling Bluetooth headphones ($999). The № 5909 is the first-ever portable product from the brand, and it's by far the least expensive piece of hardware to wear the Mark Levinson badge. At the same time, the № 5909 is the most expensive noise-cancelling Bluetooth headphone I'm aware of, by a comfortable margin. Let's dive in to these new products and see what they have to offer.
Limited-Edition ML-50 Amplifier Package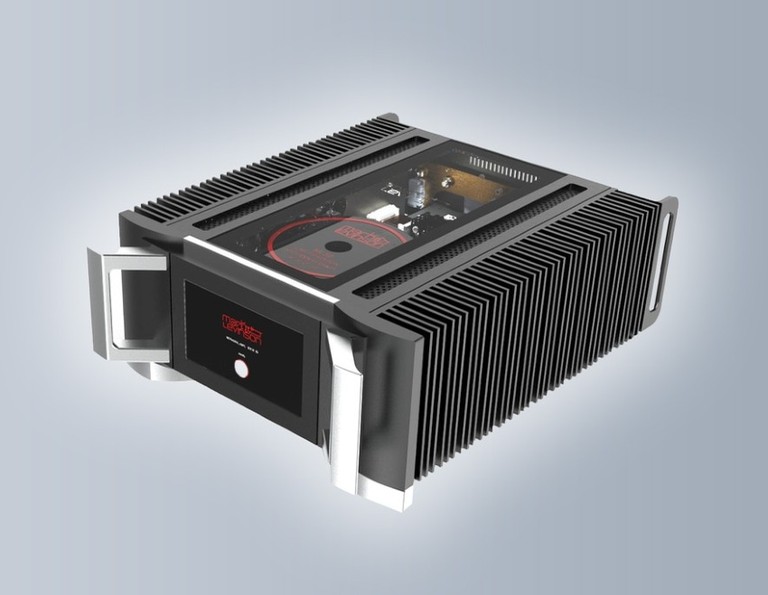 Offering up a substantial 425 watts into 8 ohms, the fully-balanced, Class AB ML-50 "offers unparalleled audio performance capable of driving virtually any loudspeaker system regardless of cost," according to Mark Levinson. The ML-50 is a true limited-edition product, with only 100 pair to be sold globally. Mark Levinson says that the popular № 536 amplifier (launched in 2015, still in production and selling for $33,000/pair) was the starting point for the ML-50's internals, but that the power supply and audio circuits have been upgraded to deliver even higher performance. By increasing the high-voltage supply (voltage gain and pre-driver circuits) capacitance from 8,800uF to 13,200uF, Mark Levinson's engineers say they were able to reduce the noise floor dramatically. Meanwhile, the main high-current supply received a 22% bump in capacitance (from 169,200uF to 206,800uF), resulting in increased dynamic power. The path from the transformer to the filter caps now presents a lower impedance thanks to reconfigured Schottky rectifiers. Doubling the output stage bias has lowered distortion and resulted in a huge increase in the amount of Class A power on tap. The amp's first 20 watts (into 8 ohms) operate in pure Class A — that's more than four times the amount of Class A power than the № 536 amplifier can offer up. With some speakers, the ML-50 may only rarely need to stray from this Class A utopia. Twin-channel top panel venting and enormous external heat sinks work in conjunction with a new elevated chassis to provide increased convection cooling. The chassis is held aloft by new vibration-damping, mechanically-isolated feet, which mimic the curved shape of the front panel. These outrigger feet were inspired by similar supports used on the № 33 (1994-2003) and № 33H (1997-2007) reference amplifiers.
Other elements of the ML-50's physical design take cues from various significant amplifiers in Mark Levinson's five-decade history. For example, the ML-50's large front-panel handles were inspired by the № 20 power amplifier (and its descendants, the № 20.5 and № 20.6), produced between 1986 and 1995. Mark Levinson says that the ML-50's glass front panel and red backlit company logo are "lifted from the incredible № 53 reference amplifier built from 2008 to 2019." (Those design elements just may have been "lifted" from another luxury audio brand, whose black glass front panels and glowing green logos have been admired by fans since long before 2008, but that's another story.) The ML-50's biggest "wow" feature has to be its clear glass top cover, which reveals the high-quality parts and beautifully-laid-out circuits that would otherwise hide within the robust, rather intimidating chassis. Internal LED lighting, which shows off the goods, can be switched between red and white, or turned off. If you want to see the ML-50 for yourself, you'll have to wait for its official launch in the 4th quarter of 2022, and make sure to call ahead; the limited-edition ML-50 will only be available at select Mark Levinson dealers.
The ML-50 is a celebration of the 50 years of products and performance that have made Mark Levinson the benchmark for no-compromise audio that it is today. With only 100 pair to be offered globally, this statement amplifier package is an heirloom investment in the finest luxury audio equipment available.
— Jim Garrett, Senior Director, Product Strategy and Planning, Harman Luxury Audio
№ 5909 Adaptive Active Noise Cancellation Headphones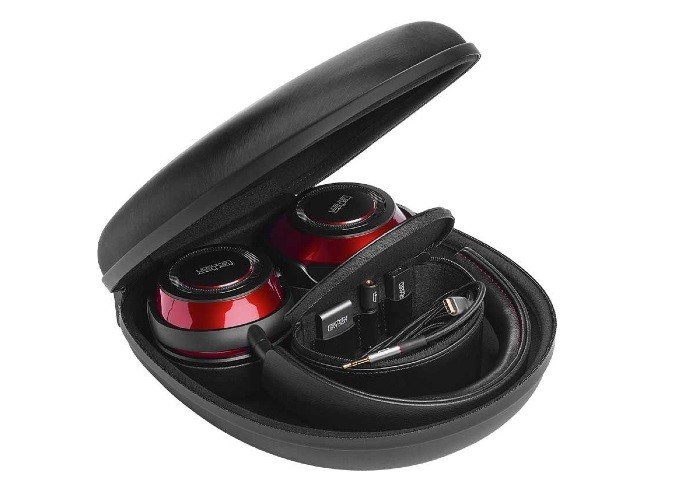 If the ML-50 represents the culmination of Mark Levinson's decades of amp-building experience, the № 5909 headphone represents the start of something totally new for the brand. In the last 15 years or so, we've seen countless high-end audio companies jump on the headphone train with varying levels of success. But as a subsidiary of Harman, Mark Levinson has a significant advantage over other newcomers. Fellow Harman companies AKG and JBL have both been in the headphone business for years, so Mark Levinson's team didn't have to go it alone. In fact, Harman has done some of the most significant research into headphone performance ever conducted, led by Dr. Sean Olive, Senior Fellow at Harman, and former president of the Audio Engineering Society. How does that research inform the design of Mark Levinson's new headphone? The № 5909 uses 40mm Beryllium-coated drivers, the output of which has been expertly tuned to the Harman Curve — a frequency response curve that Dr. Olive and his team developed about ten years ago as the result of an extensive study involving a large number of individual participants trying out different headphones via blind testing. Based on what these listeners liked and disliked, the Harman team was able to define a target response that would achieve the highest subjective scoring across further listening tests. Harman's researchers have continued to study the science of headphones, developing a predictive measurement score for optimal sound with over-ear, on-ear, and in-ear headphone designs. The № 5909 is the first headphone to implement Harman's Headphone Predictive Model Algorithm during the manufacturing process, for the tightest possible adherence to the Harman Curve.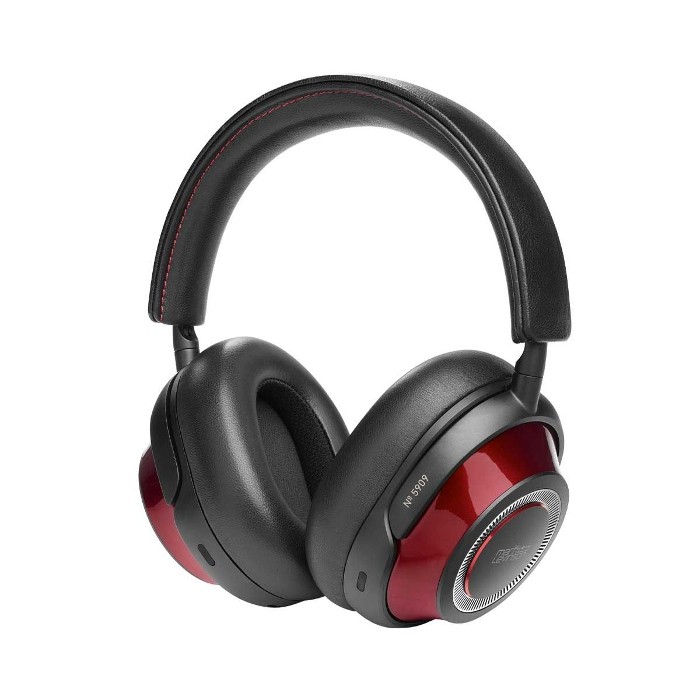 Perhaps more so than for any other audio product, a headphone's physical design is absolutely crucial to its success because a headphone is something we wear. That means its design has to work both in terms of fashion, and in terms of comfort and ergonomics. Although the № 5909 headphone did not start shipping until 2022, it actually received a 2021 Red Dot product design award. The Red Dot Awards are an internationally-recognized symbol of superior industrial design. Other recent Red Dot recipients include Cambridge Audio's Evo streaming amps and the JBL 4309 Studio Monitor. Mark Levinson says that the № 5909 was "crafted with luxury comfort in mind" using premium materials. Each ear cup features a black aluminum cover plate at its center, with the Mark Levinson logo laser-etched in matte-gray lettering. The branding is surrounded by shiny red anodized aluminum accent rings. The headphone's frame and other core components are made from aluminum coated with a protective oxide layer. The leather ear cushions are user-replaceable, and the buttons and controls are said to feel reassuringly robust compared to the plastic components found on other so-called "premium" noise-cancelling headphones. Mark Levinson says that the black anodized aluminum yoke assembly is durable, yet lightweight and flexible, with a smooth and secure sliding mechanism. Beneath the yolk assembly, you'll find bass ventilation ports on top of the ear cups, allowing some air to escape so that Mark Levinson's team could better control the bass response of the headphones. The swiveling ear cups provide fit flexibility and also allow the headphones to lie flat inside the included hard-shell carrying case.
The left ear cup's multifunction button, which is labeled "ANC," toggles between the Active Noise Canceling and Ambient Aware transparency modes. The right ear cup has buttons to control playback and volume, plus a USB-C charging port and a battery indicator LED. One of the headphone's best features from an audiophile perspective could very well be overlooked completely by a more casual user; the USB-C port can also accept digital audio data directly from a source device, such as a laptop, iPad, or Android phone. This scenario allows the user to take advantage of the № 5909's internal DAC, amplification, and DSP (including noise cancelling) without relying on a lossy Bluetooth connection. Of course, most users will probably go wireless most of the time, relying on the № 5909's Bluetooth 5.1 technology with support for the two most useful high-quality audio codecs, Sony's LDAC and Qualcomm's aptX Adaptive. (As always, Apple iPhone users such as myself will have to settle for the "good enough" AAC codec.) The headphone offers impressive battery life, offering 30 hours of listening time via Bluetooth, with noise-cancelling engaged. With noise-cancelling turned off, you get an extra 4 hours of music playback. The № 5909 is equipped with a four-microphone array with "Smart Wind Adaption" (sic), which aides in call quality and also facilitates the headphone's three-mode Adaptive Active Noise Cancellation, along with the aforementioned Ambient Aware transparency mode. The № 5909 can be tailored to the individual user's preference by way of the Mark Levinson Headphones App for Android and iOS. The app allows the user to adjust the noise cancellation settings, and to select one of three "Bass Contour" settings: neutral, enhanced, or attenuated.
The № 5909 headphones are the first Mark Levinson product designed for the luxury, on-the-go lifestyle. The combination of reference-quality sound, best-in-class features, beautiful design, luxury build, and comfort raises the bar for the wireless headphones category.
— Jim Garrett
Mark Levinson № 5909 Sets Benchmark in Noise-Cancelling Headphone?

The Mark Levinson № 5909 headphone is available now, in Pearl Black, Ice Pewter, or Radiant Red, for $999. Gene DellaSala currently has a pair of these in for evaluation so stay tuned for that review. Compared to a pair of $50K monoblocks, the № 5909's asking price might seem more than reasonable to a devoted Mark Levinson fan, but I'll be curious to see whether real-world buyers deem the № 5909 worthy of the extra expenditure over more mainstream noise-cancellers from Sony, Bose, and Apple. At around $500, the AirPods Max are the most expensive wireless headphones I ever see on the street. HiFiMan's $800 Ananda BT has a loyal following, but that's a large, open-back audiophile design with no noise-cancelling, and absolutely no aspirations of competing against the popular Sony WH-1000XM4, Bose Noise Cancelling Headphones 700, or Bowers & Wilkins PX7 to be your daily companion on public transportation. Is Mark Levinson hoping to attract a new, younger customer base with the № 5909, or is this headphone intended for established Mark Levinson fans, who will think of the № 5909 as a nifty accessory to their expensive home systems? Share your thoughts in the related forum thread below.

Unless otherwise indicated, this is a preview article for the featured product. A formal review may or may not follow in the future.
Confused about what AV Gear to buy or how to set it up? Join our Exclusive Audioholics E-Book Membership Program!
Recent Forum Posts:
lovinthehd posts on July 17, 2022 16:15
I was more interested in his marriage to Kim Cattral than any of his electronics….wonder if she still has any of his gear…..

ps then again does Levinson himself have anything to do with the Harman brand designs these days? Was thinking he was associated with some new high end brand out of europe….but it's been a while….
Mikado463 posts on July 17, 2022 15:15
Verdinut, post: 1565184, member: 80194
Amplifiers with tubes nowadays are a silly backward idea.
Perhaps but there are some excellent examples out there.
Tubes will never perform as well as a good solid state product. Moreover, our planet is hot enough, we don't need more heat!

LOL, many a SS amp will draw more current than a tube amp, not to mention a Class A amp wastes more power idling as well as crazy heat generation. If you're thinking 'green' you had best stay with Class D
Mikado463 posts on July 17, 2022 15:12
MalVeauX, post: 1565057, member: 89025
$50k and its not pure class A?!



Very best,

well at least the first 20 watts are biased into Class A
Verdinut posts on July 17, 2022 14:20
Amplifiers with tubes nowadays are a silly backward idea. Tubes will never perform as well as a good solid state product. Moreover, our planet is hot enough, we don't need more heat!
fmw posts on July 17, 2022 13:07
I'd rather have a new car.
Post Reply