Audioholics Showcase Home Family Room System
Audioholics Showcase Home Family Room System
This system was primary setup to keep visitors (especially children) away from the main theater room. It's also a great place for social gatherings since it's near the kitchen and is augmented by the karaoke system and old but still fun Nintendo Wii. With the recent Control4 upgrades, it also serves as the primary hub for streaming and routing high resolution music throughout the entire home.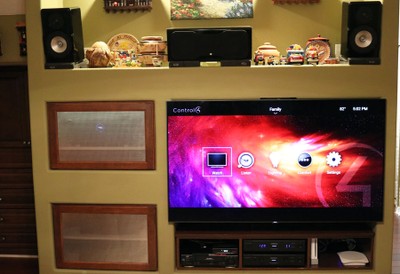 Audioholics Family Room System
At the heart of the system resides a Marantz SR8012 11.2CH AV receiver which  powers the main 5.2.4 surround zone of this room. This system was recently upgraded to immersive surround with two pairs of RBH Sound MC-615 in-ceiling height speakers. An Oppo UDP-203 UltraHD Blu-ray player and 4K FireTV provide all of the 4K HD source material while a Verizon FIOS box gives us local and premium channels in 1080P.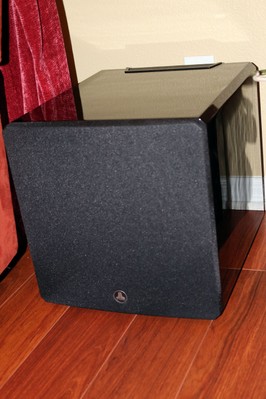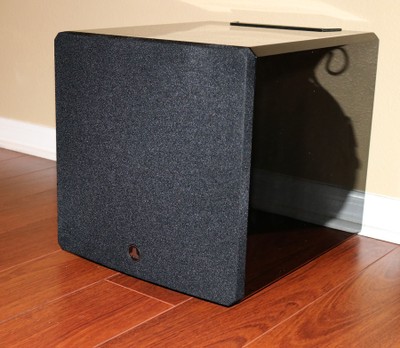 JL Audio e112 sub tucked behind left couch ; 2nd JL Audio e112 sub back right wall

Family Surround Speakers RBH 44-SE Side Channels and 2 pairs of RBH MC-615 Top Front and Top Rear Speakers

The AV Equipment
The speakers consist of the Status Acoustics Decimos, RBH Sound 661-SE/R center channel, 44-SE bipoles for the side channels and two pairs of MC-615 in-ceilings speakers for the height channels. The front and center channel speakers were placed in the cavity above the TV to keep them out of reach which is especially important during parties when a few well liquored guests get a little carried away with their dance moves. Auralex MoPADs are used to isolate the speakers from cabinet resonance and also angle them down to the listening area. Bass is provided by dual JL Audio e112 subwoofers which, despite this room being open to the rest of the house, still manage to provide excellent tactile response that can even be felt upstairs. Bass is smoothed out with good subwoofer placement, time alignment and Audyssey MultEQ tweaked with the Marantz editor App to achieve the most linear response across the 3 seats of the front couch.
Family Room System AV Equipment (left pic) ; Control4 SR260 Remote Control (right)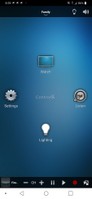 We built custom in-wall shelves to house the A/V equipment as you can see the Marantz SR8012, Oppo UDP-203, Control4 EA5, Triad TS-AMS8 8CH Audio Matrix and 16CH TS-Pamp-100 amplifier, 2 Furman Elite-15 DMi and Elite-20 PFi power conditioners, Motorola FIOS HD DVR, Denon 3-head Tape deck, JVS SVHS, and Nintendo Wii. The downside to integrating all of your equipment into a customized in-wall rack is difficult access. Should you decide on doing this, we highly recommend you create an access point behind the equipment. I had a friend do just that where his in-wall rack backed directly into his bedroom closet. This is the way it should be done if you have that luxury.
HD2020 helped me clean up my cabling when they assisted with the Control4 equipment install. We also used extra long cables with plenty of slack so each device could be taken out of the cavity and propped up on a chair to change connections or upgrade and rewire with newer gear. The 65" Samsung UltraHD QLED display is larger than the cavity it occupies so we used a Sanus retractable mount that extends 2 feet out allowing it to be flush with the wall.
The Control4 SR-260 remote control is fully programmed to operate ALL of the equipment in this system and can also control the other two systems and distribution audio simply by selecting which system or zone you want to control. Similar functionality is had via your smartphone though we prefer the tactile buttons of the SR-260. It's a very intuitive remote control to use and the backlighting makes it easy to see all functions in a dark room.
The End Result
There are no acoustical treatments in this room other than a large padded throw rug, couches and furniture. The room has a very spacious and natural sound quality despite this and provides a very enjoyable surround experience for movie watching and a nice overall sound for music as well. It's great demoing to people the differences they will hear coming from a typical family room acoustics with dual subs vs. a properly treated room with four subs. The idea of this room is to NOT intimidate wives or newbies getting that tend to have the misconception that home theater equipment is typically ugly and obtrusive.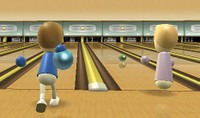 The Samsung QLED display is an absolute wonder in that it has a great picture, great viewing angles, isn't noisy and, at a little over a year old now and has been 100% reliable. The Marantz SR8012 receiver is really an incredible performer and it puts a smile on my face anytime I use it. Having a fully discrete 5.2.4 immersive surround sound speaker setup really puts you into an acoustic sound bubble that is just so enjoyable to share with the family.
The majority of use this system gets is binge watching Netflix and Amazon Prime content. We can't get enough of The Tick, or watching old Star Trek shows.  Having the kitchen close-by makes it easy to pop some popcorn between episodes or for me to make a dagwood style sandwich while the family argues, I mean agrees, over what they want to watch next.
Believe it or not, the family room system gets the most usage out of all of the systems in the house. Between watching movies, karaoke, or gaming, our social gatherings typically wind up in this room. Say what you want about Nintendo Wii not being a serious gaming machine, but all of our guests, including myself typically prefer playing this over XBOX 360 or or OneS. Why? Because the games are simple, interactive and offer very enjoyable multi-player experiences.
Distributed Audio with Control4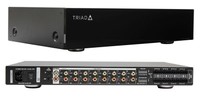 We wanted to ensure the whole home had audio for when we're entertaining guests or simply want to relax outside and hear good tunes. As a result, we pre-wired audio connections in the dining room, guest bedroom, workout room, front and back yard. Each room is wired in Bluejeans 10AWG CL5 speaker cable with CAT5e and power runs to each spot in case we decide to upgrade to touch panel control solutions.
A Control4 EA-5 controller and Triad 8 zone audio matrix and 16CH Class D power amp powers all of the distribution speakers throughout the home. The EA-5 is also the main controller for the entire house and seamlessly coordinates with the EA-3 in the theater room for full automation of all three systems, lighting and music streaming.. The EA-5 features five independent audio outputs—two digital coaxial, two RCA stereo analog, and one HDMI—with an audiophile-grade signal-to-noise ratio of 118dB.
The Control4 system handles 5 independent zones of distribution audio which includes:
Boston Acoustics Voyager RK6T2 Rock speakers in the front yard. They look and sound great!

RBH MC-615 in-ceiling speakers in the dining room. These are the same speakers we use for Atmos height channels in the family room system.

Paradigm SA-25 in-wall speakers in the guest room. These are really kick ass in-walls. Too bad Paradigm discontinued them.

NHT 02-ARC outdoor speakers in the gym. These are extremely inert and sound great especially when powered by the bridged channels of the Triad Amp for more power.

Sonance Mariner 86 outdoor speakers in the back yard. These are surpise additions and we've been really impressed with how loudly and cleanly they crank. The 8" woofer is the key for the increased sensitivity and why they can really pump out the SPL in a large open space.

The Triad PAMP was bridged for 2X the power for the Sonance backyard, NHT gym and Paradigm guest room speakers as these three zones are the ones that get played loudest or are used for more critical listening, or both. The SPL we get from the Sonance backyard speakers is really impressive and it's just awesome to grille some burgers or ribs while jamming to Donald Fagen Nightfly or George Benson greatest hits. It's a real convenience to be able to access music in any location of the house from your phone thanks to the Control4 system. We often listen to high-res music in Tidal or just stream from Pandora if convenience is priority over sound quality.
Paradigm SA-25 In-wall Speakers(left); workout room (center); NHT 02-ARC Speakers  (right)
See our instructional video on: How to Install the Paradigm SA-25 In-Wall Speakers
For the guest room, we're running Paradigm SA-25 In-wall speakers which ensure visiting friends/family aren't deprived of top notch audio. The workout room has the new NHT 02-ARC outdoor speakers which sound fabulous despite being placed out of sight. Being placed near the wall gives them plenty of bass reinforcement to not require a sub in that room. And yes, here at Audioholics, we have a strict regimen for physical fitness.  If you can't lift the gear you're reviewing, you aren't qualified to review it. 
RBH Sound MC-615 In-ceiling (left) ; Boston Acoustics Voyager RK6T2 (right)
The dining room is running RBH Sound MC-615 in-ceiling speakers which do a great job of piping in music during dining events. The front yard contains a pair of Boston Acoustics Voyager RK6T2 rock speakers which to date are the finest pair of rocks we've ever heard. During holidays, our entire outside is rocking with holiday theme music which always draws neighbors that enjoy sharing some food and wine while listening to some tunes.
What makes this system so powerful is the ease of use thanks to the visually intuitive Control4 interface. With the Control4 App loaded on your smartphone, you simply select what zone you wish to listen to music on and what streaming service you want to stream music from. You can then add other zones to play the same source or run independent music sources to each of the zones.
Bedroom System
Since we polluted nearly the entire house with audio gear, a compromise was made for the bedroom system. Our goal was no visible equipment other than a wall mounted flat panel display to prove that you can have quality audio that doesn't destroy a room decor or draw attention to itself when its not powered on. Thus during the pre-construction phase, we pre-wired the entire room to route directly upstairs to the main theater room. We also installed two RBH Sound SI-10 in-wall subwoofer enclosures. The rest of the speakers consist of a pair of RBH Sound MC-6 and 1 MC-414 in-wall speakers for the front LCR's. A pair of MC-615 were used for the surround speakers making this a 5.2 speaker system.
We retrofit back boxes after the drywall was up per our article: In-Wall Speaker Selection & Installation Basics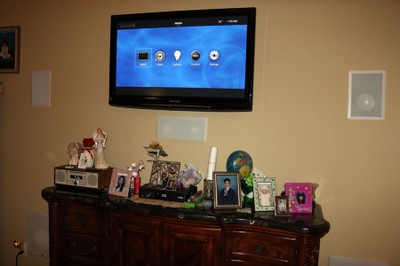 Audioholics Bedroom System 
We are still rocking a 1080p 42" THX Certified Panasonic Plasma (model TC-P42G15) which is a fabulous display for both HD and standard definition video sources.  We have no plans on changing this display till it dies. There are 6 COAX feeds and two Cat5e running from the bedroom to the main theater room for all of the A/V connections. The AV connections were no longer needed after upgrading to the Integra DRX-4.2 HDBaseT AV receiver which allows all sources to be located with it in the main theater room while routing 1080p video to the display in this room via ethernet. A Control4 EA-1 is located behind the display to provide the OSD interface to the system.  HD sources streaming to this system include Verizon FIOS, Amazon FireStick TV and a Marantz UD7007 Blu-ray player.
Check out our: Tips for a Clean HDTV Install where we show how to clean up that cabling mess for the most aesthetically pleasing installation possible.
The End Result
For a bedroom, this system doesn't disappoint. It allows us to have a very good theater like experience in the comfort of our own bed when we simply don't feel like going upstairs. The dual subs really slam well in the room thanks to them being ideally located ¼" length of the front wall and equidistant to our bed which is located on the direct opposite wall. This provides excellent room gain to get those little 10" subs really pounding and feeling more like larger boxed subs. Having Control4 integrated in this system is instrumental in its function and ease of use. For years I struggled with finding a reliable RF remote solution that would allow me to locate all of the AV equipment in another room while operating it from the bedroom and all have been a disappointment in terms of programmability, or reliability. Control4 operation has been rock solid and the streaming functions just add so much to the enjoyment of this system especially when we just want to do some relaxing late night listening in bed.
Conclusion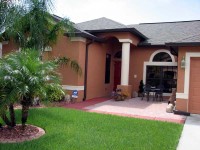 After years of plotting, planning, installing and configuring, we've proud to present the Audioholics Showcase Home.  Yes we've got a lot of speakers, amps, cables, electronic devices, you name it.  But isn't that what being an Audioholic is all about?  I can't tell you how many audiophytes I've brought over to our place that soon turned into raging Audioholics as a result.  I've been even had at least 3 of my local neighbors upgrade from their Bose cubed speaker systems as a result of experiencing something truly more pleasant sounding.
All of the hard work has paid off as we are happy to report this project has gone pretty much according to design. Sure we ran into some snags during the way such as HVAC noise issues, some non-ideally located speaker pre-wires, and a couple of not so great choices in components, but for the most part if we had the chance to do it all over again, we would change very little. One thing we do recommend is going with 14/4 CL2 approved in wall speaker cable instead of 10/2. It's much easier to work with and terminate and you have a redundant pair in case a cable runs into a snag when being run through the walls. If you parallel 14/4 you get an effective 11AWG cable resistance which is very close to the 10AWG cable we used. Working with 10AWG cable is a challenge especially when trying to terminate to the Triad Distribution amp. We simplified this by breaking out the speaker cables from the walls to thinner 14AWG cables and it worked out just fine.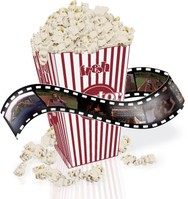 With three independent theater rooms and distributed audio around the house, the Audioholics Showcase home often sounds like you're in a local Hi-Fi store. This is a good thing as it means we are bringing our friends and family together, educating them on quality A/V and saving money on unnecessary traveling to the local theaters. Our only pre-request when people come to watch a movie in the main theater room is to bring the organic kernels for our popcorn machine.  We've got some great recipes for popcorn that are healthier and tastier than any of the local movie theaters.  Those that bring good wine and spirits get first dibs at sitting in the front row.  However I reserve the back center seat when watching movies as that is the secret money seat for multi-channel music and movies.
The three major updates (Immersive Surround, 4K, Home Automation) we made to the Audioholics showcase home really added immeasurable enjoyment. Immersive surround sound is definitely a worthy upgrade if you can install height speakers. Going from 1080p to 4K was noteworthy but not as dramatic as the immersive surround upgrades.  Adding a stable, easy to use control system from Control4 perhaps had the biggest impact from day to day usage of the equipment and is something we definitely recommend budgeting for when planning out your home theater system. 
See an up to date Equipment List for the Audioholics Showcase Home
Confused about what AV Gear to buy or how to set it up? Join our Exclusive Audioholics E-Book Membership Program!
Recent Forum Posts:
Ron Bates posts on November 24, 2019 18:48
Gene, how do you like the Control4 system?
Ron Bates posts on November 18, 2019 23:45
Gene, very impressive set up. I love listening to stereo and home theater and currently have both in the same room. My HT room is 15' X 22' X 8' high. The top corners of this upstairs HT 22' long room follow the roof line so the corners are at a 45 deg angle. Equipment: 7.2.4: Integra DRC-R1 processor, NAD 27 amp (to power R, C, L, and 4 surrounds), Rotel amp to power 4 celling speakers, Rotel 1072 CD player, OPPO 203, Sopra II L & R speakers, Sopra center channel, 8 B & W in wall speakers for sides and celling, 2 JL E112 subs, Epson projector with 117" SI screen. All my equipment is in a closet in the back of the room. So wiring from my amp to my L, C, R speakers is about 45 ft long. conductors 14 X 4. Too expensive to have a cable with a battery attached. Just kidding. My system sounds good for stereo and Home theater but wondering what can I do to upgrade the 2 channel experience? I am focusing on what stereo equipment to consider? Certainty the Anthem STR looks good or is overkill for what I have? I've looked at a Luxman integrated amp L507uxII. I wonder if this would be OK for L & R home theater speakers, would this have enough head room? Another idea is the PS Audio M700 mono blocks with their gain cell DAC. Having an outboard DAC is beneficial for sound quality. Any other ideas? What about on the processor side for HT or stereo? Would any of these pieces mentioned have an improvement over what I have? Sometimes I enjoy having with the stereo my 2 subs so a 2.2 set up. I'm not sure how this would impact my current set up by adding a 2 channel amp?
I appreciate your input, thank you, Ron
Mrpoe posts on May 20, 2019 10:46
gene, post: 1317597, member: 4348
If you turn pff the sub channel then LFE gets rerouted to the mains. That's a fact. It's possible some receivers will scale back LFE in those instances to not overload the main channels but i haven't seen that happen since the Yamaha DSP-A1.
It's exactly as you stated! Too bad this receivers that doesn't have rca out, don't have the option to route LFE to mains while "subwoofer on". Because having a small 200rms subwoofer and "capable" full range towers could lead to distributing uniform bass across the room. And an spl bump haha
gene posts on May 20, 2019 07:49
Phase 2, post: 1317357, member: 87062
Man, talk about done up right! But Gene, you got a nice lil bar for refreshments, what about snacks? Popcorn machine, a nice stack of M&M's, Snow Caps you know, a snack bar. Lol. Very sweet HT room you got there Gene!

Mike
Phase 2, post: 1317357, member: 87062
Man, talk about done up right! But Gene, you got a nice lil bar for refreshments, what about snacks? Popcorn machine, a nice stack of M&M's, Snow Caps you know, a snack bar. Lol. Very sweet HT room you got there Gene!

Mike
Haha we do have a popcorn machine downstairs and thankfully a pause button to hit the kitchen for snacks
gene posts on May 20, 2019 07:48
Mrpoe, post: 1317353, member: 88833
Hi Gene! I'm enjoying watching you share real world and out of this planet setups as well, to fix my own.
I learned from this post about "subwoofer no" and feeding the sub trough the LR RCA's to match the sub with full range Mains. Is it possible for you to pass this info to Denon to add the option for those of us that don't have rca outputs?
I emailed them a couple of times telling them that if you disable the sub, the mains play the LFE channel, and they replied that's not correct, in fact they said it's impossible!
I was asking denon for an option to keep the lfe alive and also let the mains play the LFE track.
I have a Denon avr x2400h with towers that play 26hz -3db (106db playing the opening scene of Edge of tomorrow at -11db ) and after i bought the subwoofer it's like I'm in the same place!
Cheers!
Ps: sorry if I sound illiterate, english is my second language.
If you turn pff the sub channel then LFE gets rerouted to the mains. That's a fact. It's possible some receivers will scale back LFE in those instances to not overload the main channels but i haven't seen that happen since the Yamaha DSP-A1.
Post Reply