Audioholics Showcase Home Theater Overview and Virtual Tour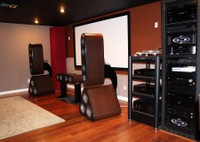 The Audioholics Showcase Home has gone through a lot of changes since its creation almost 15 years ago. With over two miles of cable run behind dry wall, 50+ speakers located around the house, 50+ channels of associated amplification comprising of almost 10,000 watts of power, and over 1/4 of a million dollars in equipment, we've got enough AV gear to make an IMAX envious. There are three state of the art home theaters and distributed audio throughout the house with home automation handled by Control4 . Recent updates include the Anthem STR separates, Marantz SR8012 11.2CH AV receiver, and Control4 home automation. Our YouTube Video virtual tours gives you a peek inside our showcase theater room and more.
This Audioholics Showcase Home consists of 3 independently run theater systems, whole home audio with over 10kwatts of power to 50 channels of amplification and speakers. Watch our YouTube Video tour.