Reference System 1: Gene DellaSala
Reference System 1: Gene DellaSala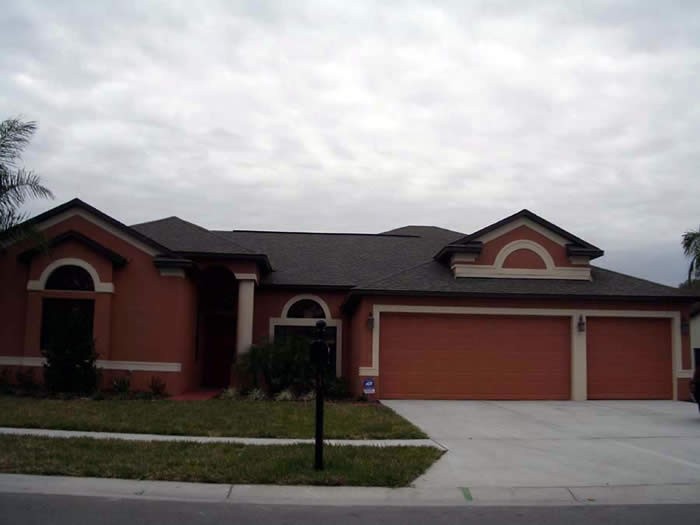 Reference System 1
I had a vision for what the Audioholics Showcase home would be like for quite some time. It would be a home engulfed in the audio and visual in all of the right places where people visiting would gather and be entertained. At the same time, I wanted this home to have the ability to host only the coolest parties - ones worthy of Colombian respect since no one in my experience parties like them. Let us also not forget about the critical data center where multiple computers are networked together so our reviewers can work, test and measure gear while maintaining contact over the Internet.
The location is Land O Lakes, Florida - a remote wilderness area currently void of strip malls, Walmart's and McDonald's (at least for now), but chop full of cow pastures, deer, and summer locusts. Our builder of choice was Mercedes Homes. Though they aren't quite a custom builder, we did manage to persuade them to customize our home quite a bit to fit our needs. Of course after hearing about our 1 million monthly readers, and that we would be throwing a shameless plug their way (Mercedes homes is #1), the blueprints and Sharpie quickly made their way into our hands.
After seeing the layout of the model, I knew exactly what I wanted to implement to make it worthy of the name Audioholics. Listed below were my requirements:
 Dedicated Home Theater Room - The main system (central plexus) which serves reference home theater both to its location and to a second zone - our Master Bedroom System.
Interconnectivity between the Theater Room System, my test lab, The Master Bedroom System and the Family Room System.
The Family Room System serves 7.1 at its location as well as simultaneous distributed audio to front yard, back yard, living room and guest room locations. Essentially the home run location for all distributed audio in and outside of the house.
Ethernet at every TV location, and office connected back to the distribution center in the laundry room.
Triple Coax to each TV location to receive HDTV via free air antenna located in the attic, Satellite or cable service all connected back to a distribution center in the laundry room.
Cables of Choice
Now for the fun part, figuring out what cables we needed, and at what lengths. Mercedes homes unfortunately wouldn't let me run the cabling in my home due to liability reasons, but they did allow me to come up with a layout plan to have their contractor S&S Electric follow. S&S Electric offered me Monster Cabling as their solution. As soon as I heard the "M" word, I shivered at the thought of it (mostly due to price and a lack of options). When I actually saw the markup on the products I firmly said "no thanks". Their best upgrade was 16AWG Monster Cable at $100 per run. Yikes!
Through some pleading, I managed to convince them to let me use my own cabling for this job, especially since, from a performance standpoint, the available Monster Cable products simply didn't live up to my criteria.
As any of our readers know, we are very critical on performance and value, especially involving cables. We avoid exotic cable companies that sell snake oil and only use and recommend legitimate cable manufacturers (typically ones that don't buy football fields and rename them.) That being said, we called upon three of the best ones we have found: Blue Jeans Cable, Impact Acoustics, and DVI Gear.
After much consultation with our own resident expert Ray Adkins, I drew up a cabling plan for S&S Electric to follow.
Audio and Video Coax & Speaker Wire Connections Plan
This does not include alarm, intercom, or standard phone/fan, accessories, attic COAX, etc
Note: All speaker wires will use 10/2 Blue Jeans Cable, all audio, video and cable TV COAX will use Blue Jeans 3 color COAX 1694 cable.
Cabling Breakdown by Location

Dedicated Home Theater Room

Projector
Conduit: 3 Video Coax, 2 Cat5e, 2 HDMI run to front wall connection box
1 dedicated 120V, 20A line
Middle Front Wall
6 COAX run to frontwall main A/V panel
3 x 10/2 speaker runs back to frontwall main A/V panel
2 x upper wall 10/2 speaker runs back to front wall connection box
Left Side Wall Display
2 Coax (video) run to frontwall main AV panel
Closet Office
6 Coax (3 audio, 3 video) back to frontwall main A/V panel
1 dedicated 120V, 20A line
Data (Phone, Ethernet, CAT5e back to frontwall main A/V panel)
Main A/V Panel (front wall connection box to left of Air Conditioner)
Data (Phone, Ethernet, COAX for Cable TV)
All connections from Projector, Closet Office, Left Side Wall Display, and Main Bedroom A/V connections
Master bedroom speaker cables ( 2 front, 1 center, 2 front subs, 2 rears)
All speaker cables in Bonus Room (6 rears, 1 rear ceiling center, 2 Front inwalls, 3 Front floor center and left double runs)
8 Audio Coax from Family Room System #2
2 Audio Coax for Rear Subwoofers in Bonus Room
1 subwoofer connection from backyard
2 Dedicated 120V, 20A Lines
Guest Room
2 x 10/2 speaker cables back to Family Room (System #2)
1 Volume Control (Cat5e) back to System #2
Family Room

4 Coax (audio) front, rear, right side and outdoor subwoofers
8 Coax (audio) to Bonus Room
ALL Volume Control Connections (10/4 and Cat5E bundle) which include 2 x living room, 4 x front yard (located indoor living room), 4 x outdoors backyard, 2 x guest room.
Note: All downstairs and outdoor speaker connections (except Master Bedroom)
10/2 Speaker wire runs for 2 front, 1 center, 2 sides, 2 rears, 4 back yard, 4 front yard, 2 guest room and 2 living room
Data (Phone, Ethernet, COAX for Cable TV)
1 Dedicated 120V, 20A Line in addition to standard supplied outlets
Master Bedroom

2 x 10/2 fronts channels, 1 x 10/2 center channel, 2 x 10/2 front left/right subs, 2 x 10/2 rear surrounds all back to Bonus Room (System #1)
6 Coax (3 video, 3 audio) back to System #1
2 Cat5e back to Bonus Room System #1
Data (Phone, Ethernet, COAX for Cable TV)
Back Yard Lanai
2 x Coax (1 for Cable TV run back to distribution panel in laundry room, the other for DVD run back to System #2
2 pairs of speakers + subwoofer run back to System #2.
Front Yard
4 x 10/2 for 4 rock style speakers + 2 x CAT5e for VC's back to System #2.
Whew! Did you get all of that? Good.
Confused about what AV Gear to buy or how to set it up? Join our Exclusive Audioholics E-Book Membership Program!