Reference System 4: Ken Stein
Reference System 4: Ken Stein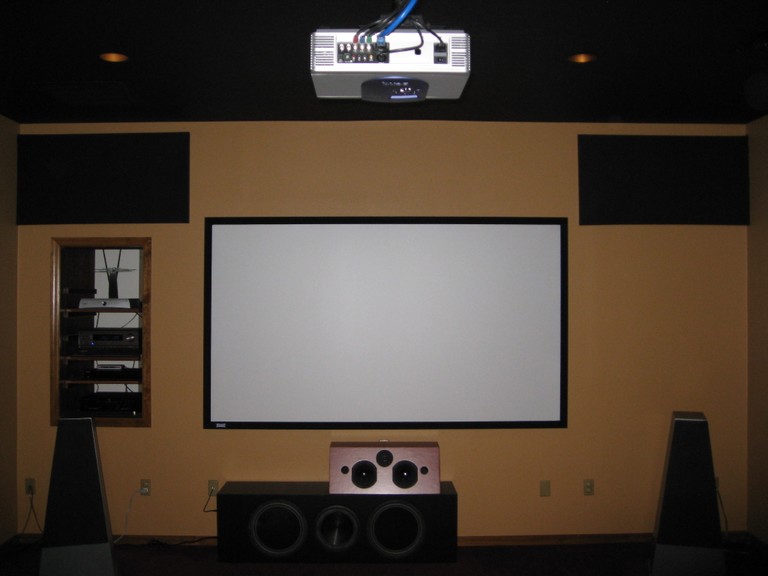 Front of theater
The system has also undergone extensive ISF calibration by our trained and certified ISF Senior Staff. Reference System 4 is the home of several Do-It-Yourself projects by handyman Ken Stein, which includes sound panels, speakers, and accessories. Audioholics plans to use Reference System 4 wisely and effectively in many of our loudspeaker and subwoofer reviews.
Main features include an Integra Research RDC-7 processor and DIY speaker system. The DIY sound panels make the room acoustics in reference system 4 ideal for audio reviews which include loudspeakers, processors, amplifiers and other assorted home theater products.
Hardware

Description

Manufacturer's Website

Preamp / Processor

Integra Research

(2) Acurus A200

200 watt x 3 Channel Power Amp

Mondial

Acurus A250

250 watt x 2 Channel Power Amp

Mondial
Panamax 1000+
Line Conditioner and Noise Filter
Panamax

Main Speakers
Dynaudio/Peerless 3-way

Audioholics

Center Channel
Morel/Peerless 2-way

Surround Channels (2)
Morel/Peerless 2-way dipoles

Rear Channels (2)
Morel/Peerless 2-way

1000 watt 12" subwoofer (2)
TC Sounds/Dayton

BenQ PE 8700 Projector
DLP Front Projector
BenQ
Da-Lite Pro-Imager Screen
Projector Screen
Da Lite

Universal DVD Player

Marantz
Logitech Harmony 676
Review
Universal Remote Control
Logitech
Panamax 1000+

Line Conditioner/Noise Filter

Panamax
HDMI Cables

60' Long-run HDMI Cable
DVI-7370 Active Cable Extender
HDMI/Component wall plates
DVIGear

Blue Jeans Cable

Audio and Video Cables

Blue Jeans Cable
Sound Panels
Do-It-Yourself


Confused about what AV Gear to buy or how to set it up? Join our Exclusive Audioholics E-Book Membership Program!