Paradigm SA-25 Reference In-Wall Speakers Review
Paradigm SA-25 Reference In-Wall Speakers Review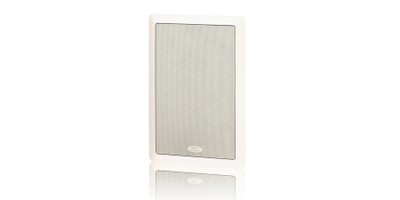 Paradigm SA-25 Reference In-Wall Speaker
Design

2-driver, 2-way in-wall/In-ceiling, die-cast chassis/mounting bracket

Crossover

3rd-order electro-acoustic at 2.0 kHz

Frequency Response On-Axis

±2 dB from 58 Hz - 22 kHz

High Frequency Driver

25 mm (1 in) G-PAL™ dome, die-cast heatsink faceplate

Mid/Bass Frequency Driver

165 mm (6-1/2 in) S-PAL™ cone, 38 mm (1-1/2 in) voice-coil, die-cast chassis

Low Frequency Extension

39 Hz (DIN)

Sensitivity Room / Anechoic

92 dB/88 dB

Impedance

Compatible with 8 ohms

Suitable Amplifier Power Range

15 - 160 watts

Maximum Input Power

110 watts

Weight

7.8 lbs. (3.6 kg)

Overall Dimensions

11.25" (28.4cm) Height
7.8125" (19.8cm) Width

Cut-Out Dimensions

10.25" (26.0cm) Height
6.75" (17.2cm) Width

Minimum Mounting Depth
Depth required is the distance
between 1/2" drywall, or similar material.

2.9375" (7.4cm)

Minimum Internal Volume Required

0.42 cu ft (12 L)
Pros
Audiophile performance from an in-wall speaker
Superb build quality
Cons
Spendy
4 ohm load requires stout amplification
Paradigm has been one of the most recognized and revered names in high-end audio for several decades.  Headquartered in Canada, their state-of-the-art facility is home to an anechoic chamber similar to that at the National Research Council (NRC), which allows them to make quick and consistent measurements of their products in efforts to continually refine performance.  When the opportunity presented itself for me to upgrade the sound in the Audioholics Showcase Home guest room, I immediately thought of Paradigm.  Having enjoyed several Paradigm in-wall speaker demos at various trade shows in the past, I was curious to see how their top tier in-wall products would perform in my own listening space.  Paradigm graciously sent me their SA-25's from their Reference Series collection.  Right out of the box, I realized I had quite a special product on my hands.  But would the sum of the parts equate to performance befitting such a high price tag?  Read the review to find out.
Paradigm SA-25 In-Wall Speaker YouTube Review
Design Overview
Paradigm has been one of the most recognized and revered names in high-end audio for several decades.
The Paradigm SA-25 is a two-way design with 1" gold anodized aluminum tweeter and 6.5" aluminum cone woofer with phase plug.  The woofer features a heavy-duty 1.5" voice coil for increased power handling and the driver employs a cast basket with a large extruded heatsink to improve cooling.  The woofer features a real phase plug which physically separates from the cone and instead is attached to the pole piece. This reduces the moving mass of the driver slightly, allowing it to extend its usable frequency response and also acts as a heat sink to cool the voice coil and increase power handling. It also slightly reduces on-axis beaming by dispersing the high frequencies the driver is producing. The 1" aluminum dome tweeter also has a heatsink to reduce thermal compression.  The crossover is a 3rd-order electro-acoustical response with a 2kHz cutoff.  It contains a mixture of air core inductors and mylar caps on the tweeter circuit along with a large heavy gauge iron choke on the woofer.  The padding resistor on the tweeter is mounted on stand-offs to reduce heat buildup by increasing air circulation.  Everything about this product demonstrates Paradigm going to the extreme to ensure high power handling and low compression.  Even the front baffle is extremely rigid and constructed out of aluminum instead of plastic as found on lesser products. The SA-25 is rated for 8 ohms though my measurements reveal a different story.  The frequency response is rated from 58Hz to 22kHz +- 2dB (notice the tight tolerance indicating again good parts quality).  Sensitivity is rated at 88 dB at 2.83V/meter which is what I measured.  The SA-25 is rated from 15-160 watts.  Feed these babies quality amplification, they can take it!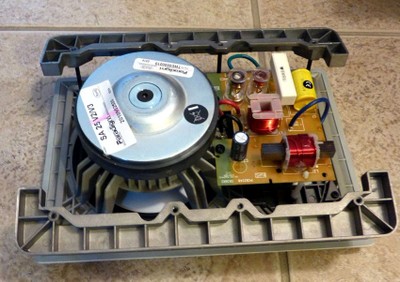 Paradigm SA-25 Backview
Installation
It is of paramount importance that you cut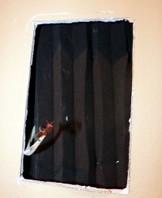 out the right size hole in your drywall to install the SA-25 speakers.  Before doing any cuts, make sure you first use a stud finder to locate the studs which should be 16" apart on center  in U.S. domestic construction (milled 2 by 4 is actually 1-1/2" x 3-1/2" so gap between the studs should be ~14-1/2").  You will want to install the speaker between the studs.  The Paradigm-supplied template is your friend.  I suggest placing the template against the wall where you plan on installing the speakers and tracing it out with a pencil.  Note: Don't make the drywall cut out any bigger than that or else you run the risk of not having enough drywall to clamp down to with the metal brackets when installing the speaker.  Firmly holding the template against the wall, I used an X-Acto knife to cut out the drywall which isn't all too difficult a task if you have a sharp blade and a strong arm.
Since this wasn't new construction, I wasn't able to install back boxes so I did the next best thing.  I stapled sound foam into the back cavity to help deaden the "enclosure."  I do recommend the optional back boxes if you're planning on installing these speakers in a new home or if you're not afraid to tear down and building back up some extra drywall in the pursuit of better sound.    
When installing the SA-25's you're going to need a power drill to screw the speakers into the wall.  These are long screws so trust me when I advise NOT to manually turn these.  Save your forearms and time and let the drill do the work for you.  Just back the torque off so you don't over tighten towards the end.
Once the speaker is secured to the wall, you can install the grille.  Paradigm claims the scrim cloth behind the metal grille is acoustically transparent and intended to remain in place for customers wanting to conceal the drivers from view.  In my experience these cloth coverings have acoustical losses.  If you can't shine a flashlight through it, how could you expect no loss of fidelity?  I took off the cloth on the grille before installing as I didn't want to hinder the performance of this fine speaker and defeat its very purpose.  I wasn't able to get one of the speakers completely flush mounted to my wall thanks to the shoddy drywall work of my home builder.  So, I took a bead of caulk and ran it through the seam of the speaker for a better seal.  Carefully inspect the speakers after installation to address any potential leakage paths.
Confused about what AV Gear to buy or how to set it up? Join our Exclusive Audioholics E-Book Membership Program!
Recent Forum Posts:
gene posts on November 17, 2015 21:08
Dhanula posts on November 17, 2015 19:30
I have 8 of SA 25s as my surrounds .. Very well engineered product.
I don't see SA 25 in the website when filter by in wall speakers. seems like its not in production any more.
gene posts on March 25, 2015 00:29
eftWhEDCLKw
gene posts on March 25, 2015 00:09
The Paradigm SA-25 speaker system is part of their reference collection and represents their best offering in a two-way in-wall. It features a 6.5" phase plug aluminum cone woofer and 1" gold anodized aluminum dome tweeter. It has been awhile since I've reviewed a Paradigm speaker but I'm glad I've had the chance to check out these beauties as it made me realize just how far the company has advanced its sound over the last decade or so. The SA-25s are among the best sounding compact in-walls I've heard and they will certainly satisfy even the most critical audiophile for two-channel or as a surround speaker. When you buy a speaker from Paradigm, you can rest assured that you will be getting a highly engineered product based on sound science and quality materials.



Read the Paradigm SA-25 In-Wall Speaker Review

What in-wall speakers are you using?
Post Reply