NHT 02-ARC Outdoor Speaker Review
NHT 02-ARC Outdoor Speaker Review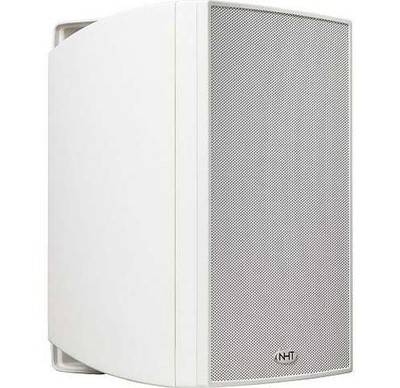 NHT 02-ARC Outdoor Speaker
Model - O2-ARC Outdoor Speaker
System Type - 2-Way Acoustic Suspension
Cabinet - Weather resistant - ARC (Anti-Resonant Casting)
Grill - Removable micro-perf painted steel
Woofer - 6.5" polypropylene cone
Tweeter - 1" ferro-fluid cooled dome tweeter
Frequency Response - 60 Hz- 20 kHz (+/- 3dB)
Sensitivity -88 dB (2.83V @ 1M)
Power Rating - 25 Watts Min, 125 Watts Maximum
Impedance - 8 ohms nominal, 3.5 ohms minimum
Weight - 11.8 lbs/5.4 kg
Dimensions - 11.7" H x 7.3" W x 7.5" D
Speaker Connections - Pro Grade Spring Clips
Mounting - "C-Clamp" type bracket
Finish – white or black, environmentally tested paint
Warranty - five years parts and labor
Sold and packaged individually
Pros
A true outdoor high performance speaker
Great sound quality
Rugged design
Cons
4 ohm impedance not well suited for some AV receivers
Only available in two finish options: black or white
Bracket limits speaker to one adjustable axis
Let's face it, everyone likes great sound once they are exposed to it.  It's not always easy to get great sound outside of the home theater environment.  Most outdoor speakers we've seen leave us wanting in the fidelity department.  How do the new NHT 02-ARC Outdoor Speakers perform?  You're gonna have to watch our video review and check out our measurements to get the answer.
NHT 02-ARC Outdoor Speaker Video Review
Design Overview
This is NHT's third generation of outdoor s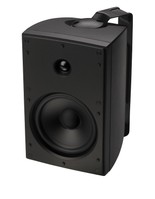 peakers.  The market is mostly flooded with indoor/outdoor speakers that are made to be weather resistant but not necessarily tuned ideally for an outdoor environment.  Most outdoor speakers tend to offer anemic bass response since they can't rely on natural room gain that an indoor environment ordinarily would provide. NHT claims this is not the case with their new 02-ARC Outdoor Speakers.  NHT designed the bass response to be very balanced outdoors, enough so that adding a subwoofer is an option, not a requirement.  As an aside, NHT claims the 02-ARC speakers also work very well in large, high-ceiling rooms (restaurants, health clubs) for background music.  They cannot however be used with a microphone in a PA system; that's not the design intent.
This latest design uses a material they call "Anti-Resonance Casting". The material is actually bulk molding compound (BMC), extremely rigid, acoustically dead, material.  It's used for airplane and truck parts primarily.  The cabinet walls are 7mm thick with nine, 3mm ribs that run continuously – side, bottom, side.  3 short ribs top and bottom.  Front baffle has one large rib running side-to-side above the woofer and 6 smaller ribs around the perimeter.  Let me tell you, this is definitely the heaviest and most rigid outdoor speaker I've ever tested in this size.  Most outdoor speakers utilize 5mm thick walls with far less support bracing.
NHT added some neo magnets so that the grille adheres tightly to the front baffle to keep little creatures from building homes in your tweeters or prying kids from playing Kung Fu Panda.  The cabinet is a completely sealed design, also called acoustic suspension
The 6.5" mid-bass polypropylene driver and 1" polyester fabric dome with urethane coating are moisture resistant.  Both drivers utilize conventional ferrite magnets.  The 6.5" driver has a stamped frame with an extended pole piece for higher excursion capabilities.  Unlike some competitive outdoor speaker models that simply slap a resister and capacitor on the tweeter and call that a crossover, NHT actually employed a real network with a 2nd order electrical (4th order acoustical) response.  All parts are 5% tolerance including the laminated core inductors, non-polarized electrolytic caps, and cement resistors.
The NHT 02-ARC outdoor speakers are available in both Black and White finish options.  The paint NHT chose has had 1000s of hours of environmental testing and is said to be UV resistant.  Our review samples came in the black finish. 
Installation
The 02-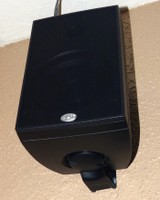 ARC speakers are voiced for near-boundary installations. So for best results outdoors, you'll want to mount them on a wall surface.  We did just that in our Sun Room which serves as a workout area and play room.  The 02-ARC's were mounted on the wall above our glass sliding door.
We used tapcons to mount the "C-Clamp" brackets onto the stucco block wall.  We did this by first pre-drilling the holes using a concrete bit and then using hexagon head tapcons.  It's important to line up the screws with the narrow hole area of the bracket. This will ensure the head doesn't fall through the bracket once tightened down to prevent massive head trauma to any unfortunate soul in the gravity's path of the speaker that was installed improperly. 
Getting the speaker to tighten down on the bracket is a bit tricky mostly because it's challenging to line up the screw holes.  I found it easiest to line up the bottom of the speaker first and slightly tighten down the mounting screw before doing the top one.   
Before fully tightening down the mounting screws, you will want to properly position the speaker.  The bracket allows pretty good horizontal adjustments but absolutely NO vertical adjustment flexibility at all.  This was a bit disappointing as we've seen more sophisticated mounting brackets on other systems.  My advice is to place the speaker as low as possible but high enough so there is absolutely NO chance that Kareem Abdul-Jabbar can bump his head if he ever plans on paying you a visit. A workaround to getting a slight tilt downward would be to wedge an angled wooden mounting plate underneath the top of the bracket while screwing it into the wall with a longer tapcon.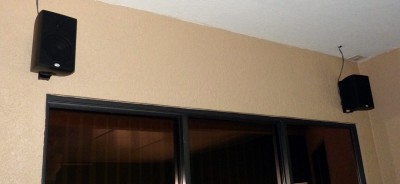 NHT 02-ARC Installed in Sun Room
Confused about what AV Gear to buy or how to set it up? Join our Exclusive Audioholics E-Book Membership Program!
See also:
Recent Forum Posts:
hk2000 posts on February 25, 2014 09:25
gene, post: 1019285
Good question Jotham. A 2-way speaker like the 02-ARC performs better when mounted vertically. Horizontal mounting will result in a less even response due to lobing. You can surely mount them like this if you have no other choices but they are designed to be mounted vertically for best performance.
I Never new that. Thanks. Can you explain what lobing is, or point to a link that explains it, thanks. Does this also apply to surround speakers?
Also, a follow up question to Jotham's: Will it matter if they are mounted upside down with the woofer on top, if not, I think NHT should make the mounting bracket longer on one side? That would enable one to mount them low pointing up or high pointing down (Most likely). If the tweeter has to be on top, then obviously that makes them less than ideal for outdoor installation, after all this is for casual listening, No?
gene posts on February 24, 2014 16:54
jotham, post: 1019213
Thank you for the review! After we build our new deck, I'm looking forward to installing 4 new outdoor speakers so this review was very timely.

I do have a question about the mounting that was demonstrated. Wouldn't it make more sense to install them on their side, perhaps with tweeters on the outside? This would give greater adjustability for the sweet spot. I assume there was some acoustical reason it was installed upright but given the particular context, I can't figure it out.

thanks,

Jotham
Good question Jotham. A 2-way speaker like the 02-ARC performs better when mounted vertically. Horizontal mounting will result in a less even response due to lobing. You can surely mount them like this if you have no other choices but they are designed to be mounted vertically for best performance.
jotham posts on February 24, 2014 12:55
Thank you for the review! After we build our new deck, I'm looking forward to installing 4 new outdoor speakers so this review was very timely.

I do have a question about the mounting that was demonstrated. Wouldn't it make more sense to install them on their side, perhaps with tweeters on the outside? This would give greater adjustability for the sweet spot. I assume there was some acoustical reason it was installed upright but given the particular context, I can't figure it out.

thanks,

Jotham
Post Reply