Control More With Control4: Entertainment And Automation Controllers
Control4 EA Controllers
Summary
Control4 CA-1 Automation Controller
Number of audio zones: N/A
Dimensions (H x W x D): 5.5" x 5.5" x 1.25"
Weight: 0.65 lbs
Control4 EA-1 Entertainment and Automation Controller
Number of audio zones: 1
Dimensions (H x W x D): 1.13" x 7.5" x 5.0"
Weight: 1.2 lbs
Control4 EA-3 Entertainment and Automation Controller
Number of audio zones: 3
Dimensions (H x W x D): 1.25" x 8.75" x 5.875"
Weight: 1.6 lbs
Control4 EA-5 Entertainment and Automation Controller
Number of audio zones: 5
Dimensions (H x W x D): 1.875" x 17.5" x 10.125"
Weight: 6.85 lbs
I got my first glimpse of home automation in the 1980s at Disney's Epcot center, where the limitless possibilities of technology were laid out before me in a dreamscape of gadgets. I saw a robotic lawn-mower navigate itself around a Mickey-shaped topiary, and watched in amazement as the animatronic characters in the now-extinct Horizons ride placed video calls nearly 20 years before the advent of Skype. Now, much of that imagined future has become reality, and the demand for home automation is growing as consumer awareness about the promise of the smart connected home continues to rise. With a simple push of a button, we can control devices around the house — from lighting and audio/video gear to HVAC systems and even kitchen appliances. But for many people who are just getting into the world of home automation, the reality isn't all it's cracked up to be. Even if your home is tricked out with smart speakers, smart lightbulbs, connected thermostats, automatic window blinds, robot vacuum cleaners, smart locks, and a video surveillance system, the experience won't satisfy unless these individual devices can communicate and work together. If you have to use a separate app to control each device independently, your home will feel disjointed rather than connected. In order to combine such a collection of independent smart devices into a cohesive and user-friendly whole-home solution, you need a home automation controller, such as those offered by Control4.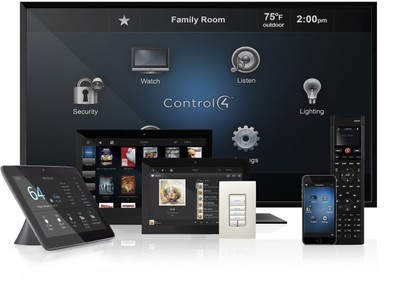 An automation controller is the brains behind a connected smart home, orchestrating all of the devices and allowing them to be controlled by a single, intelligent operating system. Depending on which controller you choose, you can manage everything from a single dedicated AV entertainment space to an entire home with distributed audio and video, and smart gadgets designed to simplify every aspect of home life. Control4 offers a variety of automation controllers at different price points, to meet the varying needs of its customers. Compatible with thousands of third-party smart devices, all of Control4's automation controllers provide a more integrated experience and better reliability than could be achieved from a hodgepodge of separate devices with no centralized nervous system to tie everything together. The company offers purpose-built touch-screens (both table-top and wall-mounted options are available), but you can also run the whole system from your smartphone or tablet. The Control4 SR260 handheld remote control can be purchased separately, or as part of a bundle with one of the automation controllers. The lineup includes the CA-1 ($350), the EA-1 ($500), the EA-3 ($1,000), and the EA-5 ($2,000).
Note: Prices do not include installation. All controllers require installation by a licensed Control4 installer.
The Control4 CA-1 Automation Controller
The most affordable entry point into Control4's ecosystem of smart home products is the CA-1 Automation Controller, which sells for $350. First introduced in February of 2018, the CA-1 is designed specifically for homeowners interested in automating their lighting, HVAC systems, and security systems. While Control4's larger and costlier offerings can also control audio and video gear for home theater and distributed music systems, the CA-1 provides a simpler solution for those who just need the basics. Because it's relatively inexpensive, the CA-1 allows Control4 to offer the smart home experience to a wider audience than ever before.

"This is not a dialed-down version of the Control4 OS nor a compromise," "This is a new category of automation controller designed to meet the connected home demands of home builders, building developers, and their buyers. The CA-1 utilizes the industry-proven Control4 platform and broad device ecosystem so our dealers can immediately succeed with the skilled resources and expertise that they already have."
- Martin Plaehn, Control4's Chairman and CEO.
Like other controllers offered by the company, the CA-1 uses Ethernet, WiFi, Zigbee, and/or Serial communication to ensure easy integration and maximal interoperability with third-party smart devices. If you want to use Z-Wave devices (such as door and window sensors, flood detectors, and smart electrical outlets), an optional Z-Wave module is sold separately for $70. The CA-1's small, white chassis has a square 5.5-inch footprint, and is just 1.25 inches tall, making it easy to install on a shelf, in a closet, or mounted to a wall. The Power-Over-Ethernet (PoE) feature simplifies installation by allowing the CA-1 to be powered by a network cable when the use of an electrical outlet is inconvenient or impossible.
The Control4 EA Series Controllers
The entertainment-focused EA Series of controllers is used in smart home projects of all sizes, from simple one-room theaters to the largest and most complex installations. The EA Series has been around for a couple of years, but the whole range has recently received a refresh and a new "Version 2" designation. There are three different controllers in the EA Series: the EA-1, the EA-3, and the EA-5. As you move up the line, you gain the ability to control a larger number of audio zones, and the necessary increase in processing power to handle crunching all those extra numbers. All of the Version 2 controllers include a new solid-state disc drive (SSD) which stores the Control4 operating system information. Control4 has also recently added a voice control option using Amazon Alexa. Intercom is available for ALL EA controllers capabilities with video doorbell capability.
Control4 Controllers Comparison (click to enlarge)

The EA-1 is the entry-level controller in the EA Series, and is designed to deliver complete control over your entertainment for a single room, such as a family room. Priced at $500, the EA-1 is perfect for smaller homes that have one central entertainment space, but it can also be used to expand a larger, pre-existing Control4 system into an additional room. The EA-1 provides an intuitive and responsive on-screen user interface with which you can control a wide variety of entertainment devices, including TVs, cable/satellite boxes, game consoles, blu-ray players, AV receivers, and digital media streamers. The EA-1 can control nearly any device that uses infrared (IR), serial (RS-232), or IP control. Control4 describes the EA-1 as "the ideal smart home starter system with entertainment built in."
Like the CA-1, the EA-1 can orchestrate a large system of smart lights, thermostats, locks, and other smart devices. But the EA-1 also includes a built-in music server, allowing you to stream from your own library of tracks (up to 24 bit, 192 KHz), or from streaming services such as TIDAL, Pandora, Rhapsody, TuneIn, SiriusXM, and iHeartRadio. You can also stream directly from an iPhone or iPad using ShairBridge technology, Control4's custom AirPlay implementation. Audio and video are sent to your downstream gear via the EA-1's single HDMI output, and a dual-core 1.2 GHz processor handles both audio processing and automation tasks. Control4 now offers a variant of the EA-1 called the EA-1 PoE, which can be powered by an ethernet cable, and is designed to be installed behind TVs throughout the home.
If you want access to your entertainment in more than one room, you need to move up to the $1,000 EA-3 or the $2,000 EA-5. Both the EA-3 and the EA-5 have upgraded audio circuitry in their new Version 2 editions, and unlike the EA-1, both can perform digital-to-analog conversion. As its name would suggest, the EA-3 provides up to three simultaneous high-resolution audio streams to different rooms or zones, via its three audio outputs — one HDMI, one digital coaxial, and one analog 3.5mm stereo mini-jack. The EA-3 is an ideal controller for small to medium sized installations.
With the ability to deliver five simultaneous streams of high-resolution audio throughout the house, the EA-5 offers a number of advantages over its stablemates. The EA-5 has higher-quality audio components, including dual audiophile-grade DACs with ultra-low distortion and an impressive signal-to-noise ratio of 118dB. The are five audio outputs — one HDMI, two digital coaxial, and two stereo analog RCA outputs. The EA-5 also features a built-in five-port gigabit network switch, eliminating the need for a separate switch when installing a variety of network-connected devices. Finally, the EA-5 has increased processing power thanks to an advanced multi-core processor. This allows the EA-5 to orchestrate hundreds of smart devices simultaneously, delivering superior speed and effortless performance. If you want the ultimate smart home experience ideal for larger installations, the EA-5 is your answer.
To expand functionality of your controllers, an optional Control4 Matrix Switch can be added which allows you to distribute high resolution video and audio from all of your sources (blu-ray players, media streamers, etc.) to any zone in your home. Imagine for example you want to stream the latest episode of Stranger Things from your Roku device to every display in your home, but the kids, room, that's an easy task for a Control4 system armed with a matrix switch.
Control4 Home Automation Path to SmartHome YouTube Discussion
Audioholics Showcase Home Revamp
Gene DellaSala is actually working on a complete revamp of the Audioholics Showcase home to incorporate Smarthome integration utilizing the EA-1, EA-3 and EA-5 controllers along with many other Control4 products. Stay tuned for extensive coverage about this whole process along with demonstrations of the products integrated together to form truly state of the art home automation that is easy and convenient for everyone to operate.
Will you be going all-out with your smart home? Share your thoughts about home automation in the related forum thread below.

Unless otherwise indicated, this is a preview article for the featured product. A formal review may or may not follow in the future.