RBH ProStereo H2 Wireless Earphones Review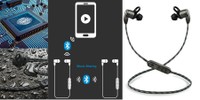 RBH has done it again! Another premium Bluetooth in-ear monitor. But this time the product is built specifically for hi-res audio. A lot has changed in Bluetooth technology with the addition of aptX HD and LDAC and the new ProStereo H2 features both hi-resolution audio codecs, making it an important musical companion for anyone streaming from an Android phone. Read our review and check out our YouTube video to see if these are the right wireless earphones for you.
RBH has done it again with their feature packed ProStereo H2 earbuds armed with high fidelity 4.2 Bluetooth audio. The H2s support ALL Android-compatible codecs with an impressive 10hr battery life.