Atlantic Technology New In-Ear-Monitors And Wireless Bluetooth Headphones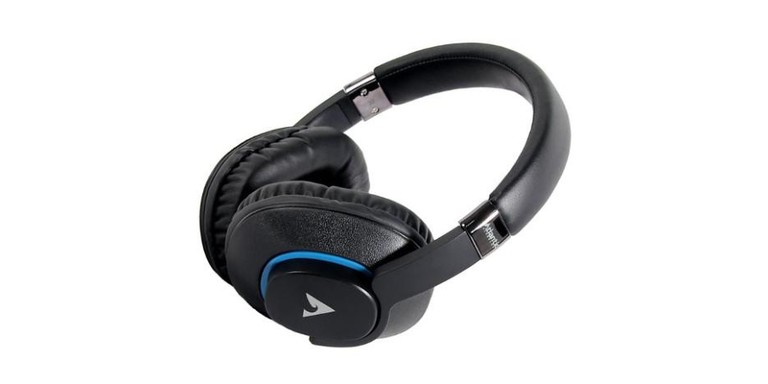 Atlantic Technology Headphones
Summary
Product Name:

FS-BT210 Over Ear Bluetooth Headphones and FS-HAL1 In-Ear-Monitors

Manufacturer:

Atlantic technologies

Review Date:

April 07, 2020 06:00

MSRP: $119 - FS-BT210 Over Ear Bluetooth Headphones, $199 FS-HAL1 In-Ear-Monitors ($229 iPhone Lightning Model)
First Impression:

Pretty Cool
Executive Overview
Atlantic Technology has been on a roll lately, and doesn't seem to be slowing down any time soon. Just over a year ago, the Massachusetts-based company launched its "ultra-high performance" 8600e LR floor-standing speaker ($5,200/pair), which Atlantic claims is the best speaker it has made in its 30-year history. Then at CEDIA 2019, Atlantic Technology took home a CEPro Best Product award for its new FS-252 High-Performance SKAA Wireless Active Bookshelf Speakers ($749/pair), which uses a new wireless protocol promising better sound quality, lower interference, fewer dropouts, longer signal range, and lower latency than existing solutions. Later this year the company will release a new wireless sound-bar called the Gatecrasher 3 — ostensibly the bigger brother to the Gatecrasher 1 smart speaker introduced in 2018. And even among all this development within the company's core loudspeaker business, Atlantic Technology has also found time to enter the world of headphones with two new products: the FS-BT210 bluetooth headphones ($119) and the FS-HAL1 in-ear-monitors ($199 - $229), both of which are available now.
Atlantic Technology FS-BT210 Wireless Headphones YouTube Review

The Atlantic Technology FS-BT210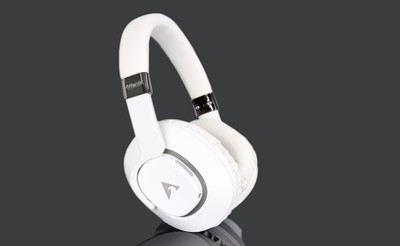 The $119 FS-BT210 is an over-ear, closed-back wireless bluetooth headphone. First shown over a year ago at CES 2019, the FS-BT210 has only recently begun shipping. The bluetooth headphone industry continues to grow rapidly, and technological development waits for no one. As a result of its relatively slow delivery to the market, the FS-BT210 has a feature set that isn't quite as up-to-date as the latest offerings from Sony and Bose. While some headphones now sport Bluetooth 5.0 and the aptX HD bluetooth codec, the FS-BT210 makes do with Bluetooth 4.0 and the original version of aptX. But depending on your associated equipment and listening environment, those differences may not matter much in the real world. What will certainly matter are the FS-BT210's impressive 30-hour battery and lightweight build. At a hair under 10 ounces, the Atlantic Technology headphones promise to remain comfortable during long listening sessions. The plush ear cups are covered in a (probably synthetic) leather material, which reportedly helps create an acoustic seal to aid in noise isolation and promote deep bass reproduction. The ear cups contain 40mm dynamic drivers, which use powerful high-efficiency Neodymium magnets. Frequency response is listed as covering the entire 20Hz - 20kHz spectrum of human hearing, though no tolerances are given. On the outside of the ear cups are controls for power, bluetooth pairing, volume, track selection, and accepting or rejecting phone calls. An LED and a voice message notify the user when the battery is low. Should the battery run out, the user can attach the included 4-foot audio cable for unlimited battery-free operation. The cable features an in-line microphone and multi-function controls, which automatically take over and disable bluetooth when the cable is plugged in. Other convenience features include a hard carrying case and a 1-foot micro-USB to USB-A charging cable.
For 30-years Atlantic Technology has delivered premium speakers with outstanding performance and value, reliably delivering the award-winning sound quality that Atlantic is famous for. Our headphones have the versatility, performance, and features, making them the perfect upgrade for any music-listening.  Their ergonomic design is comfortable, lightweight and rugged, with features and technology for fatigue-free use that keep you and your music going all day.
— Atlantic Technology
The FS-HAL1 In-Ear-Monitors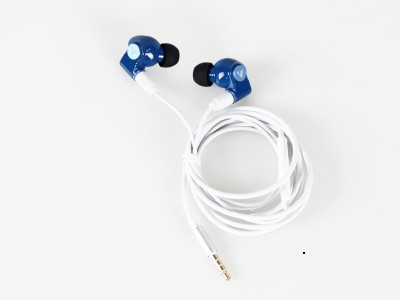 The FS-HAL1 is a wired in-ear-monitor featuring what Atlantic Technology calls Hybrid Triple Drivers. Each earphone utilizes one graphene dynamic driver for low frequencies and dual balanced armature drivers for the midrange and treble. It's a 32-ohm design with a stated frequency response of 5 Hz – 40 kHz (no tolerances given). The FS-HAL1 is Hi-Res Certified — if you care about that sort of thing — and produces "deep rich bass and low-distortion crystal clear detail in mid to high frequencies that upgrade your sound to get the most out of your music," according to Atlantic Technology. The detachable 4-foot, 20-strand, oxygen-free-copper cable includes an around-ear memory cable loop, which should keep the earpieces securely in place when you're on the go. The earpieces attach to the cable via a gold snap-lock MMCX connector, which can rotate freely for "comfortable, tangle-free wearing." The MMCX connector standard makes it easy to replace or upgrade the cable, should the need or desire arise. The included cable has an in-line 3-button remote that should work with any smartphone still sporting a 3.5mm headphone jack. If you have a recent iPhone, you can upgrade from the $199 standard version of the FS-HAL1 to the $229 Lightning version, which swaps out the 3.5mm headphone jack for Apple's digital Lightning connector. The FS-HAL1 is available in White, Red, Blue, and Black, and includes a variety of ear tips and a hard carrying case.
Many other loudspeaker manufacturers have successfully transitioned into the world of headphones.  Focal, Bowers & Wilkins, and Klipsch have all become fairly major players, but they've been at it for years now. Will Atlantic Technology succeed in the crowded headphone market, or is the company too late to the game? We shall see.
Confused about what AV Gear to buy or how to set it up? Join our Exclusive Audioholics E-Book Membership Program!