V-MODA Zn In-Ear Monitor Review
V-MODA Zn In-Ear Monitor Review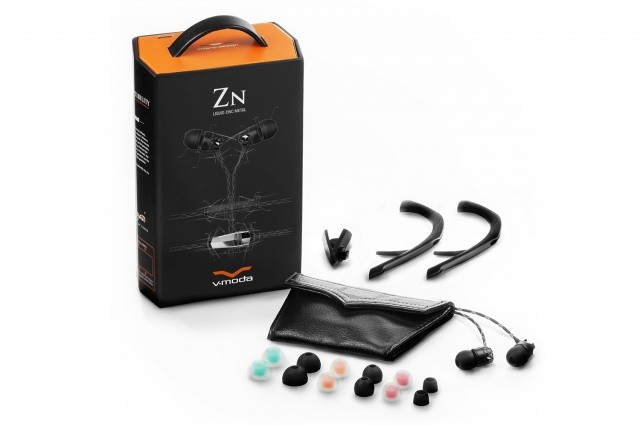 Zn Product Specifications
Type:
Bi-aural in-ear type monitor headphones with remote and mic Speaker
Driver:
8mm dynamic-type
Frequency Response: 2 - 25,000 Hz
Sensitivity:
105 dB @ 1kHz 1mW
Microphone Sensitivity:
-42dB @ 1kHz
Impedance:
16 O
Cables:
DiamondBack Kevlar-reinforced, 33" plug to y-connector, 13" even-length earphone cables Plug: 45 degree, 24k gold plated, 3.5mm stereo
Weight:
20.8g
Pros
Excellent price-to-performance
Rugged, good looking
Sturdy, compact carrying case
Cons
It's an in-ear monitor and not a headphone
You'll have to buy aftermarket tips to bring out the best sound
Only available in limited supply
From its headquarters in Milano, Italy headphone manufacturer V-MODA has brought an injection of stylish yet reasonably priced high-quality headphones to the industry.
The company achieved notoriety when when it launched its award-winning Crossfade M-100, a sub-$300 headphone that punches well above its price-point. The M-100 delivered clever design and versatility in a tough package that stands up to the rigors of the most demanding mobile headphone use. Unique designs and a distinct warm sound signature are mainstays of V-MODA.
The company has earned a reputation for well-designed products with an aesthetic that speaks to durability as much as style, while maintaining a distinctly pleasant acoustic signature. CEO Val Kolton has been able to identify and fill niches in the headphone market by listening to the hi-fi community and responding in new designs.
V-MODA has done it again with a rugged new in-ear monitor it calls Zn. While these aren't the manufacturer's first earphones, Zn is V-MODA's flagship in the earbud department. With a bit of Breaking Bad flavor, the earbuds are named for zinc in the Periodic Table. But its namesake isn't just a platitude, there's actually zinc in the housing around the drivers and V-MODA says it provides the Zn with its unique acoustic profile. 
Zn retails at $180 and V-MODA claims it's engineered to specifically compete with much more expensive earphones in the $300 to $1,000 range.  It's a bold claim to say your product competes with higher priced products and we've all heard it before. But V-MODA isn't generally known for indulging empty hyperbole.
Design
What about these real zinc earpieces? They certainly look cool as they transform what are usually just plastic earpieces into a kind-of functional jewellery. V-MODA says they're made from a zinc alloy cast in a patented process with what V-MODA calls… "microscopic precession necessary for consistent acoustic quality".  The company also says the zinc alloy not only looks great, it provides a unique hardness and resonance nature for a fine-tuned audio performance. Having spent some time with Zn the first impression I get is durability. These are tough looking earbuds, constructed with rugged material.
While the earpieces are composed of zinc, the cable is a critical component in holding everything together that tends to be the weakest link in most earphones. Zn's cable is made from reinforced Kevlar that's flexible yet stiff enough to resist entanglement and tearing. The cable looks and feels rugged enough to endure many years of service providing music on your travels and comes in one or three-button varieties (for Android or iOS respectively) with a built-in mic. Zn is also backed up with a 2-year warranty. But that's not all… V-MODA is so confident you'll love Zn you can order a pair for a 60-day trial period and send them back for a refund if you're not completely satisfied with the sound quality.
The buds themselves are compact with gleaming alloy housings around the back-end. Inside each earphone is an 8-mm driver rated at 16-ohms. And for you athletic types, Zn includes a set of ear-clips that stabilize the listening experience when you're in motion. 
V-MODA tells us that the Zn is a limited edition earphone. It seems the earpieces include built-in acoustic filters between the drivers and housing. These filters are a unique Italian-made design that, according to V-MODA, controls the airflow mechanics inside the earpiece and are the primary gatekeepers of the acoustic tonal quality that V-MODA has built into this design.
On the official thread over at Head-Fi.org, V-MODA CEO, Val Kolton has talked about the limited availability of certain parts so you may notice some on-again/off-again availability of Zn at most retailers online.
Included with the earphones are eight pairs of V-MODA's own Bliss 3.0 eartips and a small carrying case with a magnetic fastener that holds everything together and easily slips into a pocket. 

Confused about what AV Gear to buy or how to set it up? Join our Exclusive Audioholics E-Book Membership Program!
See also:
Recent Forum Posts:
Don G. posts on April 11, 2016 15:57
Nice write up Gene. Would you say these are similar to Etymotic 4-P's? They seem to be in the same price range. Those are very accurate monitors though.
gene posts on March 02, 2016 00:06
V-MODA has earned a name in the headphones market with cans that manage to blend ruggedness with elegant design from MIlano, Italy. But what they're most noted for is a distinct sound-signature that fans will tell you consistently punches well above their price class. Company CEO Val Kolton is well known on headphone and hi-fi message boards he not only listens but responds to his community headphone fans.

This isn't the first pair IEMs by V-MODA, but Zn is their firs run at a premium product in this category.



Read: V-MODA Zn In-Ear Monitor Review
Post Reply