Feenix Aria Studio Grade Over-Ear Gaming Headphones Preview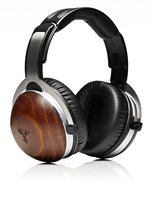 Feenix has promised a studio quality headphone for gamers with their Aria headphones. While they've ticked all the right boxes as far as components are concerned, quality components don't necessarily mean that a pair of headphones will sound great. From a feature standpoint, they seem well rounded, though there is no mention of the cable length. For those that game at their PC, or for standard listening duties, a normal cable is fine. But for those that game in their living room, a longer cable is a must. You can pre-order the Aria headphones from Feenix for $349. We're curious to see how these are received when they ship.
Preview: The Feenix Aria headphones have studio quality 50mm drivers, wood earcups, memory foam cushions with protein leather covers, and a USB adapter for gamers.