HiFiMAN Edition X Headphone Review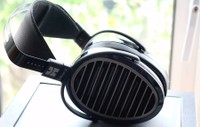 The HiFiMAN Edition X is one of Fang Bian's latest concoctions in the world of hi-fi headphones. Just like the HE-1000 before it, the Edition X features innovative technology which allows it to sound world-class out of an ordinary smartphone device. At $1,799, the headphones are not cheap but fit a niche market for those seeking outstanding sound in a portable audio setting. The lightweight and planar driver design fit in line with the rest of HiFiMAN's product range but what separates the Edition X is its incredibly efficiency. To find out more about this headphone, please read on.
With incredible efficiency and a lightweight design the HiFiMan Edition X headphones sound outstanding from just an ordinary device, but at $1,799 are they worth it? Read on to find out.