Massdrop & Fostex Purpleheart TH-X00 Headphones Review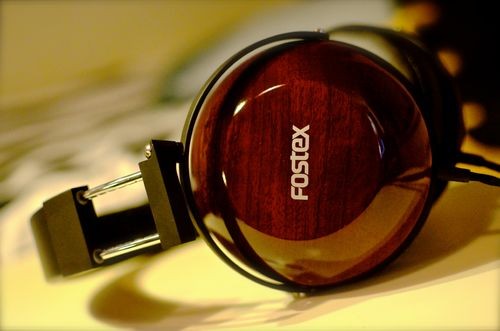 Summary
Fostex TH-X00 Features
Closed-back design
50 mm dynamic transducer
Magnesium alloy construction
Mahogany or purpleheart earcups, brilliant gloss finish
Leatherette earpads, matte black
Magnetic flux density: >1 tesla
Impedance: 25 ohms
Sensitivity: 94 dB/mW
Maximum input: 1,800 mW
Frequency response: 5 – 45,000 Hz
10 ft (3 m) thick, braided Y cable
¼ in (6.3 mm) gold-coated stereo phone plug
Weight, without cable: 12.3 oz (350 g)
Weight, with cable: 17 oz (482 g)
Included
Carrying pouch
2-year warranty
¼ to ⅛ in (6.4 to 3.2 mm) adapter
Executive Overview
One of the hottest new developments in consumer hi-fi might not be a new surround technology, room treatment or compression algorithm – it could actually be online commerce platforms. Buying in bulk to save money is an old idea, but online communities are taking it to the next level by crowdsourcing purchases in niche markets to allow consumers to buy in bulk directly from manufacturers. One of the most popular of these commerce platforms is Massdrop, who have been rocking the hi-fi / audio world with a string of deals on amps, DACs and headphones.
Massdrop membership is free, just sign up and you can subscribe to categories devoted to different product types from fashion, watches or hi-fi. Manufacturers then offer the community limited product runs with a discount roughly proportionate to the number of community members that commit to buy. The more members that commit - the lower the cost. The result is usually a unique product sold at a lower price than comparable items would be sold at retail. Although, if you follow Massdrop long enough you'll notice it's often used by manufacturers to sell off some inventory at reduced prices, sometimes to make way for a replacement or just to move a poor seller. What makes Massdrop interesting is that it's truly a community, alive with a highly active discussions spawned from each new item.
Massdrop "Drops" Fostex TH-X00 Purpleheart
One of Massdrop's most popular "drops" (the company's cleverly branded name for group buys offered to their members) is the long-awaited TH-X00 Purpleheart headphone by Fostex. Fostex is already a Massdrop veteran. The Japanese headphone manufacturer is known as the OEM behind some great Denon headphones and for legendary cans sold under its own brand - like the flagship Fostex TH-900 and the remarkable TH-600. Then, Fostex created the TH-X00 Mahogany. Before the Purpleheart, Fostex created the original TH-X00 (mahogany only) to be a successor to the AH-D5000 – a headphone released under the Denon brand. The company wanted to hit a lower price-point, while improving on – but not completely abandoning – the beloved sound signature of the discontinued model.
Based on the near universally great reviews of the TH-X000 - Fostex hit it out of the park with these cans!

The original Mahogany TH-X00 is a rare closed back headphone made with luxurious real wooden mahogany ear-cups. The design and build-quality took cues from not only the Denon AH-D5000 but also the Fostex TH-600 and 900. The key difference is that TH-X00 Mahogany was priced at less than the TH-600.
When the drop finally launched, the Internet went wild over the ludicrously low $400 deal for a headphone that brought a unique sound signature, punchy low-end and quality well above its price-point.
But, could the scarcity of this limited item have stoked desire from online headphone communities? Once a Massdrop closes, chances are - that product may never be seen again.
Massdrop "Drops" Fostex TH-X00 Purpleheart and Ebony
Great news! Not only did the TH-X00 come back in early 2016, but headphone geeks everywhere had their collective minds blown when they learned that Fostex upped its Massdrop game by bringing back the TH-X00 in not just Mahogany, but two new wood grains – Purpleheart and Ebony.
Fans that missed out on Mahogany now had a lot to consider: Fostex promised that as you went up the line from Mahogany to Purpleheart to Ebony, the wood-grain increased in density, resulting in a unique sonic signature – namely, a less resonant and more subtle bass response. The price also increased in $50 increments as you went up the TH-X00 line. Mahogany stayed at $400, while Purpleheart climbed to $450 and Ebony to $500.
Photos of all three models reveal stunningly gorgeous wood-grain headphones, each made with hand-carved, lovingly polished and lacquered wood-grain cups with pillowy ear-pads that seemed to promise as much comfort as incredible sound.
Although the new headphones were a blind purchase (having to buy before hearing what they sound like) for anyone signing up for the drop, frequency charts from Fostex assured buyers it would be all right: 
Frequency Response

Total Harmonic Distortion


Plenty of online debate ensued as to how these new wood grains would effect the sound of the new Fostex line. The main idea from Fostex was that the Purpleheart and Ebony would offer a more balanced sound than the Mahogany, which was almost unanimously deemed a bit bass heavy. According to Fostex and the TH-X00 legion of fans, the increased density of the new wood options would make for deeper but subtler bass response.
Let's take a closer look at the TH-X00 Purpleheart. 
Look and Build Quality

The first thing headphone aficionados will notice when cracking open their new Fostex TH-X00s are the tactical corners cut to drive down costs… starting with the packaging. In our post-Steve Jobs era, lavish packaging and unboxing has become a kind of expectation – one that in my humble opinion is way past its sell-by date. So, it's actually a refreshing surprise to find these relatively high-end headphones packaged in what looks like a recycled pizza-box, then taped up in bubble wrap like a mail-order car part. As soon as you tear off the bubble wrap, the gleam of polished purpleheart earcups will dazzle your eyes like pure gold. You'll quickly forget being cheated out of a fancy unboxing ceremony, and you may appreciate that the cost-saving measure resulted in more headphone for less money.
But upon closer inspection, and for better or worse, Fostex's corner cutting extends beyond the packaging.
The TH-X00 earcups are solid and balanced like a fine musical instrument. From Fostex's own biodynamic drivers to the faux leather earpads that envelop your head like a lover's embrace – the parts that make contact with your ears are quality. But the earcups themselves don't have much swivel and certainly won't bend to lie flat for portable storage. The headband and adjustment mechanism are decidedly less than high-end, made from cost-cutting plastic, and they lack the solid build quality of the earcups.
So, while the earcups make the Purpleheart look like a $1000 pair of headphones, the headband looks as though it might have been stolen from a $100 pair. Which really isn't terrible. If anything it's probably the best place to cut cost. But another cost-cutting measure Fostex employed across the TH-X00 line could be a problem for many - the lack of detachable cables. This is non ideal for users whose headphones have to endure the abuse of teenagers "borrowing" their headphones or audiophiles that like to tweak their cables to "improve" sound quality.
The cable Fostex used on the TH-X00 line is a mixed bag. On one hand, not many headphones include such a long, thick, well-made cable. I have no doubt that if you're into cables, this should satisfy the need for audiophile-grade. But the downside to the high-quality cable Fostex chose is - it's not removable! So, basically you're stuck with a 10-foot long Y-cable attached to your headphones that is practically as thick as a fire hose. The heavy fabric around the cable is designed to resist entanglement but also resists being bent or wound up to fit into a pocket-sized space for on-the-go listening.
At the end of the cable is an audiophile-grade quarter-inch plug, but Fostex also includes a 3.5-mm adaptor.
The headphones do come with a soft leatherette bag with a drawstring to help protect them on the road. But it's too bad the TH-X00 didn't come with an alternate, more travel-friendly cable option. They're just so darned beautiful, you'll find yourself wanting to conspicuously wear them in public. 
TH-X00 Headphone Setup

The TH-X00 Purpleheart headphones only have a very light 25-ohm impedance rating. This means they will work off your cell phone, but for dedicated listening you'll be better off with some kind of external headphone amplifier.
I tested these headphones under two conditions: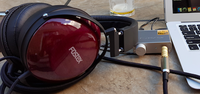 For home listening, I used a combination of Emotiva DC-1 DAC connected to a Cavalli Liquid Carbon (series 2) headphone amp. This headphone rig has sounded spectacular with any headphones I've connected to it, and they drove the TH-X00 to perfection. At work I sit in front of a laptop using Optoma NuForce uDAC5 – a perfect companion for the workday. Its USB port is fed an audio signal and power from a Macbook. The uDAC5 performs both amp and DAC duties, and comfortably powered up the TH-X00, making them sing way beyond the capabilities of either my Macbook or Samsung Galaxy cell phone.
Sound Quality
Sadly, I have never heard either the original Mahogany, Ebony, 600s, 900s or Denon AH-D5000s.  The Purpleheart TH-X00 are my first time hearing anything by Fostex.
Based on my experiences listening to many mid-to-high fi closed back headphones using dynamic drivers, I had the Purplehearts profiled to sound punchy with ample mid-bass and not a whole lot of soundstage. And I was mostly correct. But I also got an unexpected unique sound signature. These headphones possess certain intangibles. Sure the soundstage is small, but there is an "otherworldly" quality in the detail and separation that more than makes up for soundstage limitations - more on that later.
What stood out upon first listen was a highly accurate deep bass and not too much bloat or boominess in the mid-bass. These headphones can present fast, hard aggressive rock or electronic dance music that conveys a sense of mass, authority and anger.
I was drawn to the detail in the deepest bass tones these headphones portrayed. Purpleheart delivers a fun listen for bass heads, but it's a kind-of grown-up version of a bass-lover's headphone. The midrange and middle-highs, the TH-X00s also provide a rich, warm detail that never seems to get fatiguing. On top of all that bass is controlled highs that stay far away from sibilance, even in lower quality recordings of female vocalists.
The TH-X00s use a biodynamic cone driver technology Fostex developed in the late 80s. Fostex says its driver delivers a unique sound from any other driver structure, claiming that the higher magnetic flux density (at more than 1 tesla) creates an instant attack and decay, resulting in a crisper, more detailed sound. Normally I'd say this statement is mostly marketing hyperbole, but in this case I think there's some truth to it.
These unique drivers are paired with Purpleheart, known for being one of the highest density woods available in nature. Fostex says the high density of the material is excellent for reducing acoustic resonance. As a result, the Purpleheart is able to reach even deeper into the low frequency than the Mahogany, without as much peak in the mid-bass. 
Summary
Having not been able to compare the sound signatures within the TH-X00 line, I can say that these perform better than expected in the low end. The Purplehearts offer deep, non-boomy lows while staying true to the sonic details in the midrange. The highs never seem shrill. The soundstage and sonic imaging isn't particularly wide, even in comparison to other closed-back headphones, but once you start listening, chances are you'll find that what the Purpleheart lacks in soundstage it makes up for in sonic detail. It's no wonder Fostex and the Denon headphones made by Fostex have such a deeply committed following. They're truly unique headphones. They won't provide studio-grade neutrality, but instead will offer a sonic profile that is an absolute pleasure to listen to. 

Confused about what AV Gear to buy or how to set it up? Join our Exclusive Audioholics E-Book Membership Program!
Recent Forum Posts:
Wayde Robson posts on March 09, 2017 12:10
They are gorgeous to behold

Here's an image of my "main" headphones by my night-stand. These are my most-used, I love each for its own purpose. The Purpleheart are the only ones with a dynamic driver, the others are electrostat and planar magnetic respectively. The Fostex Purpleheart are for rocking out but man, there is a sweetness to the tonality of the midrange that rivals anything.


20300
tyhjaarpa posts on March 08, 2017 00:41
I personally own a pair of Purpleheart and I must say that they are a beautiful pair of headphones by the sound and looks. I must admit how ever that my pair haven't got all the attention they deserve! Wish I had more time to play with my headphones..
gene posts on March 07, 2017 21:36
Massdrop is an online commerce platform that has been teaming up with consumer electronics manufacturers to produce some great equipment at very reasonable prices. One of the biggest hits of 2016 was the Fostex TH-X00 series of headphones. Basically Fostex wanted to build a great pair of headphones as the successor to some of the legendary headphones the company built to be sold under the Denon brand.

We took a closer look at the Fostex TH-X00 Purpleheart in this review.



Read: Massdrop & Fostex Purpleheart TH-X00 Headphones Review
Post Reply