JBL Everest Elite 700 Wireless Headphones Review
JBL Everest Elite 700 Wireless Headphones Review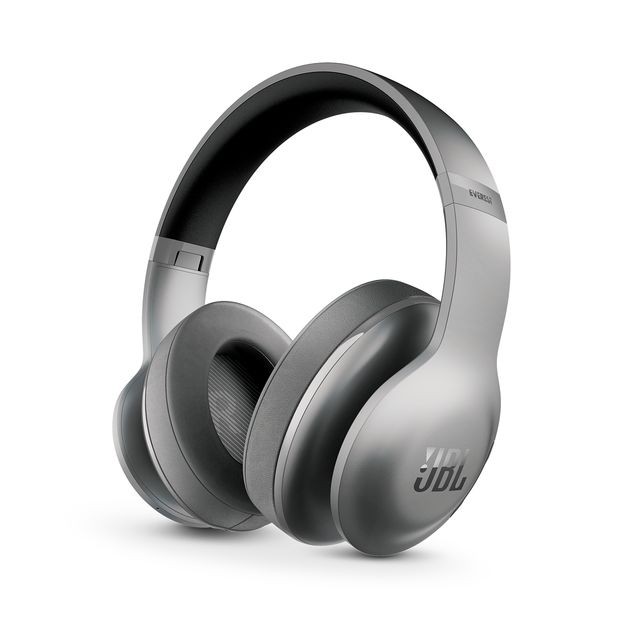 What's in the box:
1 pair of JBL EVEREST™ ELITE 700 headphones
1 JBL carrying case
1 Micro USB charging cable
1 Audio cable with 3.5mm jack
1 Quick Start Guide 1 Warranty and safety note My JBL Headphones App download instructions
Technical Specifications:
Driver size: 40mm
Dynamic frequency response range: 10 – 22kHz
Driver sensitivity: 99dB@1kHz, 1mW Maximum
SPL: 114dB
Microphone sensitivity: -42dBV/Pa
Bluetooth transmitted power: <4dBm
Bluetooth transmitted modulation: GFSK π/4, DQPSK, 8-DPSK
Bluetooth spec: 4.0
Bluetooth profiles A2DP V1.2, AVRCP V1.4, HFP V1.6
Battery type: Polymer Li-ion Battery (3.7V, 850mAh)
Music play time with ANC on and Bluetooth on: up to 15 hours
Music play time with ANC on and Bluetooth off: up to 19 hours
Music play time with BT on: up to 19 hours
Dimension W x H x L (mm): 76.9 x 176.5 x 169.5
Weight (g): 305
Pros
Great Active Noise Cancelling Implemented
Exceptional JBL Headphone App
Easy to use controls
Not burdened with lots of useless features
Balanced acoustic signature for a variety of musical styles
Cons
Not a bass-blaster
Doesn't include 1/4-inch adaptor
EQ preset choices are limited
JBL logo on earcup too large
It's been 70 years since James B. Lansing left Altec Lansing to found Lansing Sound, the company that bears his initials today. A lot changed in that time and these days JBL is just one of the many hi-fi companies that are part of the Harman family that was recently purchased by Samsung. To celebrate the 70-year milestone, JBL launched a new "platinum" variation on one of the finest wireless headphones made. The Everest Elite 700 is JBL's flagship over-ear, Bluetooth wireless noise-cancelling headphone that packs an impressive list of features.

The only minor disappointment in the new platinum edition is that it only offers a fresh coat of paint on the classic headphone that launched in 2015 in black or white. Now, JBL lets you choose a slick new platinum hue to honor its 70th platinum anniversary. It would have been nice to see some new feature or acoustic improvement to set the Platinum edition apart from its predecessors, but JBL would be hard pressed to improve on the Everest Elite 700 while maintaining its price range. The JBL Everest Elite 700 can be found for around $250 these days.  How do they sound? Read on to find out...
Out of the box – Look and Feel
Packaging is slick but minimal, exactly as it should be. The stiff cardboard box includes opens at the top to showcase the headphones. Basic documentation and two cables round out the box's inclusions. You'll find one USB cable for charging and a standard 3.5mm headphone jack for optional wired listening. Once you wrest the headphones from the secure packaging, the headphones look and feel stylish, well-built and comfortable. The only minor aesthetic strike against the design might be the giant JBL logo over the outside of the earcups. While headphone brand logos are a common practice over the earcups, I personally find it ugly. Maybe a smaller, more subtle logo on the earcups would give it a more modern look.
Platinum, the element Pt, is derived from the Spanish "platina" or "little silver" because generally real platinum should look like silver. Thankfully, JBL designers chose a flat, light grey rendition of platinum instead of going with garishly reflective silver. The new tone for the Everest Elite 700 is a subdued matte shade and a nice alternative to black and probably not as prone to looking aged as quickly as white.
Everest Elite 700 Headphones Features & Sound
The Everest Elite 700 headphones comes with a lean set of features that hits all the important notes without bogging you down with inscrutable, useless features. The buttons on the earcups provide easy access to the most important features and the JBL headphone app for Android and iOS is lean and useful asset to your day-to-day use of these headphones. The control buttons are pleasantly large and simple controls on the back of each earcup. The right side has a top switch that turns the headphones on or off. The right-lower switch is a "Programmable Smart Button" that can be programmed in JBL's headphone app to turn on or off active noise cancellation or control the headphones Ambient Aware feature. The Everest Elite app for Android or iOS is a valuable asset to these headphones that should be explored right away to get the most out of your investment.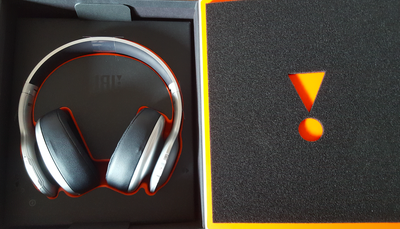 Everest Elite 700 Key Features:
TruNote Audo Sound Calibration 
Active Noise Cancelation
Ambient Awareness
Custom and Preset EQ
The left switch is a three-button rocker-style switch. The top and bottom of the switch controls volume up and down while the center of the switch can be pressed once to pause or double tap to skip track. Load the JBL headphone app to access to your headphone's key features including:
TruNote
TruNote calibration alleges to customize the sound to your personal headspace, an audible frequency sweep can be heard to prove that it's actually doing something. The result is supposed to be a cleaner sound experience uniquely suited to your head and ear cavity. To be honest, I have no doubt that TruNote calibration is doing something… but back-to-back comparisons didn't yield any noticeable advantages. But, it could be that the shape of my inner ear and cranium are just so average that I personally don't benefit from customization. Your results may vary.
Active Noise Cancelling - ANC
JBL's active noise cancelling feature is superb. I can't rave enough about this feature, it's as cool as AC/DC songs being played by a kilted highlander on flaming bagpipes - but without all the noise. These aren't the first noise cancelling headphones I've heard, but they are by far the best rendition of the noise cancelling effect I have ever heard. This doesn't make them the best sounding ANC or wireless headphones, but the ANC effect, where it shuts out ambient noise, is a truly impressive feature of these headphones. In my experience with most noise cancelling headphones I've heard an audible hiss in the midrange that seemed to block most of the noise in the most popular spectrum of sound. The resulting audio quality from most noise cancelling headphones is overly compressed and thin, while the noise cancelling effect itself was negligible.

Activate Noise Cancelling on the JBL Everest Elite headphones and it's as if an oppressive hush falls over your head. It's almost disconcerting to realize that how much background noise you're actually experiencing in the seconds before your headphone's noise cancelling is activated. Rather than turning on an audible hiss… an audible hiss you didn't even know was there is instantly removed from your hearing. I can't understate the significance of the effect. Toggling on/off the ANC on the headphones reveals a surprising amount of ambient noise even in a relatively quiet coffee shop where I tested the feature while writing this review.

The resulting sound quality once you turn on music with noise cancelling on is a bit thinner than you'd get without, but not by much. You can easily set the headphones smart button (lower-right) to toggle noise-cancelling on/off for a side-by-side comparison and the difference in musical sound quality is definitely there, but not horrible. But when no music is playing and you switch on ANC, much of the ambient sound in the room is wiped from your sensory input as if you'd stepped into a cone of silence from Get Smart, while the sound quality of your music only a little degenerated as a result.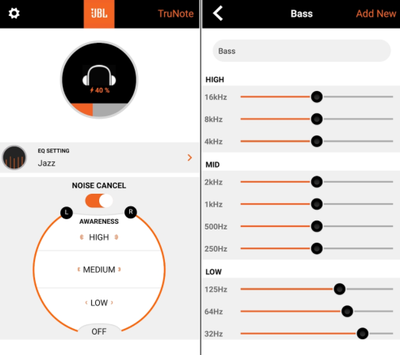 Ambient Awareness
This feature activates little microphones on the outside of the headphones and passes some of the sound picked up by these mics into your headphone's drivers for you to hear. You can toggle this setting from off to low, med or high. High being the maximum volume of the outside sound that will filter into your hearing from outside your headphones… it's a way to closely mimic something like… oh, I don't know, simply TURNING OFF ACTIVE NOISE CANCELLING!

Sure, ambient awareness is a convenient safety feature if you happen to be living in a constant state situational unawareness. Turning Ambient Awareness to high while using Active Noise Cancelling is an inexplicable contradiction, like engaging in text message conversations over your cell phone.
Custom and Preset EQ
The EQ settings in the app includes a few basic presets: Jazz, Vocal, Bass and Off. Fortunately there's a Custom EQ setting that lets you play with a 10-band EQ ranging from 16kHz down to 32Hz and save your favorite setting. Sure, audio purists don't like EQs, DSPs or presets, that's true. But most audio purists aren't interested in wireless headphones anyway. Ultimately, Bluetooth 4.0 playing back compressed audio files most likely from online streaming sources will benefit greatly from a tweak in the EQ. The JBL Every Elite 700 EQ lets you play to your heart's and your ear's content and have a little fun with your sound.
Everest Elite 700 Headphones: Sound Quality & Conclusions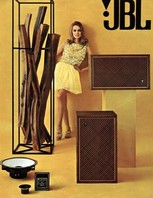 Growing up in the 80s, I'm no stranger to the sound of JBL. The brand's moderately priced car audio equipment was as common as bondo in many of my friend's classic, recklessly driven automobiles. I didn't drive in those days so I spent a lot of time in the back seat of friend's cars being tossed around alongside speakers with bold JBL logos affixed over paper cones with duct tape. JBL built a niche for itself as a somewhat attainable mark of quality in world of audio that was priced just out of range for younger consumers. JBL provided value and the pounding rock-and-roll soundtrack for many an irresponsible night out when I was in high school.
Before testing the Everest Elite 700, I assumed these headphones would be a bass monster because of my previous experience with JBL - solid, powerful and in-your-face. When I powered up the headphones for the first time with the EQ turned off, I was pleasantly surprised by a conspicuously balanced acoustic profile. No doubt this is likely attributable to the recent research at Harman on consumer listener preferences. These headphones seemed just as capable of providing upper-midrange detail as it was at projecting rumble and bounce. This makes them a veritable canvas onto which one can project their personal audio preferences through the EQ. I found a nice V-shaped custom setting that suits my natural appreciation for a bit of boom that doesn't overpower crash from the noise of the screaming rock gods and goddesses stored on my cell phone.

My judgement of these headphones is reserved to wireless only. These can be hard-wired to a headphone amplifier and you'll be treated to heightened detail and slightly broader frequency range. But, unless you've just drained the battery, why would you listen to these hard-wired? There are plenty of non-wireless headphones that will offer similar if not better sound quality for this price range. The market for the Everest Elite 700 is those looking for a premium wireless, noise-cancelling headphone experience with great sound. The same budget is better spent elsewhere if you're planning to be attached to a cable most of the time.
Conclusion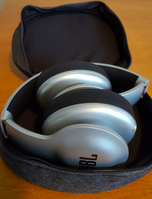 At the newer reduced price of $250, these headphones are a really good buy and they do a great job at wireless Bluetooth. JBL has created a nice balance of practical features you'll actually want to use. The sound quality is relatively flat and nicely balanced for a variety of listening situations. The digital EQ is a nice feature that lets you contour sound profile more to your liking. The sound profile is kind to those who want to listen to a wide assortment of music, just as likely to turn on rock, jazz, classical as they are to turn to electronica, hip-hop or any of the more bass-needy styles of music.

However, the Everest Elite is far from a bass-monster, so if you're looking for head shaking bass because 90% of your listening is EDM and its closest relatives… look elsewhere. The similarly priced Sony MDR XB950BT is on the opposite end of the spectrum with massive extra bass that will cost you in midrange detail.

If you're looking for a quality pair of wireless, noise cancelling headphones that are fun to listen to and have a sound signature that offers pop, moderate boom and superb midrange detail through the wireless freedom of Bluetooth 4 - you've found them here!