Master & Dynamic MH40 Headphones Review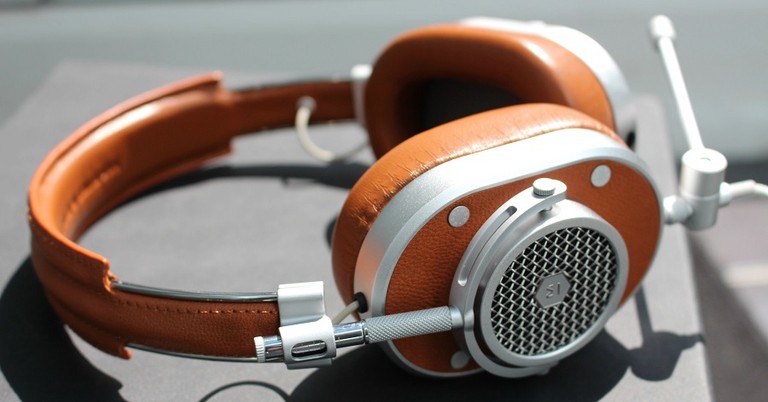 Summary
Drivers: 45mm Neodymium
Rated Impedance: 32 Ω
Weight: 360 grams
Plug: 3.5mm Gold Plated 4 pole
Cable: Woven with Oxygen Free Copper
Executive Overview
Master & Dynamic are a New York based au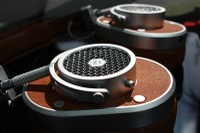 dio company which strives for excellence in creativity and sound. Though relatively new, they have quickly mastered the design aspect of their headphones giving their products a very high-end boutique feel with their choice of premium materials. Their advertising campaign itself demonstrates their flair in creativity and matches that of many already established big names in the audiophile scene. 
The brand is reminiscent of Swedish audio manufacturer Jays but surpasses them in their attention to fashion with their bold and stylish headphone designs. An example of just this is their latest release, the MH40 Headphones – A pair of closed-back headphones featuring 45 mm custom neodymium drivers. At $399, these headphones are part of the mid-fi territory but can they square up to others in the same price category? Read on to find out.
The Packaging
From the outset, the packaging is very professional and polished looking which demonstrates the workings of a high caliber company.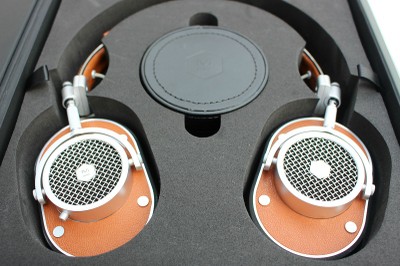 Within the hinged matte-black box, the headphones are rested in a foam insert along with a cylindrical leather box which houses 2 cables; a shorter 1.25m cable with a remote & mic and a longer 2.00m standard one.  
The Design & Build
With such a focus on build and aesthetics, Master & Dynamic have surpassed expectations for a relatively new brand. There are a choice of 5 different color combinations which all use the same component materials for the body of the headphones. This includes a heavy grain premium cowhide on the headband exterior and soft lambskin covering a memory foam base for the ear pads. The ear pads are magnetically attached onto the housings of the headphone which allows them to be replaced and even cleaned very easily.  
The rest of the stainless steel components are utilized in areas of high strain including but not limited to where the headband meets the ear pads. The "M & D" grill on the outsides of the ear cups may resemble that of a semi-open design; however, this is just for display and does not actually affect the sonic performance. Within these ear cups, the headphones house a 45mm neodymium driver said to deliver a high audio performance.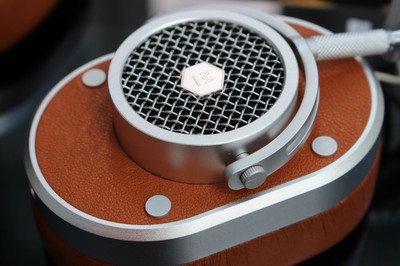 The detachable cable itself is forged from heavy duty woven wires made from oxygen-free copper; the aim being to reduce noise and ensure low distortion. Overall, the build quality is second to none and the design is aesthetically pleasing.
Comfort
On the subject of fit, I have found this headphone to be very comfortable. Part of this is because of the padded cowhide headband and part due to the very soft lambskin covered memory foam ear pads.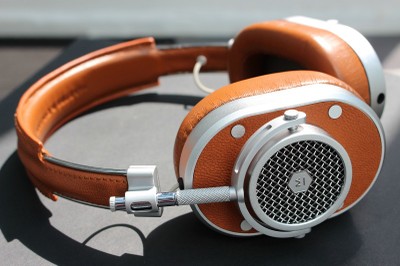 The headband adjusting mechanism is solidly built with a more than adequate amount of force needed to alter the fit.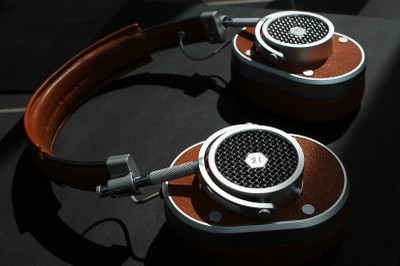 In addition to this, the headphone feels relatively light with a good distribution of weight even though it might not weigh the lightest at 360 grams.
Sound impressions
The Bass
Bass notes extend very low with impressive weight and impact but do not feel the need to perturb the other portions of the frequency range. When called upon, the low frequencies present with power and authority though quickly subside when not needed. In comparison to the HE-400S, the sub-bass extension of the MH40 is definitely greater with more slam and rumble though the former does possess more openness in this region. In Daft Punk's "Doin' it Right", the low frequencies are exceptionally portrayed with a full bodied and warm reproduction. The headphones are also able to deal with the demanding low frequency notes of James Blake's "Limit To Your Love", rendering a pulsating and gripping bass performance. If there was one improvement that could be said about the MH40's bass, it would be accuracy; though not lacking by any means, the MH40 does succumb to the tightness of bass experienced on electro-dynamic headphones such as the HiFiMAN HE-400S and Fostex TH500RP.
The Mids
The midrange is tonally smooth, reminding me of the pleasant and musical Pendulumic Stance S1's sound signature. The MH40 edges the S1, though, in openness and clarity with a better revelation of dynamics and micro-details. The sound is more forward than that experienced in the HE-400S, though nothing ever feels congested or overly intimate. Instead, there is a good sense of space and air which is decent for a closed-back headphone of its nature. I am also surprised at how neutral mids sound when put next to the powerful bass section; there is no recession or v-shaped sound as you get with the V-MODA M100s for example.
The Treble
Treble extends linearly with good detailing, sparkle and air. In line with the rest of the frequency spectrum, highs are smooth sailing with no stridencies or harshness in tonality. This perhaps could be due to the fact that the treble is somewhat rolled off at the very high frequency ranges though this is not substantially apparent at first. Next to the Sennheiser HD598, the MH40 appears much warmer with less extension in the treble department. As a result, the HD598 can appear harsher and much less forgiving of poorer quality and sibilant-prone tracks.  
The Matching
The Master & Dynamic MH40 headphones have an impedance rating of 32 Ohms which mean that they are relatively easy to drive. I have found that with both a standard smartphone and a laptop, the MH40 can be driven to sufficient volumes and head-stage.
PlusSound Cloud Nine amp
Pairing this with the MH40, there is immediately more width in soundstage and imaging. I do feel though that the upper mids have a leading edge that can be quite harsh compared to the standard stock experience. Nevertheless, the combination works extremely well allowing the MH40s to shine in their otherwise musically rich overtones. Vocals sound very lush especially in the lower midrange department and the bass is brought on another level with the increased soundstage dimensions.
The Soundstage & Imaging
The soundstage is respectable for a closed-back headphone with enough staging to allow tracks to shine. The dimension of height I'd say is much greater than the proportions of width; however, this does improve with an amp as explained above. There is a definite out of head feeling and sounds feel decently projected, much more so than the Pendulumic's Stance S1.
With regards to imaging, both center staging and instrument separation are great with the soundstage it has to work with. Again, this category is better than other portables such as the Sennheiser Momentum but there is room for improvement.   
Accessories
Master & Dynamic have developed a 'Boom Mic' accessory which can purchased separately from their website and is compatible with both the MH30 and MH40 editions of M & D's headphone collection. Having used the mic for skype conversations, I can say that the product performs incredibly well with crisp and clear sound that lacks distortion. The mic also features an answer/end button as well as a storage case of its own. It can be bought separately at a price of $129.     
Conclusion
Overall, the MH40 headphones have left me very surprised; I did not expect this combination of sound and build in a headphone, let alone from a starter company. It is one of those headphones that would truly satisfy both the audiophile scene as well as the mass market with its incredibly gripping bass and detailed midrange performance. What's more is that these headphones are very convenient for out and about use due to their portability – though if one suggestion could be made it would be to make an actual carrying case to house these in for both long and short commutes. At $399, they are moderately priced and I have to say that I much prefer these to their nearest competitor, the Sennheiser Momentums. I would highly recommend these to anyone looking for a portable solution to their audio requirements.

Confused about what AV Gear to buy or how to set it up? Join our Exclusive Audioholics E-Book Membership Program!
Recent Forum Posts:
Justin1996 posts on January 27, 2016 03:31
Thanks! I'm considering buying one on Amazon, but some prices are pretty low, could there be any problem?
tyhjaarpa posts on November 22, 2015 09:15
Interesting looking design. Would be nice to try those out some say.
gene posts on November 20, 2015 20:24
Master & Dynamic have really set the bar high in build & design with their new $399 MH40 headphones. Featuring premium materials and a sound to match, users are given a choice of 5 different color variations. A New York company at heart, Master & Dynamic are slowly becoming internationally recognized for their stunning craftsmanship and drive to revolutionize the audiophile industry.

Accessories such as the Boom Mic and headphone stand can be bought separately for $129 and $59 respectively.



Read: Master & Dynamic MH40 Headphone Review
Post Reply