OPPO PM-3 Closed Back Headphone Review
OPPO PM-3 Closed Back Headphone Review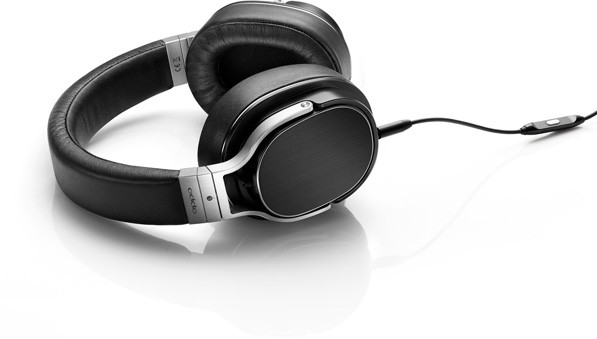 Acoustic Principle Closed back
Ear Coupling Circumaural
Nominal Impedance 26 Ohm
Sensitivity 102 dB in 1 mW
Clamping Pressure 5 N
Cables 3 m detachable cable (3.5 mm with 6.35 mm adapter)
1.2 m detachable cable (3.5 mm)
Cable Connectors Output: 3.5 mm stereo jack
Input: 6.35 mm stereo jack, 3.5 mm stereo jack
Weight 320 g (without cable)
Included Accessories Carrying Case
Driver Type Planar Magnetic
Driver Size (Round) 55 mm diameter
Magnet System Symmetric push-pull neodymium
Frequency Response
In Free-Field 10 - 50,000 Hz
Max Input Power 500 mW according to IEC 60268-7
Pulse Max Input Power 2 W

Pros
Incredibly rich detail as you'd expect from the best planar magnetic headphones you've heard.
The closed-back design makes these your go-to headphone while out on walks or in the office.
Flat frequency response, not weighted toward any particular area of the spectrum.
Cons
A bit of a tight fit, especially as the headphones are being broken in.
It's a natural trade-off in design but a closed back build means a slightly narrower soundstage than we'd like.
As the beneficiary of Oppo's pursuit of planar magnetic excellence, the PM-3 is a unique and rare build. It's lightweight at only 10-ounces and a truly portable, closed-back headphone. The good news is the PM-3 and its high-end pedigree, its predecessor is a $1K headphone, will only run you $399. So, no it's not a budget headphone by any means but we'll call it affordable luxury.
Does the portable planar-magnetic design really work?
Planar magnetic headphones live in a similar category as electrostatic – they're an alternative design for headphones and speakers. Neither technology uses a traditional dynamic or moving-coil driver. Planar magnetic headphones tend to be bigger, heavier and pricier than the normal fare you see on the heads of kids these days boppin' down the boulevard.

Planar magnetic headphones, like their electrostatic cousins, tend to be marketed to those who have the time and place to kick back and listen to an audiophile music collection.  All the while, our audiophile's high-resolution sound will bleed from his pricey open-back earcups. Those around him will hear all of his music as if he was listening on tiny computer speakers. Large, open-back headphones are not the best choice for public places or quiet offices where you might enjoy music with your nose to the grindstone.

Of course, the PM-1 and PM-2 sound incredible!
...occasionally a product comes along that defies category and blows up our expectations like the climax of a Mad Max car chase scene...
But the PM-3 bucks the trend of most planar magnetic headphones with a price point that puts them on the higher side of the big box store's headphone aisle.  They're priced to compete directly with higher-end Beats, Denon's mainstream collection and some of Sennheiser's HD line – all of which use conventional dynamic driver technology. In other words, the PM-3 could be the best bargain in the history of planar magnetic headphones.
Once we got a look at the design and the PM-3's $399 price, we could only conclude that this is Oppo's foray into a higher-end of mainstream. Maybe Oppo wants to cash in on the popularity of bass-centric, consumer-grade headphones. For its effort, Oppo will get no criticism here… it's a niche that deserves representation. Say what you will about the current headphone fashion trend – it has contributed to a kind-of headphone renaissance. We've seen some great cans in recent years! After extensive use of Oppo's new design, I am pleased to announce that what we have here is no simple formula headphone, this is a unique product that deserves consideration from anyone who listens to headphones.

But one thing is for sure - these aren't your father's planar-magnetic headphones.
Reviewer's Instinct
When you examine hi-fi equipment as much as any of us at Audioholics, you develop an instinct about a product and the market niche it's designed to fill. Like a Terminator-style heads-up display (HUD) that kicks in whenever we so much as look at a new piece of audio gear or just read a press release.

Just like Arnold's Terminator, our first impression of a product runs through our HUD as lines of text, displaying a list of possible impressions as we hone in on the most probable. Our first impressions are seldom wrong. But occasionally a product comes along that defies category and blows up our expectations like the climax of a Mad Max car chase scene… this is how I felt about the PM-3.

Confused about what AV Gear to buy or how to set it up? Join our Exclusive Audioholics E-Book Membership Program!
See also:
Recent Forum Posts:
Bjens posts on November 05, 2015 16:26
They look nice.
gene posts on July 06, 2015 21:44
The PM-3 is Oppo's third time around designing a planar-magnetic, closed back headphone after its highly acclaimed PM-1 and PM-2. But the PM-3 stands apart from its higher-end forefathers in a few key ways. The PM-1 and PM-2 are essentially the same design, both high-end luxury open-backed headphones for those willing to pay a premium for uncompromising performance. The PM-3 is designed with portability and more mainstream audience (and price) in mind.

Let's see how the company fared.



Read: OPPO PM-3 Closed Back Headphone Review
Post Reply