RHA MA750 In-Ear Headphones Review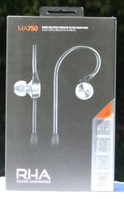 While the RHA MA750 headphones might look like they are designed for use while exercising, I assure you they are not. While they may have had a bit of a bass emphasis, it was completely forgivable considering they had better bass extension than headphones nearly 3x's their price. With all the tips you could ever need, a carrying case you'll never use, and top notch aesthetics and build quality, it is very easy to see where your $120 went. Once again RHA has exceeded my expectations at their price point. One of these days they will send me a pair of headphones I don't like. Today is not that day.
Review: The RHA MA750 in-ear headphones once again exceeded our expectations for their price point. With bass extension better than others costing much more, these are an easy recommendation.