Creative Aurvana In-Ear 2 Earbuds Review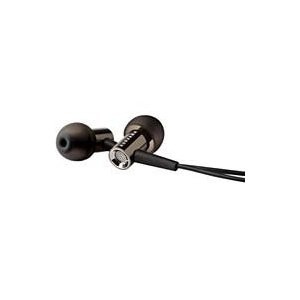 Creative Aurvana In-Ear 2 Earbuds
Summary
AuraSeal in-ear design
Ergonomically designed silicone
Balanced Armature drivers
Oxygen-Free Copper cable

Gold-plated plug

Double-injection molded enclosure

High-gloss finishing
Weight: 13g
Executive Overview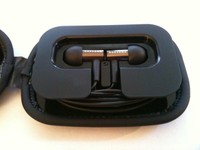 Many people think of the Zen MP3 player when you mention Creative Labs.  But over the past few years, Creative has established themselves as a legitimate player in the headphone market.  Recently I was asked to review the Aurvana In-Ear 2 earbuds, and I jumped at the chance to evaluate the $99 offering from a company that continues to impress me.
For some reason, I find myself constantly searching for the perfect headphones.  Maybe it's because many of us find ourselves on the road so much, that most of our listening ends up being on an iPod or some other portable listening device.  And if you are like me, it is rare to find earbuds that actually fit my ears.  While I love the big sound you get from large, over the ear headphones, I rarely want to carry something that big around with me, especially when flying.  I am always on the lookout for an affordable pair of quality in-ear headphones that fit well. 
Build Quality
The first thing that grabbed my attention about the Aurvana In-Ear 2 is the price point of $99.  This seems like a sweet spot.  High-end 'buds can easily cost more than your iPod, and most earbuds under $30 are not any better than the cheap pair that comes with your iPod (or other MP3 player).  Show me a well-built, comfortable, great sounding pair of in-ears, and I might show you a Benjamin. 
The Aurvana 2's are indeed well built.  They have a solid metal plug and casings, with a gun-metal finish that looks great.  The drivers themselves are housed in machined tubes with a mesh acoustic grille design that is very sharp looking, and feels very substantial yet not too heavy.  Included is a hardshell carrying case about the size of a small flip-phone or beeper (wow, did I just show my age or what?) with a built-in cord wrap, a cleaning tool, airline adapter, and three sizes of silicone tips.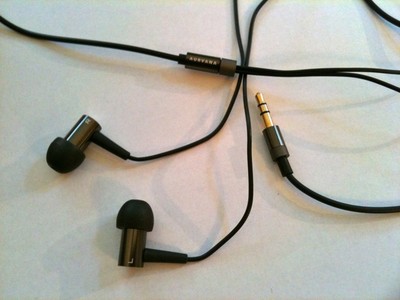 Ear buds have always posed a problem for me - they just don't seem to want to fit in my ears.  The junk that Apple supplies with it's iPods are not only worthless (as far as sound quality goes), but they hurt my ears and won't stay in place.  Most other ear buds pose a similar problem when it comes to fit.  The best fit I have experienced (outside of pricey pro-audio ear molds) are the Klipsch Image X10's, but this too comes at a price ($349.99).  The X10's have a soft, double flanged tip option that is comfortable, fits well, and stays in my ear.   While the mushroom style tips that ship with Aurvana 2's are not bad (and are supplied in 3 sizes), I would have preferred a double or triple flanged design, or even foam tips.  This being considered, I had better luck with Creative's small mushroom tips than I expected.  On several long flights, they stayed in my ears and never became uncomfortable.  They claim up to 95% sound isolation, which might be a stretch in my real world testing, but they do isolate well and I actually wore them while reading on the plane - even when I wasn't listening to music - to help tone down the droning of the jet engines.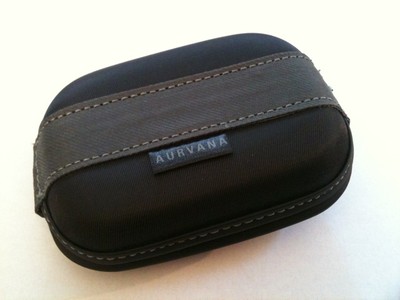 The Aurvana case is a tad bulky
The sound quality of the Aurvana 2's was excellent.  I listened to a range of music, from hard rock to pop, and found them to handle it all very well.  I was shocked at how deep the bass was, and thrilled with the sonic range of these little guys.  I actually had a little A/B comparison with some pro-audio ear molds, and was amazed to find that in many cases the Aurvana 2's out-performed them.  In every case they were at worst equal.  This for less than one-third the price of my ear molds or the high-end Klipsch Image X10's. 
Listening Evaluation

I started my listening tests with the latest release from Little Big Town titled The Reason Why.  Producer Wayne Kirkpatrick has once again created a vocal masterpiece with the amazing palate of talent from Karen Fairchild, Kimberly Schlapman, Jimi Westbrook, and Phillip Sweet.  Not since the Eagles or Fleetwood Mac has there been a better group of singers together in a band churning out great "California Country" music.  The title track finds each vocal and instrument sitting perfectly in a huge sound stage that explodes with the first chorus of harmony vocals.  The Aurvana 2's did a respectable job handling Kirkpatrick's trademark warmth, and even at high volume the stage held together well.  There is plenty of sizzle, too, and the earbuds are consistently well balanced, handling both highs and lows very well.  Other highlights on this incredible record include Runaway Train (which reminds me of a kickin' Vince Gill tune), All The Way Down, and the powerful closer, Lean Into It.  If you have not yet discovered Little Big Town, it's time you do.  It seems that there are few artists who are still taking the time to make great records that are well recorded and make your gear sing.  LBT is one of these bands, and are well worth your time and money to invest in.
Tom Petty & The Heartbreakers latest release is decidedly old-school.  Recorded live in the studio without overdubs, it is a great chance to hear one of America's great bands still making amazing music, without any of the technical wizardry that too many artists hide behind in today's music business.  Again, the Aurvana 2's brought great bottom end and a clean sound stage for the variety of musical styles presented on Mojo.  The Trip To Pirate's Cove is a very mellow, vibey musical trip with a haunting bass line.  You can close your eyes and picture the band sitting around in the studio, probably with some candles lit and oriental rugs spread around the room while laying down this seriously groovy vibe.  The trashy and angry I Should Have Known It sounds great, and never gets muddy.  Swampy maybe, but it sounded great on the Aurvana 2's.
So how do they handle things for those of us who like to bang our heads?  I went straight to Thousand Foot Krutch's latest project, Masquerade, for the answer.  Fire It Up provides a rock solid, hard groove with Trevor McNevan's soaring vocal.  From the driving verses to the crunch chorus, I was amazed at how loud and clean the Aurvana 2's played the material.  Even the heavy kick drum coming out of the bridge and into the chorus was tight and clean. 
Conclusion
I was really impressed with the Aurvana 2 from Creative Labs.  For about a hundred bucks, this is an incredibly versatile set of earphones that can handle most any genre of music very well.  They always presented a balanced soundstage, with crispy clean highs and warm smooth bass.  My quibbles with the Aurvana 2's are few.  The incuded carry case has a hard plastic molded frame that fits the earphones perfectly and allows you to wrap the cord.  The problem is, it limits the ability to pop an iPod shuffle or small adaptor or extension cord into the case with the 'phones.  I would also like to see a variety of tips included (beyond just small, medium and large sizes of the same design), because I still have a hard time getting mushroom tips to stay in my ears.  Some double flanged or foam tips would be appreciated.
If you are looking for an affordable yet dramatic upgrade to the el-cheapo ear buds that came with your iPod, the Creative Labs Aurvana 2 should be on your short list.  I can't honestly say that earphones costing three times as much sound three times better - they don't.  Of the dozens of earphones I have tested, this is the perfect intersection of price and performance.

Unless otherwise indicated, this is a preview article for the featured product. A formal review may or may not follow in the future.
Confused about what AV Gear to buy or how to set it up? Join our Exclusive Audioholics E-Book Membership Program!