JAYS a-Jays Four Earphones Review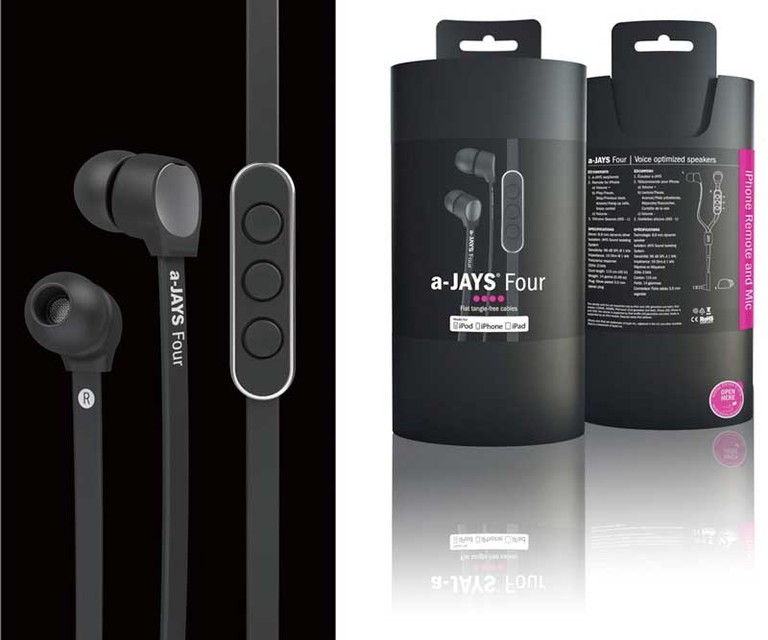 JAYS a-Jays Four Earphones
Summary
Type: 8.6 mm Dynamic Speaker
Sensitivity: 96dB @ 1kHz
Impedance: 16 Ohm @ 1kHz
Frequency Response: 20 Hz – 21 000 Hz
Earphones Color: Rubber Coated / Metal finish
Isolation: JAYS Sound Isolating Sleeves
Size: (L)18.3 x (W)11.8 x (H)13.8 mm
Weight: 14 grams (0.49 oz)
Cord Type: TPE coated flat tangle free cable
Length: 115 cm (45 in)
Size: Width 5mm / Thickness 1.2mm
Plug: L-shaped Silver-Plated 3.5 mm Stereo

Executive Overview
We review a lot of earphones and headphones, but we wanted to take a little time and talk about the JAYS a-Jays Four. These are earphones that feature a unique flat rubberized cable that renders them almost tangle-free - and aside from good sound, that's about the #1 feature I want in my headphones. You can stuff them in your pocket, and actually pull them out and use them without having to untie a huge knot. But more than that, they fit. They actually fit into the constrained hole on my industrial Ballistic iPhone 4 case. Very few earphones can make that claim and it's worth noting. 
The a-Jays Four offer an integrated remote control that sits about 6-inches down on the right earphone. The in-line remote has three buttons that are used for a number of functions. The top and bottom buttons are dedicated to raising and lowering the volume. The center button, however, has multiple uses. Press it once to Pause or Play the current track. Press it twice to skip forward, and three times skips back. If you hold it down for 2 seconds, the phone will go into voice recognition mode, allowing you to make a call. It's very intuitive and takes just moments to get used to.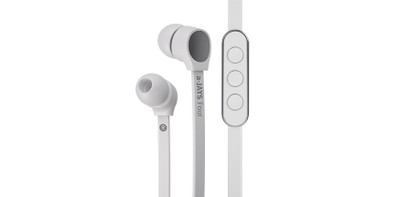 OK, what else... Well, the a-Jays Four come with five pairs of silicon ear inserts which are stored in the rather impressive case, enough to fit just about anyone. But really, the size that was on by default fit us just fine. In fact,we wore them for several hours while setting up and reviewing some video products and never felt ear fatigue - either from the sound, or from walking around with them in our ears. What we did find was that the rubberized coating on the flat cords tended to weigh down the cable, making it drag on the ears somewhat. If the a-Jays Four aren't inserted far enough, they could potentially fall out from the pull.
Sound was excellent. These are a far cry from Apple's white standard earphones - which honestly aren't all that bad for a reference generic. The a-Jays, though add a nice, uncompressed top end that was missing with the Apple earphones. We also liked the bass, which was realistic and had a nice sound that wasn't the least bit overbearing or boomy. It was authentic and we didn't find ourselves encountering that "fake" wall of boom so common in lesser earphones and headphones. The highs were clear, and not shrill - overall they just sound right. For $69 the JAYS a-Jays Four are actually some of the best phone-ready earphones we've heard.

Unless otherwise indicated, this is a preview article for the featured product. A formal review may or may not follow in the future.
sremick posts on September 01, 2011 10:33
Will the controls and mic work on Android phones too, or just iPhone?
cwall99 posts on June 23, 2011 08:50
Do you think the flat cable would help make them more durable?

My 16-year-old son seems to go through headphones and ear buds like he's changing his pants. 9 times out of 10, it seems as though one of the channels dies, or at least spends more time off than playing its respective channel.

Granted, part of this is the physical abuse he heaps on them. He's constantly jamming them into his pocket, yanking 'em out, and back again.

But bad channels have always been an issue with headphones for me, as long as I can remember. I got my first serious pair of headphones for Christmas in 1979, and while they sounded good for a while, it didn't take long, maybe two or three months, for the right channel to start getting finnicky.

It could also just be that the solder on the 'phones just starts to give out after a while. Heck, I dunno.

So, the question I have is whether the flat cable on these ear buds will help mitigate the stresses my son typically subjects his headsets to.

In particular, I'm thinking about these two sentences:
These are earphones that feature a unique flat rubberized cable that renders them almost tangle-free - and aside from good sound, that's about the #1 feature I want in my headphones.
So, my line of thinking goes like this: fewer tangles implies less stress on the cable which, in turn, should mean a longer life for the headphones.

Given how frequently my son ruins his 'phones, I've cautioned him against spending much more than $30 on head sets. It just seems like a waste. But if a headset like this one can get him more than twice the lifespan out of a pair of buds, and give him better sound, then I don't have a problem with him getting some.

I was wondering what the general consensus was on this issue: Will the flat cable extend the useful life of these ear buds?

Would love to hear what you guys think. Thanks.
Post Reply
Confused about what AV Gear to buy or how to set it up? Join our Exclusive Audioholics E-Book Membership Program!