Audio-Technica SonicSport Headphones Preview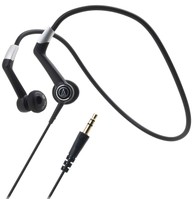 Audio-Technica's new SonicSport headphone line features two in-ear models and one earfit model. If you prefer in-ear but find they tend to slip, you can choose between the ATH-CKP200 with loops around your ears and the ATH-CKP500 with a C-shaped wedge to keep them in your ear. The latter are particularly good for those with glasses that can't use the over-ear loops. If you don't like having speakers shoved in your ear, the earbud type ATH-CP-700BK has an around the back of your head loop and in-line mic and controls. All of the SonicSport headphones come with Audio-Technica pedigre for quality headphones. Listening to music while exercising just got easier. With their waterproof rating, cleaning up after also got a lot less stressful.
Audio-Technica's new SonicSport headphones feature two in-ear models (ATH-CKP500 and the ATH-CKP200), and an earbud model (ATH-CP-700BK). Waterproof and ready for your next workout.