Moshi Audio Clarus Premium Earphones Review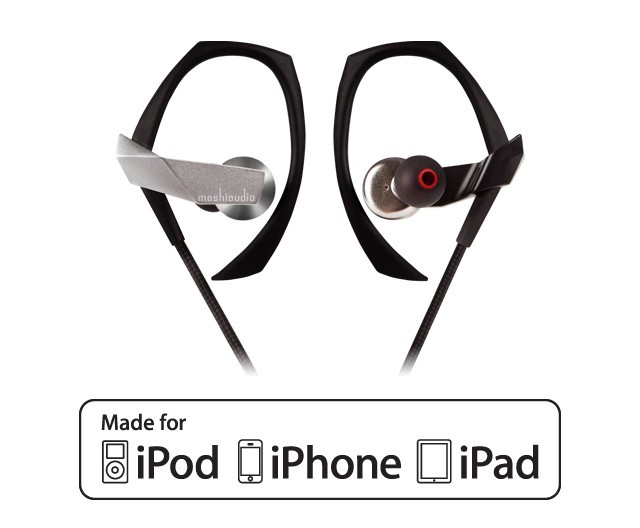 Moshi Audio Clarus Premium Earphones
Summary
Executive Overview
Moshi Audio describes themselves with the tagline "purveyor of electronics fashion". The thing is, that sort of sets us off, I mean I want my electronics to perform, not just look good. So you'd expect us to have a sort of attitude heading into a review of the Clarus earphones made by a company that puts such a value on form. The thing is, though... it's worked so far for Apple. I mean, the iPhone looks good AND performs well. In fact, the iPhone and iPod are high quality source devices if you use them correctly. So maybe you can nail both form AND function. We didn't know - I guess that's why this is a review.

Taking a look at the Clarus earphones we noticed that they were rather different than anything we'd seen before, even Moshi's other products, like their Moonrock and Vortex earphones. Even the packaging is premium. If you ask us, packaging doesn't matter - I'm not going to "listen" to the box. But it does speak, hopefully, to the attention to detail Moshi puts into its products. Even the included leathery case has a hard foam liner and integrated rubber cord wrap - of course, if it would just fit in my pocket it'd be perfect. You gotta wonder, though, if they take that much time on the box, what are they putting into the headphone tech?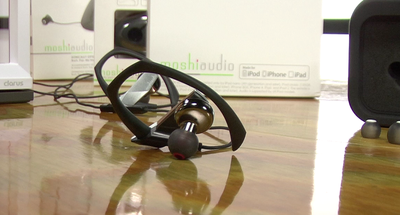 Well, turning back to the earphones, you can see that there are two primary ways in which they differ from the typical in-ear product. First, the physical layout of the earphones is bizarre, but intriguing. The earpiece is at the end of a long arm and a rubber loop surrounds your ear and keeps the soft earpieces in place just at the edge of the ear canal. It's actually got a considerable amount of heft to it, but that weight doesn't rest in your ear and is supported evenly by the ear loop. The earpiece also isn't designed to jam all the way into the canal - it just sits at the edge, which is a much more comfortable spot.
Second, the music is "tunneled" to your ear via a sound guide that transfers audio from the drivers to your ear. And we do mean drivers - as in "plural". The Clarus earphones each use a 2-way XR715 DynaDuo system that includes a 15mm woofer and 7mm tweeter. Both are housed in a steel alloy cavity and a passive crossover combines the output and pipes it through an acoustic membrane to your ears.
Honestly, the construction is more akin to a pair of high-end headphones than a set of earphones. It's very different, but very effective. I can say that because these sound pretty good. And by "good" we mean that the sound is overall very pleasing, with lots of bass - which is unusual for phones that don't have to be shoved way into your ears. If there are any complaints, we'd have to say that they have some mid-bass emphasis and lack the pristine highs of our reference earphones - but those also cost two times as much as these.
We listened to a lot of music on these earphones, including some tracks that were mixed by a close friend of mine in the studio and which I am intimately familiar with. We also played lots of classic rock, R&B and even streamed some movies from Netflix. Our overall takeaway was that the Clarus earphones produced a full sound that was energetic and fun, with plenty of bass and lots of upper-midrange. At times, female vocals lacked some of the airy finesse we like to hear, but we queued up some Dave Matthews or Sting and things really took off. I'd have to say, our takeaway was that the Clarus provided a really intense and live sound that we enjoyed and you can really listen to these for hours without getting tired.
The Clarus earphones come with an airplane dual-mono adapter, 3 sizes of soft ear tips, and the aforementioned leather-ish case. The cord is very small in diameter, but wrapped in fabric and nearly impervious to cable noise, even when we purposely bumped and flicked it. A 3-button iPhone/iPad controller and mic sits just under the right earphone at about chin level. It worked perfectly to allow us to make and receive calls and also served to adjust the volume of music when listening to MP3s.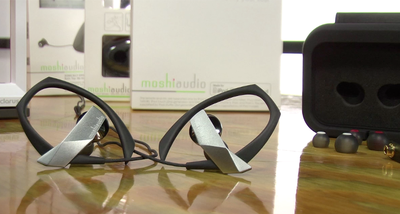 If you like high-end style and you want comfortable earphones with a good amount of bass, check out the Moshi Audio Clarus earphones for yourself - you'll be pleasantly surprised.
If you enjoyed this video please hit the 'Like' button in YouTube and subscribe to our channel. It'll help bring about world peace and if you don't, we'll pinch a puppy... I mean it. I don't care... OK, we won't pinch a puppy, but if you like us we can bring you more video reviews. And, please visit our Facebook page at Facebook.com/audioholics or Follow us at Twitter at AudioholicsLive.

Unless otherwise indicated, this is a preview article for the featured product. A formal review may or may not follow in the future.
Confused about what AV Gear to buy or how to set it up? Join our Exclusive Audioholics E-Book Membership Program!