Bose Bluetooth headset Series 2 Preview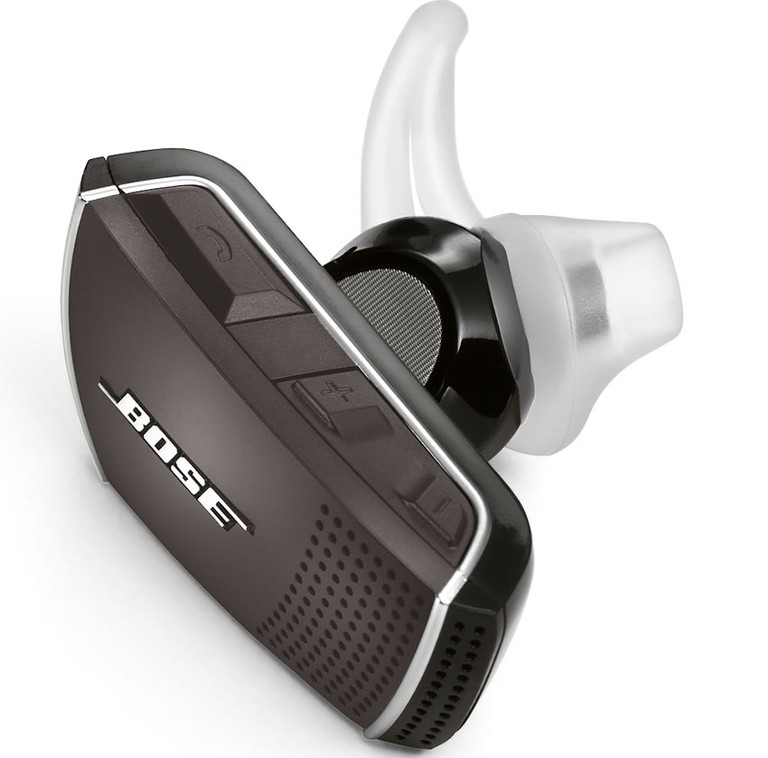 Bose Bluetooth Headset Series 2
Summary
This is a Bose product. There are no specs given, but here are some features:
Adaptive audio adjustment technology
Noise rejecting microphone
S, M and L StayHear removable silicone tips
Rechargeable lithium-ion battery
4.5 hours of talk time
175 hours of standby time
3-LED Battery indicator status
Wall and USB chargers
Carrying case
Executive Overview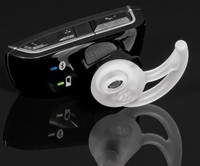 I know you've been waiting for it. For years you've been sitting on your couch, at the office desk, and in your vehicle waiting... hoping... possibly even begging for Bose to come out with a new Bluetooth headset. From the company who brought you the cubed speaker... and then cut the size in half, comes the most impressively ambiguously impressive (did I say that twice?) Bluetooth earphone, the aptly-named Bose Bluetooth headset Series 2. It's so impressive that Bose capitalized every letter in the product release headline except "headset". That's because it is so wonderful, so marvelous, you'll forget it's a headset (most likely because it is the same size as one of their center channels except with a (different) weird connector on the back). You'll think it's the way God should have invented your ears (or "ear" if you are unfortunate enough to have only purchased one).
Because the Bose Bluetooth headset Series 2 integrates Bose full-range audio and comes with left-ear and right-ear versions, you can choose which ear will receive the sonic benefits of pristine reproduction of that stunningly fantastic cell phone sound. Your grandmother in New Mexico will sound like she's has literally crawled inside your head and is speaking to you from the recesses of your skull cavity. And even though she's tone deaf, that doesn't mean that you won't get to hear every single off-key soprano tone of her yearning about the good ole days with Bose's TriPort acoustic structure. It's all structure these days and Bose has it in spades - three spades to be exact. Bose also added their Adaptive Audio Adjustment technology so that as your grandmother speaks, and the outside noise attempts to drown her out, her voice will get louder in your ear to compensate. That's because the Bluetooth headset Series 2 reacts automatically as noise levels change. You won't have to strain to hear another call, even though you may wish you did.
The new Bose Bluetooth headset Series 2 doesn't stop with just improving the output of their Bluetooth headset, they also improved the input. While other people are schlepping around, sounding like Snow White coaxing delicate animals towards her with a voice that could separate the very base components of chromium steel, you'll be heard clearly and without the corruption of background noise. Go ahead, let your baby cry in your lap and sit on top of the washing machine in spin mode, it doesn't matter. Bose includes a proprietary dual microphone system that improves speech intelligibility far beyond that of conventional Bluetooth headsets. All that pesky background noise is completely rejected, just like a nice guy watching his ex-girlfriend make off with the gutsy school jock. It also keeps wind noise out of the mic, so go ahead and stick your head out of the top of that sun roof - just mind the overpasses.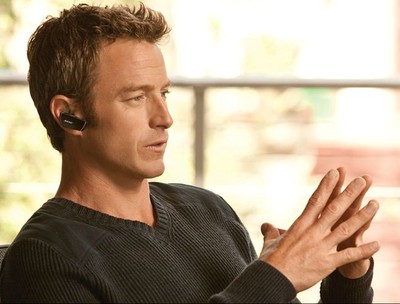 Now that I have my Bose headset, it's time to TAKE OVER THE WORLD!!
Another nice feature to this Bose headset is that the company redid the internal antenna. Now the Bose Bluetooth headset Series 2 is custom-designed to provide category-leading range performance. No matter where you are: airport, taxicab, public transit system... you can continue to look like a complete idiot talking to yourself, even if your cell phone is tucked away in your pocket or purse. It's just that now you can have a real conversation that isn't smattered with an ample helping of "Are you there? Yes... yes, I can hear you... Hello?"
Now, if you want the complete effervescent luxury of otological goodness, you're going to want both left and right versions of the Bose Bluetooth headset Series 2. Of course, you'd also presumably need two phones, since you can only pair one headset to one phone at a time. But never mind that, even if Apple has to invent a new dual iPhone to experience the untold pleasures of using two of these at once, it will be well worth the cost and effort. Of course, it could be that Bose simply wants to offer people the option of using them in the right or left ear without having to flip the controls upside down, a design that just about everyone has figured out but them.... In any case, the silicon StayHear tips look to be very comfortable and will allow you to wear the Bose headset while strapping yourself to a water main during an epic F5 twister. They'll fly right out of your ears and you'll die from the shearing force of the winds, but darn it, you'll be comfortable right up until that point.
If Bose is anything, it's easy. And I'm not talking about the "buy me dinner and a movie" easy, but the kind that means you can push a button and the thing does what you want... wait, that metaphor still works. In any case, taking calls requires just one simple top-to-bottom pinching motion on the buttons (I swear, I am beating the metaphor to death with a stick), and a clearly labeled LED indicators make it easy to check battery life and confirm the Bluetooth connection. You have to confirm the connection because the moment you don't, you have no assurance that it's there... until you check it again.
The Bose Bluetooth headset Series 2 includes a portable zipper case, a one-foot USB cable, a power adapter with fold-flat prongs for easy packing, and three StayHear tips (small, medium, large) for a personal fit. The street price, which just so happened to match the retail price everywhere we looked, is $149.95 - which is, actually, quite reasonable for a high-end Bluetooth headset.
The Bose Bluetooth headset Series 2 will available at the select Bose stores, the Bose dealer network, and just about everywhere Bose is sold.... which is just about everywhere (and likely coming to a late-night infomercial near you).

Confused about what AV Gear to buy or how to set it up? Join our Exclusive Audioholics E-Book Membership Program!
Recent Forum Posts:
agarwalro posts on March 31, 2012 13:02
You went full retard…
Clint DeBoer, post: 875773
Was the article too subtle?
X6WHBO_Qc-Q
sholling posts on March 31, 2012 12:49
Clint DeBoer, post: 875773
Was the article too subtle?
As subtle as a slap in the face with a fish.
Clint DeBoer posts on March 30, 2012 21:15
Was the article too subtle?
Post Reply