NuForce BE6i Wireless Bluetooth Earphones Review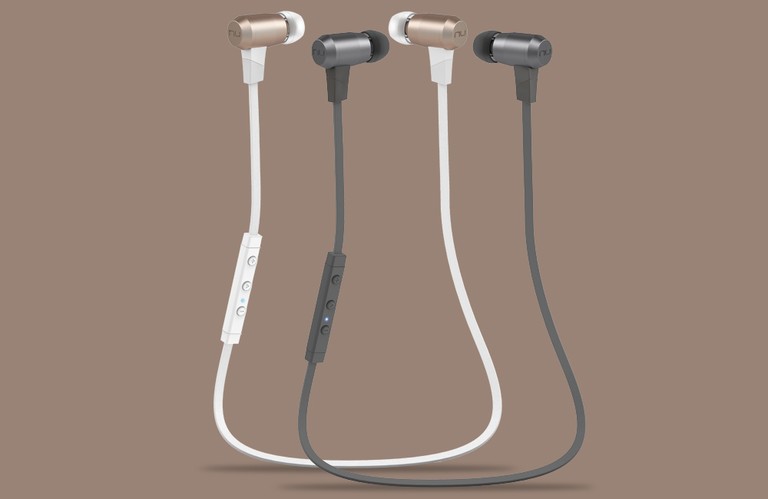 Summary
Product Name:

BE6i Wireless Earphones

Manufacturer:

NuForce

Review Date:

June 17, 2016 00:00

MSRP: $129
First Impression:

Pretty Cool
NuForce BE6i In-ear monitors
Type: Earphones
Driver: 10-mm dynamic driver
Cable Length: 22.25-inches
Wireless: Bluetooth 4.1+ EDR Compliant
Battery Life: 8 hours
Wireless Range: 98-feet (30-metres)
Codecs: HSP 1.2, HFP 1.6, A2DP 1.2, AVRCP 1.4, APT-X, AAC
Connections Control: IPX5 certified multi function inline remote
Input impedance: 20 Ohms
Frequency Response: 20Hz - 20kHz
Impedance: 20 Ohm
Sensitivity: 95dB +/- 3dB at 1kHz
Power Supply: Lithium-ion battery, 3.7V/80mAh
Weight 0.7 oz
Executive Overview
The BE6i, a wireless in-ear monitor by NuForce, is the successor of the BE6. It was built to be an improvement in a few vital areas, including – of course – audio quality. But the BE6 is a formidable act to follow. It came out just last year to all-around positive reviews. Today, BE6i wants to be your next fully wireless IEM, for the office, gym or just kicking back and listening to tunes. Let's take a closer look to determine if it's up for the task.
"We created the BE6i in-ear headphones based on feedback from our users – audio enthusiasts want a high quality sound experience that fits their active lifestyles," said Jyri Jokirinta, NuForce product marketing manager. "By combining a lightweight, sleek and durable design with a long battery life and improved sound, we are providing a rich listening experience that fits any listener's on-the-go life." 
Fit and Finish – BE6i-Style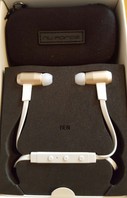 The first thing you'll notice when you open the box is that the BE6i is as elegantly designed as it is rugged-looking. The model we received for review features two golden-hued, all-aluminum bullet-style earbuds joined by a clean white cable designed to go behind your neck. Along the cable, closest to the right earbud, is a three-button control pad allowing you to pause/play, skip and repeat a song. It also lets you take calls without pulling out your phone.
The BE6i, like its predecessor the BE6, also comes in a low-profile two-tone grey design – not quite as flashy as gold-and-white but equally rugged-looking with all-aluminum earpieces.
The BE6i doesn't just look impressive, it features an IPX5 water and dust resistance rating, making it perfect company for your sweaty, high-impact workouts. You can run outdoors and not worry too much if it looks like rain, and you can toss the earphones into a gym bag with a wet towel without worry of incurring damage. IPX5 means they can pretty much handle anything short of being submerged in water. 
The coolest part about the BE6i fit-and-finish… when you take them off the aluminum bullets can be magnetically snapped together and fit into the included carrying pouch.
Oh, yes, that magnetic snap will surely seduce even the most grizzled gadget-head. 
Vital Statistics
Over the last several years, advances in Bluetooth have turned wireless into a legitimate category of mobile music. Sure, it's still not up to the best hard-wired or wi-fi music sources, but for most mainstream consumer audio-technology, Bluetooth can sound very good. 
BE6i uses Bluetooth 4.1, so you can say good-bye to the bad-old days of unreliable connections. The newer standards provide ultra-fast, two-way communications with your devices over a bandwidth that is plenty good for audio – especially when you factor in aptX compression that provides dynamic range and frequency response and will make you say:
"I can't believe it's not lossless!"

The BE6i pairs effortlessly. Just hold down the power-on button on the control until the internal voice (a lady with an accent) informs you the set is in pairing mode. It will then be easily discovered and paired to your iPhone, Android or Windows phone. Thereafter, connecting to a primary device is instant, as soon as you turn on your earbuds.
The talking control informing you of basic system settings is a futuristic touch and is just so much more James Bond. Similar devices make you settle for beeps and chirps. 
Once connected, the Bluetooth range can be pushed out all the way to NuForce's rating of 100-feet (almost double the distance we've seen in most competitors). I gave the BE6i the range stress-test at my local gym, a huge, practically empty room that I visit in the early hours before most people are heading to work. Tweaking on a pre-workout formula, I placed my Android Galaxy 6 on a bench and walked as far away from it as I could, while still hearing Iron Maiden's 2015 album Book of Souls through the earbuds.
With almost no interference from other wireless devices in the vicinity (because there aren't any) and no obstructions, I was easily able to exceed 100 feet. However, the range is dramatically reduced with obstructions, especially walls, doors, and yes – gym equipment. 
The battery life on the BE6i is also impressive, rated at a full 8 hours.

I tested that 8-hour limit during many workdays, and by my estimate it comes up at just about 8 hours, give or take the kind of performance you'd expect out of your earbuds that day.
Suffice it to say, you will push right up to NuForce's promised 8-hour battery life if you limit volume, and pause the music when you take the earbuds out. But if you try to blast at max volume all day you won't see 8 hours of music, and the BE6i is so LOUD, its drivers would push your eardrums into your mouth.
Sound Quality
I'll spare you my waxing poetic about how great Bluetooth 4+ paired with aptX compression is, and how it has helped bring Bluetooth audio out of the dark ages. But the fact that the BE6i has it is truly state of the art, at a price point of $129. 
When you're ready to fire up the BE6is and play your first tune, if you're like me, you're probably bearing a healthy skepticism of wireless audio. But you'll also probably find yourself saying: "Wow, these actually sound good."
Now, the truth is, I'm not a fan of IEMs. I prefer full-sized, open-back headphones. Perhaps it was out of low expectation, but I was highly impressed when I put Comply Isolation eartips on the BE6i and popped them into my ears to really listen to them.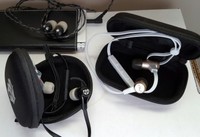 After my initial impressions were out of the way, I started to hear individual characteristics, and the NuForce acoustic signature started to emerge.NuForce has a reputation for a strong, punchy low end. You don't have to look any further than their dedicated headphone amp, the HA-200, and headphone DAC, DAC-80. When paired, the HA-200 and DAC-80 bring out a smooth, rapid-fire mid-bass. You can hear that same preference for authoritative bass in the BE6i. I spent some time comparing the BE6i against a similarly priced wireless IEM – the highly rated RBH EP-SB ($149). I was quite impressed with the RBH EP-SB when I reviewed them last year. I spent time going back and forth between them, and one can really hear very different acoustic signatures. The two earphones are definitely built for different audiences.
With its aluminum housing and 10mm drivers, the BE6i had all the advantages in the low end. It will give you a bit of a bump in the mid-bass, but is far from boomy.
Angel by Massive Attack: This track presents pulsating layers of bass, it's very difficult for drivers to time correctly without sounding muddy, the track is a great workout for any audio equipment. Actually, the whole Mezzanine album by Massive Attack is a great test for your system's bass capability.

The BE6i handled the track without blending the layers of bass into a sort of boomy bass soup. That's a huge success at this price range and proved that the bass reproduction capabilities of the large IEM drivers housed in stiff aluminum weren't just for show - they're the real deal! 
I knew the BE6i's forte would be bass, and they could have simply provided you with a bloated mid-bass and called it a day – but they didn't. To get the most out of the bass response of the BE6i, I do highly recommend those Comply Isolation eartips I mentioned. The seal really allows the drivers to work at full impact in low-end frequencies and really brings out the BE6i's capabilities down low.
Midrange Test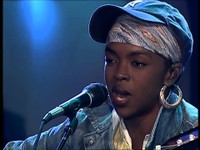 War in the Mind by Lauren Hill (Live Acoustic): Lauren Hill has a beautiful voice and few tracks test it like her performance of War in the Mind on MTV Unplugged back in 2002. The song is an old Bob Marley tune overlaid with Marley's own voice over the chorus. Hill sings before breaking into a staccato then back to singing toward the end of the song. The MTV Unplugged series created some truly great recordings. They were all very intimate and most will be a good test of your audio equipment's midrange capability. The BE6i was able to reveal the exact moment Hill strained her voice, and subsequently lost a bit of her range. She muscled through the remainder of the song like a professional until at the end where she coughs and asks for a glass of water. Those details make this a great tune for hearing a dynamic voice in intimate detail. 
Who Will Love the BE6i?
The RBH EP-SB and the NuForce BE6i provide a classic contrast between an IEM going for a flat monitor-like response (RBH EP-SB) and the BE6i which is built to pump you up. There is no better or worse, only your personal taste. But when it comes to sound – the BE6i clearly has the advantage in bass and is the more 2010s pop-friendly. The RBH EP-SB is clearly more detailed in the upper mids, although it could reproduce deep bass – the bass was a little more rolled off. The EP-SB would be the right choice for someone who listens to a variety of music.
Perhaps because it's a newer earphone, the BE6i has every technical advantage in battery life and range. It's really quite a remarkable little earpiece that looks stylish, sounds great and is capable of 8 hours of life. 
Conclusion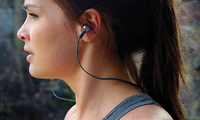 It's difficult to find fault with the BE6i at this price range. That NuForce was able to find anything to improve upon in the BE6 is surprising. But, after spending significant time with the BE6i, I can fully recommend it to any who is interested in a quality affordable IEM. The aluminum earpieces make rugged armor for the relatively large drivers inside. The unit is clearly built to last, and should provide years of faithful service. 
In terms of sound signature, the BE6i is pure NuForce – what it lacks in upper-midrange detail it makes up for in powerful but quick bass response. If your musical taste tends toward drums and bass, but you want something that is still capable of pleasing high-end reproduction…and if you love the idea of wireless mobility and want to spend less than $200…you're in luck - the BE6i is made just for you!
Confused about what AV Gear to buy or how to set it up? Join our Exclusive Audioholics E-Book Membership Program!
Recent Forum Posts:
gene posts on June 17, 2016 02:20
The BE6i, a new wireless in-ear monitor by NuForce was just launched this week. Its an impressive-looking set of earphones with rugged aluminum bullet-style earpieces with some impressive specs for its price of only $129. With an 8-hour battery life, advanced specs like Bluetooth 4.1, aptX and an IPX5 rating for water and dust resistance the BE6i puts up impressive numbers. The BE6i wants to be your next fully wireless IEM, for the office, gym or just kicking back and listening to tunes.

Let's take a closer look to see if it really measures up to the specs and let you know what we thought of the sound.



Read: NuForce BE6i Wireless Bluetooth Earphones Review
Post Reply