Hifiman Ananda-BT: Audiophile Bluetooth Headphones Review
Hifiman Ananda-BT: Audiophile Bluetooth Headphones Review
by
Steve Church
—
August 25, 2021

Hifiman Ananda-BT
Product Name: Ananda-BT Bluetooth Over-Ear Planar Magnetic Headphones
Manufacturer: HIFIMAN
Performance Rating:
Value Rating:
Review Date: August 25, 2021 00:20
MSRP: $ 999
Frequency response: 8Hz – 55kHz
Sensitivity: 103dB
Impedance: 35Ω
Weight: 460g (495g including boom mic and USB cord)
Full charging time: 2.7 Hours
Playback time: 10 Hours
Supported Bluetooth CODECs: HWA, LDAC, aptX HD
Pros
Superlative audio quality
Wireless
Exceptional comfort
Solid build quality
Reasonable cost for end game audio quality
Cons
Bulky
Expensive compared to competitors
Bluetooth controls differ from traditional convention
Battery is not easily replaceable
The hunt for better...

Sitting beside me is a complicated stack of portable geekery.  An Astell & Kern XB10 Bluetooth puck sits atop a miniDSP HA-DSP, which in turn feeds into a Fiio A5.  With the signal received and decompressed, properly arm-wrestled into a neutral response curve, then sufficiently amplified, it is finally worthy of feeding into my treasured set of Dan Clark's Aeon Flow Open headphones.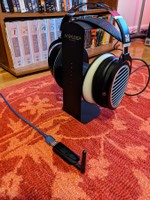 For headphone audiophiles, this sort of complicated cluster of swaggy electronics is a part of life.  Some of us relish the twisting of knobs and designing of FIR filters to achieve our optimum recipe for aural enlightenment.  Others roll tubes and try to choose an amp with a flavor to match their headphones' desired response.  I find as I get older, I'd rather my gadgets just work.  Effort is for those who have not yet paid their dues.
And so, one must choose.  Which do you value more: transcendental audio reproduction, or mobility?  Unfortunately, there are few audiophile-grade Bluetooth headphones on the market – at least not in the same class as the Sennheiser 800 S, the ZMF Aeolus, the Focal Clear, and other $1000+ offerings.  In your home, headphones of that grade are practically as stationary as a pair of Salk SongTowers with a Hsu sub: set them up, then they never leave the room. 
Unless you're in a recording studio, headphones that stay in the same spot are a bit of a paradox, aren't they?  Even with my mobile stack of electronics, I almost never travel with my Aeon Flows.  On the go, one may achieve a neutral response from the likes of the Sennheiser Momentum 3, the Sony WH-1000XM4, and the Bose QC35 II.  Well-tuned as these headphones may be, they will never come close to the sort of sound stage offered by open-back headphones; never offer the extreme detail of headphones with more refined transducers.  Ultimately, mainstream Bluetooth headphones fall far short of transcendent.  With the Ananda-BT, Hifiman is working to fill that gap.
Transcendental audio reproduction
These headphones are outstanding for everything from Franz Biebl to Justin Bieber.  Speaking of, in "Stuck With U" by Ariana Grande and Justin Bieber, did you realize the studio added a subtle spinning vinyl snap-crackle-pop track?  Neither did I until the first time I wore these headphones.
The Ananda-BT headphones are detailed, revealing, and airy.  As is typical for planar magnetic headphones, the midbass can be a bit overcooked, while sub bass could use a little more authority.  Honestly, though, this is all very trivial, and I would be content to listen to these headphones without EQ.  Every other register is spot on.  Mids are well represented without being nasal.  Treble is well-controlled, neither shouty nor veiled.  Overtones are airy without being sibilant.
Having said that, you only live once.  I do have a slight correction applied using Neutralizer, an Android 10-band EQ app.  These headphones lend themselves very well to EQ.  I applied a slight boost to the 32 and 63 Hz bands while taming the 125 and 250 Hz bands a bit.  These filters pivoted the cymbal range down a couple dB, which I accepted with indifference.  The result leaves me grinning like an idiot.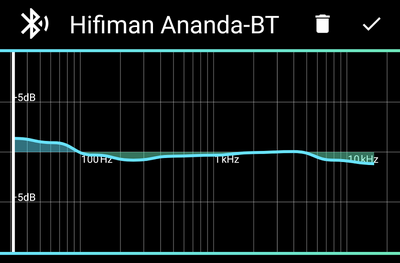 Listening to VOCES8 sing "Sleep" by Eric Whitacre, I can close my eyes and almost smell the incense and wood oil smells of an enormous church sanctuary.  No other headphones have ever tugged at my emotions this way.  The experience is ethereal.  After having listened to a dozen songs since, each time I pause to answer an email or accept a phone call, the buildup beginning at 2:43 repeats in my head.  This is an earworm done right.
2 minutes, 53 seconds into "Groovin' Hard" by Groove For Thought is the cure for my earworm.  Whenever you have a group of vocalists in a tight Count Basie sax section arrangement, such vocals are often difficult for headphones to reproduce as distinct individuals.  One often gets a mush of chord, chord, chord, maybe some clipping.  The Ananda-BTs do an admirable job of separation so you can say, "Oh, Amanda's singing a sharp 9 against Kelly's major 3rd.  Nice!"
"Spain" by Bobby McFerrin & Chick Corea is all the more impressive when you consider every performance of this tune is an improvisation with a heavy dose of experimentation.  On this track on the 1992 album "Play", I hear not only the full range of both the piano and Bobby at the sort of volume and timbre one would expect in live performance from pianissimo to fortissimo; but also the buzz of power surges in the recording equipment during quieter phrases.  These headphones reproduce everything, warts and all.  In any case, it really is a shame that "Don't Worry, Be Happy", the least of his songs, is the only Bobby McFerrin song most people know.
I promise I did not buy these headphones merely to pick out flaws in familiar recordings.  But I thought I might switch gears and go for some old school Chicago.  "Call On Me" is my lifelong favorite Chicago track.  I've listened to it more times than I can remember.  First time listening with the Ananda-BT, as I was admiring the rather excellent airy, brassy overtones of the horns and the punchy quality of the kick drum, I heard it.  30 seconds in.  The accidental minor 3rd, the wrong note from the rhythm guitar in my right ear.  That's the first time I've ever heard that.  It's still the coolest tune in Chicago's discography though, and that much cooler for the quirk I found.
A friend of mine recently introduced me to Martin Miller as a worthy subject to put my new headphones through their paces.  I arrived for the great tunes the band covered.  I stayed for the virtuoso instrumental performances.  Martin Miller and Tom Quayle's cover of Stevie Wonder's "Isn't She Lovely" is a fine example.  I find this recording noteworthy not only in the performers' technical proficiency, but also in how much horizontal and vertical space is represented by the Ananda-BT from only two guitars.  Going back and re-listening to this track on a pair of exceptionally tuned but closed-back Parrot Zik 2.0 is like I've suddenly lost all aural depth perception, the sonic equivalent of covering one eye.
See also:
Confused about what AV Gear to buy or how to set it up? Join our Exclusive Audioholics E-Book Membership Program!