Yamaha MusicCast 1000 Digital Music Server & Client Review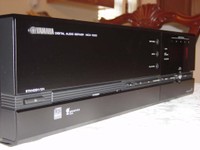 When Yamaha offered us the opportunity to review their new MusicCAST 1000 Digital Audio server and client system, I jumped on the opportunity. Having built a home theater PC and having been a fan of MP3 audio as a storage mechanism and playback format, Yamaha's solution of an easy-to-use set top MP3 and PCM audio server seemed a timely solution. It might, I thought, even be an evolutionary step into the world of CD audio archival and playback. It is no big surprise that the falling prices of hard disks and increasing processor speed would make CD archival and playback a viable format, but with regards to the masses, an easy-to-use solution would be necessary.
Yamaha's MusicCAST 1000 is their foray into digital music storage and streaming. While it worked well, the high price and small drive have left us wishing for more.