Crestron Motorized Window Shades Reviewed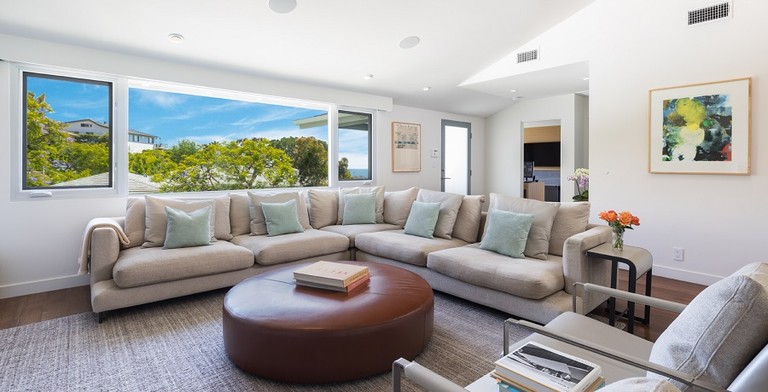 Crestron Window Treatments
Summary
Executive Overview
One of the most overlooked costs in outfitting a new house is designer window coverings. Beyond using butcher paper and painter's tape (yes, I've done this), there are seemingly few truly affordable ways to keep the light out of the rooms of your home. Online companies abound with installed as well as DIY solutions, but in my experience, they were quite pricy for what you get. Local window shade retail franchises also sell and install shades, and often offer speed of installation as an advantage to the value proposition. In my research, these quick solutions can be not all that much less costly, and offer far fewer options, than enterprise class options from top AV and lighting designers. Crestron, the leader in high-end home automation, is at the top of the totem pole for automated window treatments, along with lighting control giant, Lutron. In my past three construction projects, I have owned both Crestron and Lutron, as well as others that didn't even come close in terms of performance.
Options, Options, and Options …
Crestron shades are basically a bespoke product. You pick the type of shade, be it anything including Roman shades, traditional yet modern roller shades, horizontal shades or motorized draperies. You can decide how much light you want to let through via a number of different fabrics, ranging from "transparent" to "translucent" to "blackout." You can (and I have in bedrooms) double down with two shades on the same roll-down that have perhaps a translucent shade paired with a blackout shade, each of which can be deployed when you want it or via custom programming.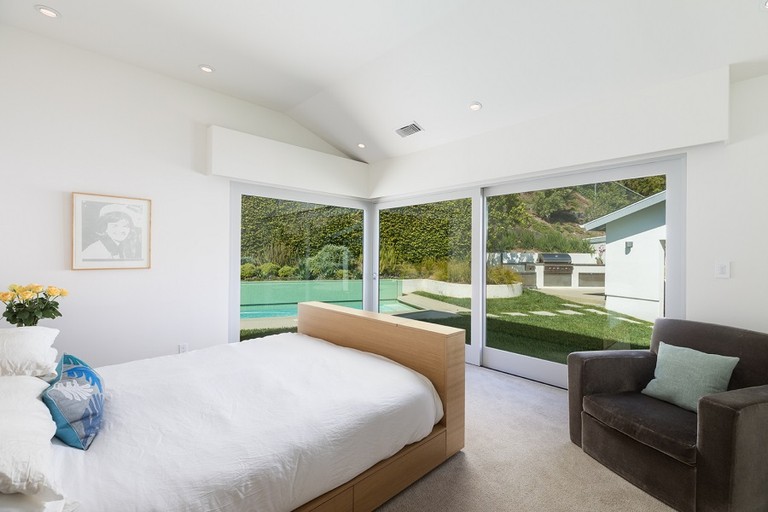 Colors are basically infinite when it comes to Crestron shades, in that if you send them a Pantone color chip (think: like a paint sample), they can match your shades exactly to your décor. Personally, I stick with the basics, in that I want my shades to be a basic whiteish-gray, which is pretty standard. If you wanted teal or burgundy, they could accommodate your needs. There are a mind-numbing level of predetermined options that you can sort through with your dealer or installer, which will likely result in you finding what you are looking for. Again, if you don't, you can go fully custom as Crestron is good like that.
Motors and Noise
I made a terrible mistake by purchasing a lesser brand of shades when I moved into my current home, to save a total of $2,000 over 19 windows total. Believe it or not, that isn't all that much, even at dealer cost, but I was foolishly pinching pennies. I am compelled to tell you what a mistake my cheapness was. Let's start with the motors. I would estimate the lesser shades were eight to 10 times the noise of Crestron's brushless motors, which are as close to silent as you can get. The motors operate in conjunction with each other, and are basically silent. If you notice shades going up or down, perhaps you can hear them, but you've got to pay attention, and that is specifically assuming that you are in the room with said operational shade.
Programing Crestron Shades
One of the best advantages of using Crestron shades in your Crestron smart home is the integration to your programming. In the somewhat odd layout of our house, I have the shades for the windows on the upper level of the house go down at about 2 PM, and then automatically retract at five minutes before sundown. My programmer tells the Crestron system where we live, in terms of latitude and longitude, and it knows when the sun goes down every day. You can program your shades to do pretty much whatever you want them to do. In my last house, my shades in the bedrooms went up at 9 AM automatically, in order to wake my sorry ass up if I was stuck in bed. Other shades went up 15 minutes after sunrise. The options are endless, and not stunningly hard for a pro to program into your overall automation.
Valances
In a perfect world, I would be working only with new-construction modern homes, which are most to my tastes. This would allow my contractor and AV installer to put shades into the framework, so that they could lower from the ceiling via a small slot with minimal impact. That is the coolest but most tricky installation. Most people won't tear their homes up that much to get to this level of tricky for their installation. My shades are installed in my more Mediterranean McMansion above the windows, and were measured to cover the bottom of the window and beyond. You could put them inside the window framing, depending on the installation. Manual window cranks or handles can have an impact on your shades, too. I replaced my kitchen window cranks with smaller "butterfly" openers, to avoid interfering with the ups and downs of my retrofit shades. In my last home I had, and soon in this one I will, have a carpenter build very simple painted wooden valances to cover the roller shades and their mechanics. The valances are basically simple wooden covers that go over the mechanism for the Crestron shades. I spent $2,000 for the entire home's worth of valances (excluding a simple white paint job), and they hid the shades nicely.
Energy Savings
My current home has the main living space on the top floor, with three main bedrooms on the bottom floor. The windows to the west get the full sunshine treatment, as the sun sets over Topanga Canyon and Malibu, thus my house gets hammered with sun, light, and ultimately heat until as late as 8:30 PM in the summer. The new translucent shades are programmed to block the western light in the afternoons, and do a remarkable job of keeping the upstairs area cooler when it is sunny. We've noticed needing to set the Crestron thermostat at a higher temperature to be comfortable now. That is a very good sign that we won't need to use as much energy to keep our home at a livable temperature, and that, paired with all new HVAC units last year, should save us some serious money. All new windows and doors would be even better, but that's an investment that I am not ready to make any time soon in this house, as we need a new master bathroom and a kitchen cabinet redo first.
The Downside
It can take a while to get fully custom shades measured, ordered, shipped, and installed. During COVID-19 in 2020, including a COVID outbreak at the Crestron factory (so I was told), this was more than six months wait time. In the future, you shouldn't expect the wait times to be as long, but 60 to 90 days is reasonable.
There is nothing do-it-yourself about anything in the world of Crestron, including shades. You won't be installing them yourself. You won't be programming them yourself. You won't do anything other than grab your Crestron remote or iDevice and manually operate your shades, assuming your programming doesn't perfectly meet your shade needs at the time.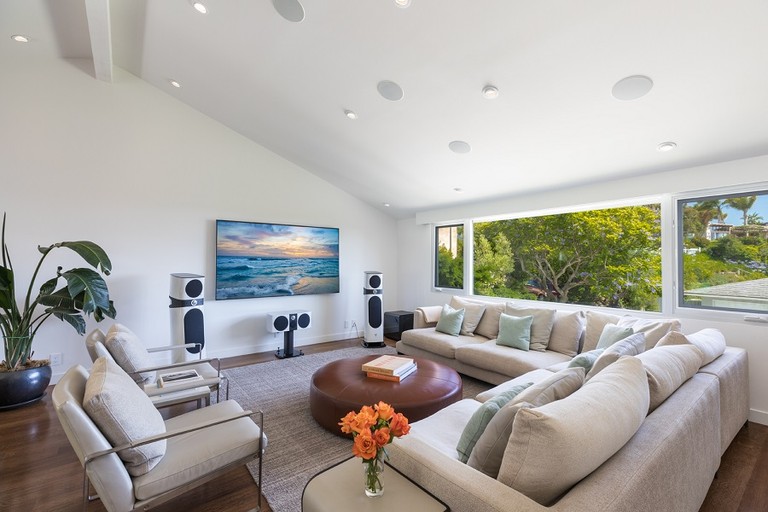 Sadly, smart home trickery is expensive, but rarely ever adds value to your home. If you are thinking that the home that you live in isn't your "forever home," then you might consider scaling back on expensive, tricked-out shade solutions, as people will gladly take them when you sell the house, but you are likely out of luck getting an extra X-amount for them. You have to consume the value of the shades in terms of energy savings, comfort, and luxury. If you can't justify automated Crestron shades in every room of the house, you can get them as much less expensive manual roll-down shades that can be upgraded to automated shades later. You also can mix and match shades for rooms with high use, versus ones with little to no use. Cost savings can be had with less expensive, manual options that we will get into in a bit.
The Competition
Lutron is the best comparison for shades. Having owned Lutron shades in my very nicely redone, ocean-view office in Brentwood, as well in as my former home way up in the hills of Mandeville Canyon in Brentwood, I can comment on them with authority. Pricewise, they are in the same ball park. Lutron has a ton of color, fabric, and design options. They also synch perfectly with Lutron lighting control systems, so if you are going more Lutron in terms of home control than Crestron, Control4 or Savant, you might consider Lutron. I simply loved my Lutron shades when I owned them. The solution that we came up with for my old office removed the problem of blinding glare right inside the framework of the window frames, and (get this) ran off of a few D-batteries that lasted for years. They worked via remote and were a brilliant solution to light, glare, and heat.
At the CEDIA tradeshow, you can find any number of companies making shades designed for the high-end home market. I recommend against said B-list companies, as they don't always synch well with your home automation system or system control – assuming that you are using one. I went down this road in my home and ended up tearing out every one of the lesser shades. It was like buying a cheapie printer at Staples and then realizing that it doesn't print very well and always needs more toner. The $350 printer is more expensive, but it is a better value. Automated window shades feel like the same value proposition.
There are aftermarket solutions from trusted companies that are more designed for the non-smart-home guy. My father has Hunter Douglas shades in his home in New Jersey that work on a remote, like my old Crestron shade. With an iPhone app, he can do the DIY programming to a pretty high level. They are priced based on a number of factors, and aren't all that much less expensive than a Crestron solution, but they are faster to order, and way easier to program and use. For many, this is a good solution.
For those who can't justify the cost of automated shades, there are some amazing other solutions that you can use. There are a handful of good online companies that appeal to the DIY consumer who is handy with his Makita drill and the Inter-web. These can be good, cost-effective solutions. Home Depot has automated shades with some modest color and fabric selections that have a very short order time and are downright affordable. The motors aren't comparable. Nor are the fabrics or the programming, but the cost is so low that they could be mixed and matched into a home that might not justify all Crestron shades, if need be.
Conclusion
Automated window treatments are one really slick part of the smart home experience. On their own, they are a great luxury. They save on energy. They cut down on glare. They allow better lighting design and control in your home. They provide privacy and so much more.
In terms of value, I can remember spending on beautiful (yet manual) blackout fabric shades that I had on the west-facing windows of my first home in Brentwood, and they cost an absolute fortune for not just the shades, but also the "hospital track" in the ceiling and installation. By the time we moved out, the drapes were fraying at the bottom, nor were they automated, unlike Crestron shades. Crestron shades aren't cheap by any means, especially considering the size of your home, but they aren't all that much more than traditional, designer fabric shades.

The benefits of having automated shades in your house might not run up the per square foot value of your home, but that isn't the point. You will enjoy your time in your key rooms more. You will be more comfortable spending time in your key living spaces. Your energy bills will be lower. Your gorgeous 4K UHD-TV will look better in the middle of the day without the sun beating down on you. The benefits are easy to fall in love with, which is why I keep bucking up for topnotch shades from the likes of Crestron.

Confused about what AV Gear to buy or how to set it up? Join our Exclusive Audioholics E-Book Membership Program!