IPORT Home LUXE WallStation iPad Mount Review
IPORT Home LUXE WallStation iPad Mount Review
by
Jerry Del Colliano
—
July 31, 2020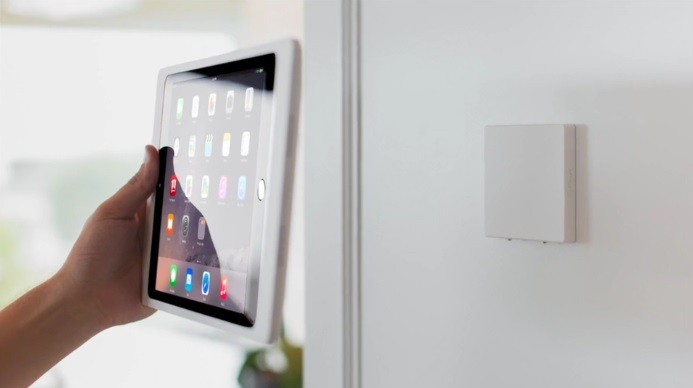 IPORT Home LUXE WallStation IPad Mount
After moving into our current home about a year ago, I have been taking some well-earned grief from my wife about bringing my iPhone to the dinner table. Normally, this would be totally unacceptable behavior for our nightly family meal but, having moved into a smart home based around both Crestron and Sonos, the only way to get a reasonable musical soundtrack in the kitchen was to use a phone or an iPad.
To be clear, as soon as I got something mellow (such as The Thievery Corporation Station on Amazon Music or a classical guitar channel on Pandora), I turned my phone upside down and muted it, but that didn't keep me from getting a technological beating for bringing it to the table in the first place.
My first solution was an expensive one, and unsuccessful, as I bought not one but two Apple iPad Pro tablets and installed the $99 Crestron app on them. This solution worked really well in our last home, with our iPad kitchen running the Crestron App as we were able to control lights, HVAC, the swimming pool, sound, shades, and cameras from one pretty slick installation centrally located in the kitchen. For some reason, the two iPad Pros, complete with stands that keep the iPads charged, just didn't do the trick, either in my media room or the upstairs living room. We were picking the latest Crestron handheld remote over the iPad Pro every time for TV, movies, and even Sonos.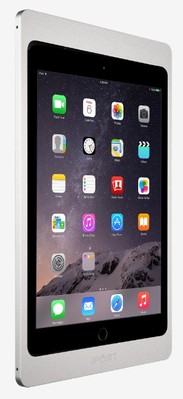 During a conversation with a golf buddy of mine, he hipped me to IPORT's LUXE series of products that are an interesting bridge between the limited success that we've had with the new Crestron handheld remote and the simple use of the Sonos application on seemingly any number of mainstream Apple devices. I ended up going for a more installed yet hybrid solution, which includes the IPORT LUXE WallStation ($375) and the IPORT LUXE Case ($270), all in white and designed to wall-mount an iPad Mini for use with the Sonos app, as well as the much more complicated and professionally programmed Crestron application. I make a note of this, because people often think "Hey, I have heard of Crestron – and for $99, I can use their app to automate my house," which is pretty far from the truth. You need the Full Monty Crestron system installed and programmed before the Crestron App means anything to you. With that said, there are so, so, so many other apps of importance, such as (but far from limited to) the aforementioned Sonos app, which work on any number of devices that can also be run using this IPORT installed solution that it is relevant to nearly every AV enthusiast on one level or another.
Installation
Let me call an audible here and suggest that this project is work for your electrician or AV installer, unless you would consider yourself at least a 7 out of 10 in the handyman department. You need to be able to connect low-voltage power to the core WallStation unit that serves as the mount for the LUXE Case. You need to be able to patch, sand, and paint your drywall, too. If you think you can do all of this, by all means, go for it. Personally, I had the handyman and electrician do the project, which came together pretty easily. The same could be said for snapping the Apple iPad Mini into the white (they have silver and black too) IPORT case, which can be easily mounted on the WallStation. It was important for me to have the WallStation centered on my Crestron keypad, thus we had to make some adjustments to the keypad below, so that everything looked very polished when done.
Performance
Despite the failure that we had with the implementation of the iPad Pros using the Crestron Application versus the hand-held Crestron remotes, the IPORT LUXE solution was an immediate upgrade. It took my AV guys little time time to put the already-programmed Crestron App onto the iPad Mini, but they also made it possible to access the Sonos app by itself. I found that taking a few minutes to add some of my favorite channels/grooves into the Sonos App proved to be a smart investment of time, as I had some junk in there, dating back to when we started with Sonos, that needed to be removed. With the junk gone and the A-list channels pre-programmed, I had easy access to music, not just in my kitchen, but also in the adjacent dining room and, more importantly, on my ocean-view balcony, where I often make my phone calls during my workday.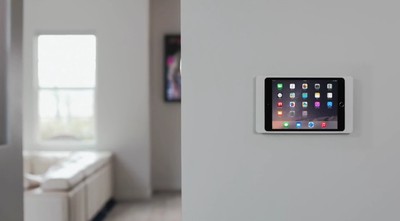 Gone was the need to have any i-device at the dinner table. Plus, I could control the HVAC, which is vented directly onto the kitchen table. This has received good reviews from the family. Lighting control is still a work in progress at my house right now, but having that control on the wall in touch-pad format is a clear winner with the IPORT solution. Adding more rooms of music is a breeze. Finding different musical themes is not hard to do, either. Overall, things are easier and better because of the IPORT LUXE suite of products. Yes, I can take the iPad off of the WallStation, but that isn't why we bought it. Perhaps I will take it with me to the balcony if I want to do some reading out there, but I haven't yet, as I've been able to set the levels and the mood just as I like it, and it has been fantastic.

High Points:

The ability to pull the iPad off of the wall and use it like a table for home automation is cool as hell.
Mounting the iPad using the IPORT LUXE product on the wall has solved a global family technology problem that I understood, but couldn't fix without the IPORT products. 
You rarely have to worry about charging your controller-tablet-iPad with the IPORT system, as it is almost always plugged into the wall. Moreover, it is unlikely that you will be using so many apps that you will be aggressively draining the battery. My installer was able to turn off all of the core applications, other than Crestron and Sonos, which massively simplifies the iPad, as I don't need, or in any way want, email, text, FaceTime, or other voodoo on this iPad. I have other computers and devices for that – when the time comes.

Low Points:

The installation isn't a DIY project except for the savviest handyman, and the cost of getting the unit installed needs to be factored into the value proposition, which is likely more expensive than the world-beating iPad Mini.
It would have been much slicker to have the iPad mounted into the wall, meaning a flush mount. It is cool to have it on the wall but, in a perfect world, I would have rather had the unit in the wall, as it would have looked much more polished in the final installation.

Comparison and Competition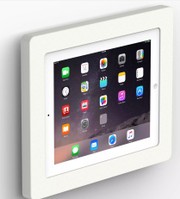 There aren't too many other competitors out there for the IPORT suite of products, but one comes from IPORT themselves, which is the IPORT BaseStation. This is a $435 USB-C docking station, similar to what I used at my old house, that can turn an iPad into a controller, without it being wall-mounted, a very cool twist. You can charge without wires or plugs, which is super-cool, and it comes in all of the core iPad colors: black, white, or silver.

Another solution for a wall-mount kit that is somewhat more permanent is the Vidabox tablet enclosure. It has a bit more security and mounts more closely to the wall, but it isn't as easily accessible if you want to liberate your iPad and start walking around.

The in-wall solution that I was lusting after is offered by a company called iWalldock, which mounts your iPad in the wall and surrounds it with fancy finishes, such as wood veneers or carbon fiber. Its micro-thin bezel makes the iPad recess into the wall very nicely. This product starts at about $199, but needs some additional accessories to get rocking. It is still a lot less expensive in its basic form than the IPORT solution.
There are always core tablets from your home automation company, be it Crestron, Savant, or Control4, which have a lot of key advantages, but they can be expensive and have no relevance to people outside of the said home automation bubble that one might choose. The IPORT solutions represent a good balancing act between price and performance.
Conclusion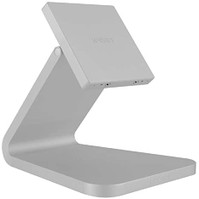 The IPORT LUXE iPad solution, using the WallStation and Case, has been a really nice tweak to an increasingly fine-tuned home automation system. We get the flexibility of having an iPad that we can pull off the wall when we want it, or we can mount it on an IPORT LUXE BaseStation, or we can leave it on the wall like a traditional home automation touchscreen. That flexibility, the limiting of devices at the dinner table and the increased control over the whole-home, smart house, makes this a winner of a product.
Confused about what AV Gear to buy or how to set it up? Join our Exclusive Audioholics E-Book Membership Program!