Optoma-NuForce Audio DAC80 D/A Converter Review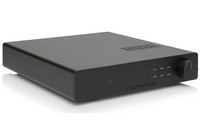 What happens when a seasoned video projector giant from China like Optoma purchases a California-based hi-fi company like NuForce? The projector company gets its own hi-fi line dubbed — Optoma-NuForce. You'd think Optoma would completely realign NuForce to fit a projector-centered, home theater vision. But Optoma-NuForce is not only lingering in the two-channel hi-fi niche, but is also putting out new products with the NuForce pedigree. The DAC80 D/A Converter is such a product that we've had the privilege to review today.
The newly minted Optoma-NuForce brand has wasted no time getting new lines of hifi audio products to market. The DAC80 is the result of the company's push into high-end. Read on to see how it sounds.