Line 6 AMPLIFi TT Guitar Effects Processor Review
Line 6 AMPLIFi TT Guitar Effects Processor Review
by
Steve DellaSala
—
March 22, 2015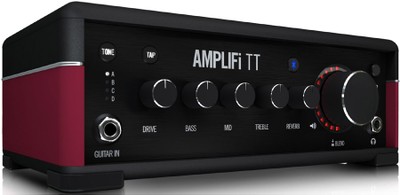 70+ guitar amps, 100+ effects and 20+ speaker cabinets
Up to 8 simultaneous effects
Bluetooth® streaming audio (works with Android™, iOS, Mac, PC)
Access 4 tones from the front panel, plus tap tempo and tuner
Wirelessly control every detail of your guitar rig
100 onboard presets
1/4" Guitar input
1/4", RCA and TOSLINK outputs
1/4" Headphone output
FBV and USB connections
USB recording
Pros
Amazing modeling of vintage guitar amps and effects pedals
Stellar soundstage
Easy to use
Perfect for practice and gigging
Cons
No Mic input
Potential volume spikes when switching models
No acoustic or bass guitar settings
Founded in 1996, Line 6 has steamrolled their way to being a top contender and trend setter in the pro-audio equipment world.  Each year, I marvel at the new product releases they introduce in which there are features that have yet to be dreamt of by their competitors.  The AMPLIFi TT is yet another shining example of Line 6 taking pro-audio to another level with a small, compact table top pre-amplifier and processor that is controlled via Bluetooth and can be easily integrated to your home theater system, powered speakers, headphones and/or your computer.  But if that's not enough to raise your interest, the AMPLIFi TT is loaded with virtual models of 70 classic guitar amplifiers, 20+ speaker cabinets and 100+ stellar effects allowing a musician to dial in nearly any feasible tone.  Perhaps the most incredible feature is that this amazing compact lightweight box can also connect with your Bluetooth phone or tablet, which then allows you to access countless features and to program the AMPLIFi TT all via Line 6's free app called "AMPLIFi Remote."  AMPLIFi Remote can also play your music library and the dual volume capability allows you to match the song's volume to your guitar volume, making for a seamless practice to your favorite music.  But it doesn't stop there.  Along with the ability to play through your music library, the app allows you to access Line 6's on-line user database where literally thousands of tones have been created that simulate those of your favorite guitarists.  As for the icing on the cake, the AMPLIFi TT also works with Line 6's FBV Shortboard MKII pedal, making it the perfect foot control interface for taking all of your favorite tones out for gigging.  Though the performance and features of the AMPLIFi TT are near perfection, there are some features that can be found in other Line 6 products that would greatly improve this compact powerhouse.  For more details, check out our full review.
Small Package, Amazing Features
Ergonomics
The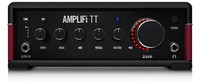 Amplify TT dimensions are 8.8" x 17.6" x 5" and weighs in at a mere 5.2 lbs.  There are no visible screws or hardware; instead, the box is accented with deep red side panels and a metallic boarder along with black front, back, sides and top.  From a size and weight perspective, the AMPLIFi TT stands in stark contrast to the top-of-the-line DT50 212 with a weight of 63 lbs.  I mention the comparison because in many ways, the Amplify TT is nearly as feature packed as the DT50, easier to use, and only has a few key features missing, aside from the built in speakers and power amp.  The AMPLIFi TT pre-amp is sleek, attractive and ergonomically designed.  The front panel has a standard backlit Bluetooth logo along with red and white LEDs that identify the volume settings.  The volume knob can be pushed in to change from guitar volume to music play back volume.  LEDs switch between red and white to help you distinguish between the two volume settings.  Having the two separate volumes allows you to easily blend the music and guitar to your preferred settings.
There are separate knobs for Drive, Bass, Midrange, Treble and Reverb along with push buttons to access a four bank tone library that you create.  There's also a "Tap" button for setting delay rates.  Holding down the "Tap" button engages a built in tuner.  The LEDs behind the volume knob are lit red and to the left when flat, and to the right when sharp.  The closer in tune the more upward to the top they light and when in tune, three of them at the very top turn white.  Inputs include a ¼" jack for plugging in the guitar and another for headphones.
The ba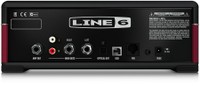 ck panel has a ¼" jack "Amp Output" allowing you to plug the pre-amp directly into your favorite guitar amp.  There are also left/right RCA outputs for connecting in analog to your home theater/stereo system, ¼" jack outputs for connecting to power monitors or a PA system, an Optical TOSLINK output for digitally connecting to your home theater/stereo system, a USB connection for plugging directly into your laptop or a Direct Box, and an FBV RJ-45 connection, which can be used to connect the box to a Line 6 Shortboard MKII Pedal.  Warning:  Never plug the RJ-45 input into an internet modem.  As Line 6's Public Relations guru points out.  "It will be like kicking the unit in the balls."
Confused about what AV Gear to buy or how to set it up? Join our Exclusive Audioholics E-Book Membership Program!
Recent Forum Posts:
Hobbit posts on March 24, 2015 00:16
Band practice just finished Thanks for the review! Nowadays I play through a Fender Mustang III. I find these modeling amps in the Fender and Line 6 lines amazing. So much so I can't remember the last time I played through one of my tube amps….
gene posts on March 22, 2015 22:57
The Line 6 AMPLIFi TT guitar effect processor is a groundbreaking product that allows any musician to connect to their home theater system for practicing, and to take a compact, lightweight and easy to connect system to their gigs. The ability to use a simple software app via Bluetooth to control, program and customize the AMPLIFi TT to sound like your favorite guitarist, or to create your own signature tone, is revolutionary in the pro-audio arena. Line 6 has crossed the threshold from Pro-Audio to Home Theater with an amazing dual purpose product.




Read Line 6 AMPLIFi TT Guitar Effects Processor Review
Post Reply