Coobeetsa CCG-10DX Guitar Review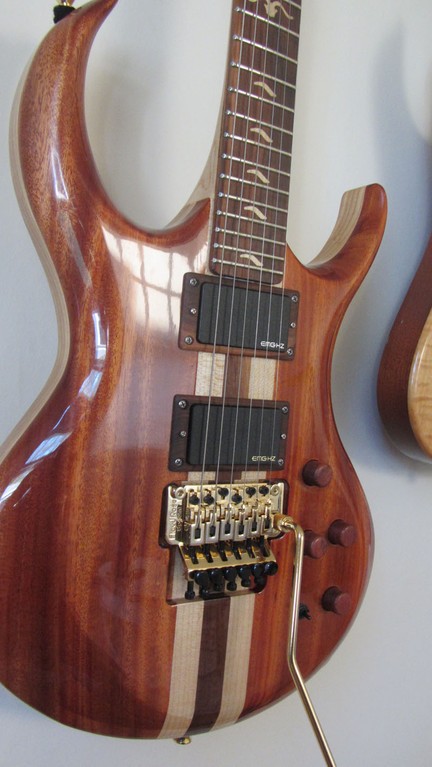 Coobeetsa CCG-10DX Guitar
Summary
CCG-10DX Specifications

Scale Length: 25"
Body Finish: Super Gloss
Headstock Shape: Coobeetsa design CCG Series
Neck Construction: Three piece Maple and Walnut
Fingerboard: Rosewood
Frets/Size: 24 / medium
Top: Mahogany
Body: Ash
Inlays: Maple
Bezels and Knobs: Rosewood
Nut: Locking
Hardware Color: Gold
Bridge :

Floyd Rose Special

Tuners: Hip Shot
Control Pattern: 2Tone , 2 Volume , 1 3 way mini switch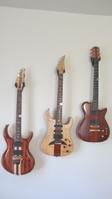 My wife won't argue when I tell you that I spend way too much time looking at guitars on eBay.  I'm not really sure why I think I can find a good deal, knowing full well that anything with a name brand will sell for high dollars.  But about one month ago, I found what proved to be the deal of a lifetime.  And she goes by the name, Coobeetsa CCG-10DX.  As you can see by my wall, I have a liking towards handmade, thru-body neck, custom guitars finished in natural wood.  On said wall is my Carvin SC-90, solid mahogany.  About one year ago, I customized it further for dual outputs using a piezo-electric tuno-matic bridge.  I also upgraded the electric side to EMGx Series active pickups.  This guitar now has an acoustic output and an electric output, both sounding sweet.  My absolute favorite on the wall was made in College Park, Florida by Bill Fels and Doug Montgomery over at The Guitar Factory.  It came stock with dual outputs featuring Bartolini active pickups for the electric, and a piezzo electric under the fixed wood bridge for the acoustic.  The body has a hallow chamber to improve resonation allowing it to sound exactly like a full body acoustic.  Jimmy Buffett once played their guitars before selling out to corporate sponsors like Martin and PRS.  Having two gems with fixed bridges, the primary reason for looking for another guitar to add to this formidable collection was that I wanted to develop my skills with a tremolo bridge.  My desire was to find a worthy guitar that sported either a Floyd Rose or Bigsby Vibrato Bridge.  So, why would I ever imagine I could find an equal on eBay, and at an affordable price? 
The Competition: Not Even in the Same Class?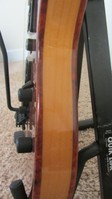 Months earlier, I purchased what appeared to be a "good deal" guitar from Raven West on eBay.  The China or Korea made guitar looked nice, had a thru-body neck, and a figured maple top.  It also sported EMGs and a Floyd Rose Licensed bridge in black.  I purchased it as a blemish from Raven West for around $345 but it had a retail of around $500+, so I felt I couldn't go wrong.  The guitar arrived, and after unboxing it, I found it to be extremely heavy and clunky.  The action was also set much higher than I desire.  If you zoom in on the side profile and look closely where the figured maple adjoins the body, you can see a slight gray glue line all along the seam indicating that it was a very thin veneer cover.  So, for a second opinion, I took the guitar to my Luthier friend up the road to have a look.  He had all the equipment available and taught me how to do a fret job, and then put me to work.  I took the frets down to spec level, reset the action and intonation, and restrung the guitar.  I do admit, it actually played very well after the modifications.  For the price, and if you're willing to put a little muscle into it, it can be a good guitar.  But, to me, it just lacked refinement and remained too heavy for my shoulder.  So, back up on eBay it went until it was gone.
Decision Time

My endless journey to find the right guitar continued even though I believed it would be in vain.  Day after day, I searched various monikers on eBay from "guitar" to "custom guitar" to "handmade guitar" just to see what would come up.  There were some real beauties up there selling for thousands, and there were also a lot of real junk.  But it was this guitar, made by Coobeetsa in Montgomery, Illinois, that really engaged my curiosity.  From the posted eBay photos, it appeared to be a well-constructed guitar, with attention to detail.  The wood tone was stunning, the body shape was artistically unique, it had a thru-body multi-piece neck, EMGs and a Floyd Rose Special, which is a much better model than the Floyd Rose Licensed found on the Raven West.  To my utter amazement, it had a buy now price of only $625, only a mere $125 more money than the retail priced Raven West.  For a custom USA made guitar, how the hell could that be, I thought to myself; especially that the Floyd Rose Special in gold tone would sell for $100 on its own.  I immediately went to Coobeetsa's website to look up who they were.  I then contacted them via phone and spoke with owner and musician Michael Kubica to ask him what was up.  Mike was extremely nice to speak with and very helpful.  He explained to me that he was introducing his guitars to the market, and wanted people to buy them to help get the word out.  He added that Coobeesta's current production rate was only about 30 guitars per year half of which are custom special order and the other half sold to the fortunate few on eBay.  He also said that if I purchased the guitar and didn't like it for any reason he'd extend me a full refund.  With nothing to lose, I hit the "buy now" and anxiously awaited its arrival.
Impressions of the Coobeetsa CCG-10DX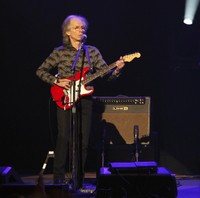 My dogs are so conditioned to identify the sound of the UPS truck approaching from blocks away, knowing that it will ultimately stop at our house that they immediately run to their crates anticipating when I lock them in so as not to frighten the poor driver when they arrive at my front door.  That's when my excitement went to an all new high.  I eagerly unboxed the well wrapped guitar to finally behold it.  WOW!  That was all I could say to myself.  In that moment, I felt like Ralphie when he unwrapped the hidden gift and first gazed upon his Red Ryder Rifle on Christmas morning.  Like he, my eyes and hands explored every aspect of the guitar, every joint, every inch of wood, every screw, cap, cover, knob, and all that remained in between.  I was stunned at how amazing this guitar looked and felt, and how low the action was.  I just could not wait to plug it in.  Hoping that I wouldn't shoot my eye out, I plugged it into my amazing Line 6 DT50 212 amplifier with POD HD500, the very same rig used by Steve Howe of Yes and Asia.  Then came the jaw dropping moment when I held my first note, recognizing that this baby could scream and sustain as well or better than many other high-end and significantly higher priced guitars I've played.  I made it sing wildly for about two hours until my finger tips were just too sore to continue.  The entire time floored at the tone, intonation, playability and overall comfort of the guitar.


Coobeetsa CCG-10DX
The Good
Now, let's talk some specifics on why I am this excited about the Coobeetsa guitar.  For starters, the top was not a veneer, like the Raven West.  Instead, a solid piece of quality Mahogany was used with stunning appeal.  The entire top was also carved around the edges with a wide radius blended perfectly to the body which really added to the character and looks of the unique body design.  The back also had a carved radius, though a bit smaller.  But what really blew me away was the fact that the pickup bezels, the knobs, the nut cover and the back covers were all custom made and crafted from rosewood.  And, they were simply beautiful.  The tone nobs were also recessed into counterbores so no metal shafts of the potentiometers were showing, another very well conceived bonus.  In addition, the logo, model number and "Made in USA" were hand engraved into the wood and backfilled with ink and not just a cheap sticker.  Yet even more stellar detail that you just don't normally see in mainstream or other high-end guitars.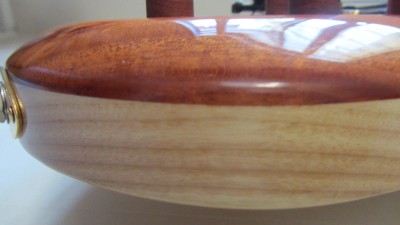 The Not-So-Bad
As much as I love this artful masterpiece, there were a few distractions about it worth noting, none of which was a showstopper for me.  The 3 way micro-switch seemed a bit flimsy and it also had the ability to move side-to-side which would likely be used to split the pickups even though this model didn't have that feature.  If this guitar had humbuckers, I would have preferred separate switches instead of the hard to use dual function provided.  It was also mounted upside down from the norm in that the down position engaged the neck pickup and the up was for the bridge.  In addition, I'm not a big fan of the larger fretboard inlay design.  I like that the inlays are crafted from wood, though pearl or abalone would have added a nice contrast. However, the indefinable shape of the main feature didn't do much to compliment the overall appearance.  I also thought adding the meaningless and dull sounding model number on the front side of the headstock in large bold letters was a bit tacky.  Much smaller would have been nice or better yet, perhaps on the back above the "Made in USA."  To me, the model number was too long and not a real thriller of a name.  I'm also not a big fan of open back tuners as they are dust collectors, but despite that, the Hip Shot tuners were very accurate and smooth.  Perhaps just a bit of nick picking, but if the guitar does start selling for much more money, which it should, I would hope that the Luthiers would consider these mentions.
Conclusion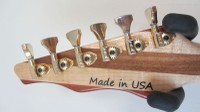 The craftsmanship of the Coobeetsa guitar is in line with some of the master Luthier made guitars I've seen and played selling for much higher dollars, including my Guitar Factory model.  Only slightly more money than the unrefined block of wood Raven West, it stands above and beyond any guitar in its price range and many much higher.  The CCG-10DX is a work of art that is highly appealing to look at and extremely playable, and the price is something that I believe cannot be sustained for the amount of work that went into building it.  For example, my Guitar Factory has a purchase new price of $3,500 now, if you can still convince Bill and Doug to build one these days as their focus is now on Acoustic Guitars.  My Carvin with original options chosen sells stock for around $1,200 plus my modifications of about $500.  In many ways, the Coobeetsa rivals the Carvin and is a skillful near match to my mighty Guitar Factory.  My guess is that this guitar should be priced well north of $1,000.  Coobeetsa has other models of guitars available including a semi-hallow body.  If you're not a fan of natural wood finishes, they also offer some stunning stained colors each with distinct artwork and designs and still with the underlying accents of the high quality wood grain they are made from for the added depth of beauty.  Keep in mind that they also do custom orders should you really want an all out one of a kind design. 
I'm personally not a fan of having the same guitar as everyone else.  Thus why I don't own a Gibson or Fender.  I also like having a unique sound and tone, thus why I like high-end pickups over something stock.  To find all of this in the Coobeetsa CCG-10DX for under $1,000 is a shot score for any guitarist who wishes to not just break from the norm, but move well beyond.  I proudly display it on my wall as art and joyfully play it as an amazing instrument with great tone, sustain and playability.  I'm also becoming quite skilled at using the Floyd Rose Special to enhance my style and leads.  All I can conclude with regarding this guitar and its price is, WOW!
Coobeetsa Co.
Montgomery IL 60538
Tel: 331-201-8399
[email protected]

Unless otherwise indicated, this is a preview article for the featured product. A formal review may or may not follow in the future.