Cambridge Audio DacMagic XS USB DAC Review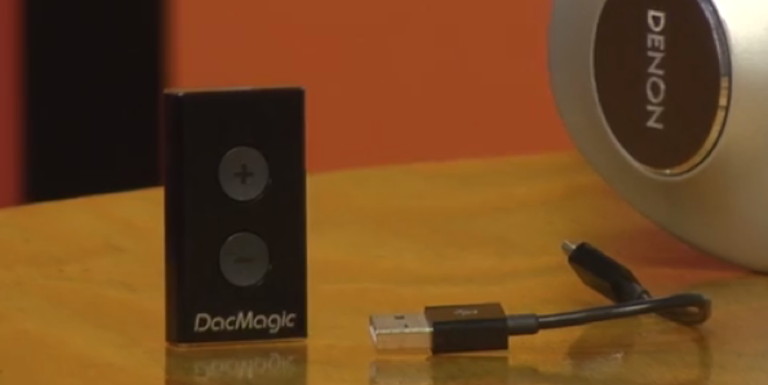 Cambridge Audio DacMagic XS USB DAC
Summary
Connections: Micro USB input, 3.5mm analogue output
Digital to Analogue Converter: ESS9023 24-bit DAC
Sample Rates Supported: USB 1.0 mode: 16/24-bit, 44.1kHz, 48kHz, 88.2kHz, 96kHz; USB 2.0 mode: 16/24-bit, 44.1kHz, 48kHz, 88.2kHz, 96kHz, 176.4kHz, 192kHz
Output Voltage: 2V RMS
Max. Power Consumption: 150mW
Min. Headphone Impendance: 12 Ohms
Frequency Response: +/-0.2dB 20Hz – 20kHz
THD (unweighted): <0.004%
SNR: 103 dBr (unweighted)
Crosstalk: 66dB
Output Impedance: 0.5 Ohms
Volume Steps: 53 steps (54 different volume levels)
Dimensions (W x H x D): 30 x 10 x 53.5mm (1.2 x 0.4 x 2.1'')
Weight: 100g (3.5oz)
Executive Overview
Everything that takes a digital signal and outputs it to something you can hear has a DAC. DAC, or Digital to Analogue Converter is what takes the ones and zeros of your digital music and turns it into something your speakers or headphones can reproduce. But don't think that all DACs are created equal. For those truly worried about audio fidelity, or those just unhappy with the sound reproduction of their sources, an external DAC is often a solution.
External DACs come in all shapes and sizes but few are smaller than the Cambridge Audio DacMagic XS. Cambridge Audio has a number of DacMagic offerings, currently three on their website, and this is by far the smallest and the least expensive. At $189, it undercuts the price of most external DACs on the market buy anything from a few dollars to many thousands.
Of course, in a tiny box, functionality is going to be limited - but not as much as you'd think. The Cambridge Audio DacMagic XS is focused on being portable and universal. It connects to your computer by a USB connection, has a 3.5mm output for you headphones or speakers, and volume control. There is a small light near the 3.5mm port that lights up when in use. It will also blink multiple times when you bottom out the volume and will blink red when you get to the maximum volume.
You don't want to go to the maximum volume.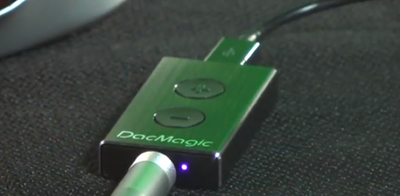 While there isn't really a way of knowing what volume you are at other than counting the number of times you press the volume button (there are 54 different volume levels), we couldn't get anywhere near the maximum volume with any of the headphones we used with the Cambridge Audio. The DacMagic XS takes over the volume control from your Mac or PC and promises up to 10x's the output of most laptop soundcards. The DacMagic XS is compatible with both USB 1.0 and 2.0 and comes out of the box configured for USB 1.0. This limits your sample rate to 96kHz and, on our Mac, locked us in at 24-bit depth. Holding both of the buttons down for five second will switch the device into USB 2.0 mode and allow 192kHz sampling but, again, locked us in at 32-bit depth.
One thing we liked about the DacMagix XS is that it told you what sampling rate you were using with the color of the LED. Blue is around CD quality (44.1kHz), green is around 96kHz and purple is the highest at around 192kHz. We tested all the available sampling rates on our laptop and the Cambridge Audio DacMagic XS didn't have a single problem.
So, why would someone want an external DAC? For those on the go with expensive headphones - think in the greater than $200 range - they often find the outputs of their portable devices to be noisy and of inferior quality. Their headphones might be harder to drive requiring them to nearly max out the volume on their devices simply to get acceptable volume. This eats up battery life, heats up your computer, and generally provides poor sound quality.
The Cambridge Audio DacMagic XS had no problems driving any of our headphones. It was dead quiet no matter the volume level and was a definite improvement over the headphone output of our laptop. The DacMagic presented very good stereo separation and dynamics were very well represented. Overall, the music sounded tighter and much more "present" which we attribute to the considerably lower noise floor. We compared it to the new Emotiva Stealth DC-1 USB DAC and headphone amplifier. The Emotiva is much more expensive (nearly 2.5x's the price) and the Cambridge Audio held its own very well.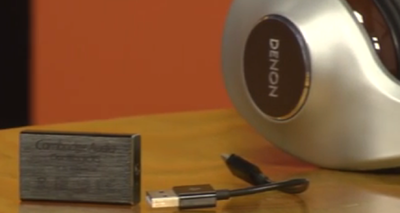 The DacMagic XS is small but Cambridge Audio didn't skimp on the enclosure. Encased in brushed aluminum, the DacMagic XS might be small but it is definitely a quality, and very good-looking device. At only 3.5 ounces, it is easy to take with you and Cambridge Audio has even included a small, velvet pouch to protect it. There is a short USB cable included that is perfect for keeping the DacMagic XS close by while in use.
While we've focused on the uses with headphones, there is no reason why you couldn't use the Cambridge Audio DacMagic XS with your desktop or home theater system. If you have a 3.5mm input or a 3.5mm to stereo RCA cable, the DacMagic can sit between your computer and your larger system. If you have high sample rate content and a budget receiver, this might be a nice way to upgrade your system without having to spend a lot of money.
The Cambridge Audio DacMagic XS retails for $189 and is probably the perfect stocking stuffer for your audioholic friends. As small as it is, you'll want to leave it in the box, or they might miss it!
Don't forget to check us out on Facebook for more great reviews and Subscribe to our YouTube channel for more of our product video reviews.

Unless otherwise indicated, this is a preview article for the featured product. A formal review may or may not follow in the future.