Audio Interconnect and Speaker Cable Myths and Facts Revealed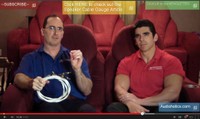 The audio industry has its share of marketing nonsense, especially when dealing with the topic of speaker cables and audio interconnects. It's important to keep in mind that AV cables are very profitable accessory items and there is often very little to no sonic differences between cables. Thus the birth of pseudoscience is often a necessary evil to make manufacturers products appear "unique" or "better". In this interview article and accompanying video, Hugo and Gene discuss some of the common myths surrounding audio interconnects and speaker cables and to also give general advice when shopping for cables. Now updated with Part II of the Youtube Video interview.
Audio interconnects and speaker cables myths and facts are revealed in this informative interview. What makes a good AV cable, and the real science behind them is discussed here.