iHome iP4 iPod/iPhone Portable Stereo Review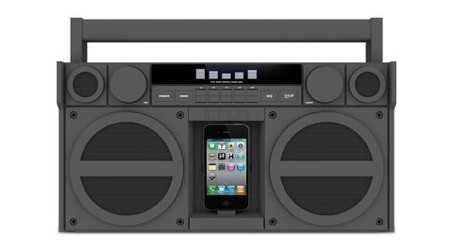 iHome iP4 iPod/iPhone Portable Stereo
Summary
Special Features
Retro boombox look updated with modern technology
SRS TruBass digital signal processing and a powerful amplifier combine to recast a classic for the iPod era
5 band graphic equalizer with LCD display
5 adjustable EQ sliders let you fine tune your tone
Docking
Flexible Dock
Easily fits any iPhone or docking iPod model without inserts
Sound
Class "D" amplifier coupled to 4" carbon composite woofers and 1" dome tweeters
Radio
Power
Operates on 6 D batteries (not included) or included universal voltage adapter
Enjoy your music on the go, or while keeping your iPhone or iPod fully charged with the 100V-240V universal voltage AC adaptor
Universal 100-240V AC adapter

Switching power supply works just about anywhere in the world to power your unit
Additional
Aux-in jack
Listen to aux audio sources (e.g., computer, CD player)
Backlit buttons
Remotes
The iHome brand, known for its  iPod-compatible clock radios and other iPod playback systems, is continuing its tradition of offering straightforward functionality and great sound for a reasonable price with the iHome iP4. But this time, they're wrapping it up in an aggressive package - the classic ghetto blaster!
For teens without cars, in the years before digital music revolutionized portability, our idea of mobile audio was mounting a ghetto blaster to the handlebars of our BMX. iHome's iP4 is a throwback to that simpler time, where portable music was still a shared experience, without the isolation of ear-buds... or mullets.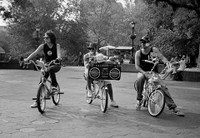 Old geezers still stuck in the 80s and modern-day, Pabst-Blue-Ribbon-drinking hipsters alike will instantly appreciate the look-and-feel of the iP4. Few things get attention at an outdoor barbeque or get-together at a beach like kicking some "dope beats" out of an old-school jam box. Just plunking the iHome iP4 down on a picnic table will illicit curious looks and approving smiles, as the device seems to emanate cool like an FM radio tower… well, maybe the way FM radio towers did back in the day.
But there's more to the iP4 than show. At its foundation is a tactical technology selection. iHome is all about the millions of worldwide iPod and iPhone users - Google Android and other Bluetooth streaming music phones need not apply. This may seem limiting, but by cutting its losses in compatibility, iHome is able to keep cost to reasonable levels for outrageously cool, yet simple equipment. The iHome iP4 retails for an easy-on-the-wallet $200.
The primary source (besides FM radio and an aux jack) for the iP4 is the iPod port built into its heart. Simply plug in an iPod or iPhone and slide the locking mechanism in place. With no inserts or extra pieces required, the locking mechanism fits snugly around your Apple playback device. Cocked, locked and ready to rock, there's no need to worry about shaking your iPod loose as you strut your bad self down the boulevard lifting an acoustic middle-finger to 'the man' as you disturb the peace, old-school.
First Impressions
The iP4 is impressive to behold. As you gaze upon its 17.8" width and 9" height, a pair of two-way speakers looks back at you, each consisting of a 1-inch ferro fluid-cooled dome tweeter and a 4-inch woofer. The iP4 comes in two monotone shades, deep gunmetal grey or a comical hot pink for those who really want to get attention (as if a giant iPod ghetto blaster isn't enough!) Its efficient Class-D amp and modern digital technology give it a narrow profile, clocking in at a "mere" 5 inches deep, and keep it thin and light enough overall to easily sling over your shoulder for that 80s-style retro pose. And you'll pose... you know you will.
The iHome iP4 comes with a solid handle along the top, don't be bashful, this handle isn't just for show. The grip is made from the same rubberized material as the rest of the unit, which makes the iP4 look and feel tough. It should be able to handle incidental bumps that might afflict a traditional portable radio. The handle also slides back easily when not in use, and there's also an included shoulder strap. There's even a remote control that magnetically snaps into place just below the handle when not in use.
Simplicity is the essence of the iP4. You won't get lost in the device's controls. An LCD panel that displays a 5-band graphic EQ centers two dials – volume control and an FM radio dial. Below the LCD display are backlit buttons for power, mode, play/pause and SRS TruBass signal processor to add some much-needed DSP magic to the sound. There are five separate buttons that let you adjust the 5-band graphic EQ.
On the back is an input that performs double-duty. At once it's an FM antenna and an auxiliary input, so you can plug in your own source (including any other MP3 player, sans portability). When plugged in with its included power adapter, the radio will recharge your iPod or iPhone as you listen to your tunes.
The device runs on 6 D-cell batteries, but I can assure you from experience that this battery payload will last a long time. I spent a long weekend playing this device back, at considerable volumes every day for extended periods, and the batteries are still going. In the old days, we were replacing batteries on these things so much it's a wonder local landfills aren't dripping with sulfuric acid. I suggest a set of rechargeables to help your budget and the environment.
Ancient Zen parables speak of what's not there being what gives a thing its inherent value. It's a thought that gives us sports-talk radio clichés like "addition through subtraction". You'll not find a more explicit example of the value of simplicity than in many iHome devices. The iP4 could have been ruined by packing on additional features: satellite radio, Bluetooth streaming, a scrollable 'touch' menu system, all packed into an ill-conceived user-interface. iP4 would have become an overpriced nightmare that only its mother could love.
Thankfully, instead we get a simple, intuitive interface that does one thing really well: it plays back ghetto-lovin' music through an iPod port.
Sound Quality
After unpacking, I first tested out the sound quality indoors. I plugged in an iPod classic that's loaded with songs encoded in Apple Lossless or 320-bit MP3s. While the iP4 is not going to compete with your main sound system – remember, this is a $200 portable Boombox - after a few adjustments, the device has surprising range and clarity, even when pushed to higher volumes.
The 5-band EQ and the SRS TruBass digital sound processor were a good call when designing the unit for sound. As much as it pains you to think about your main hi-fi system using digital signal processing, this kind of portable device application is exactly what DSP is designed for. Without it, the sound quality is underwhelming. The sonic image is sorely limited before activating the SRS button, but once pushed, the radio seems to spring to life as if the music existed outside of its 18x9-inch confines. A standard bass/treble-enhancing curve on the 5-band EQ is all you need to get the most of out of those two-way speakers.
Push the volume dial up too high and yes you will get some distortion. But even with the volume comfortably high for outdoor use the sound held together. The
iP4 provided some bass and even some coherent stereo imaging if you sat in front of it, thanks to the SRS DSP.
Conclusion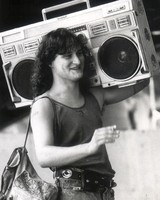 Most Speaker Docks are meant to be stationary, used as background music for the kitchen or as a clock radio. The iP4 brings added feature of portability and probably did the right thing by omitting features that might be nice to have, but still gives us exactly what we need in a fully portable iPod dock that sounds great for its size and price range.
While its portability is perfectly suited for any room in the house, outdoors is where the iP4 shines. Just like the jam boxes from the days of yore, it provides the background soundtrack to our leisure time whether at the beach, backyard barbeque or a summer picnic.
These days, portable music is synonymous with headphones, and enveloping yourself in thin, virtual walls. But the iP4 and its undeniably cool ghetto blaster form-factor is about inviting others to the party – turning portable music back into a social experience.

Unless otherwise indicated, this is a preview article for the featured product. A formal review may or may not follow in the future.