Roku Streaming Stick (HDMI Version) Review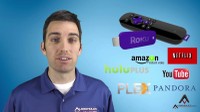 Roku's original Streaming Stick was a great streaming device...if you happened to have an MHL port to plug it into. Now Roku has a new version out that can plug into any HDMI port, at the expense of requiring external power via either USB or a conventional wall plug. If you're interested in an A/V streaming solution that's easily hidden and readily transported, do yourself a favor and read (as well as watch watch) the full review.
Review: Roku's Streaming Stick now comes in a regular HDMI version with options for USB power or a conventional wall plug. Click to read (and watch) our impressions.