5 Best Microphones Under $100 for Recording Vocals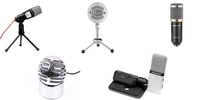 Are You strapped for cash and in desperate need of a cheap but good microphone to do podcasting in hopes of becoming the next late night talk show host or YouTube internet sensation? The following article goes through the top five budget friendly microphones for recording vocals that you can purchase easily and still have plenty of money left over to focus on building your recording studio or taking vocal coaching lessons.
Looking for a budget friendly microphone for podcasting? We've compiled a list of the top 5 best microphones for under $100 that offer excellent performance for all your recording needs.