SVS SoundPath Wireless Audio Adapter Allows Audiophiles to Cut the Cord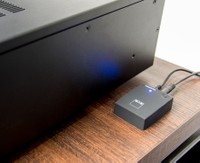 We've seen our share of wireless adaptors through the years, but like upfiring Atmos speakers, some of them get the job done but we usually only recommend them when you can't use the real thing. Knowing the engineers at SVS though they've probably upped the ante on these wireless adapters to do wireless sound without compromise. Get the details to see if it's time to cut the cord once and for all.
The SVS Soundpath Wireless Audio Adapter offers an uncompromised wireless connection to run a pair of powered surround or mult-zone speakers or a powered subwoofer. Are you ready to cut the cord?