Cambridge Audio's CXN V2 and EDGE NQ Are Now Roon Ready
Cambridge Audio's CXN V2 and EDGE NQ Are Now Roon Ready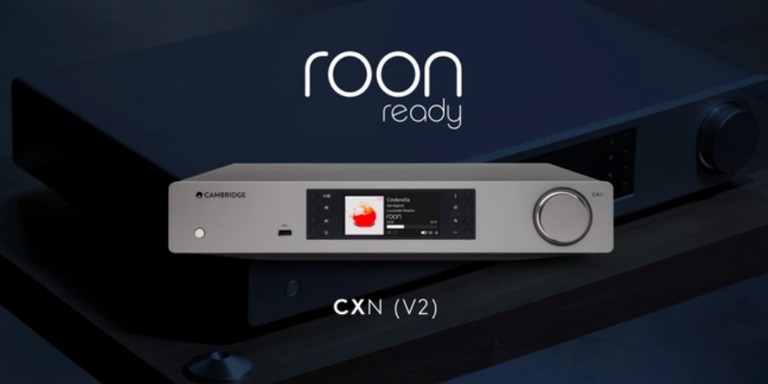 Cambridge Audio Roon Ready Streamers
Cambridge Audio got off to an auspicious start in the world of streaming audio with the launch of the brand's first network music player, the NP30, in 2011. At that time, many traditional audio manufacturers were still hesitant to take the plunge into streaming, in part because designing and implementing the software necessary to control a streaming device was simply outside of their expertise. Cambridge Audio teamed up with an internet radio technology company called Reciva to develop a proprietary streaming platform called StreamMagic, various versions of which have powered all of Cambridge's subsequent streaming products. StreamMagic has evolved over the years, but in 2020, there is no music management/streaming software that can match Roon, which has become an audiophile favorite since its launch nearly five years ago. Roon's advantages are many, but some of the major ones include: a beautiful and intuitive graphic user interface (best enjoyed via iPad) with album artwork, lyrics, and other enriching content; the seamless integration of locally-stored digital files with streamable music from Tidal and Qobuz; an ever-growing ecosystem of compatible devices from many of the world's most respected audio brands; and a meticulously-maintained set of metadata that can truly change the way you listen to music. For example, let's say you're listening to Steely Dan's live 1995 album, Alive in America, and you really dig the drumming. Roon will not only inform you that the drummer in question is the incomparable Dennis Chambers, but will also bring up every other piece of music available on Tidal or Qobuz that features Chambers on the drums. You can then use Roon to play any of these newly-discovered selections on any Roon Ready device in your house, either individually, or all at once if you're having a party. Because Roon works with so many audio brands, you can use the same interface to control a wireless speaker, such as the new Bowers & Wilkins Formation offerings, an Oppo UDP-205 blu-ray player, a high-end Trinnov home theater processor, or an integrated amplifier, from the affordable NAD C 368 to the high-end Krell K-300i — just to name a few. Proprietary software solutions like Cambridge's StreamMagic simply can't offer this kind of feature-set. And that's why it's a big deal when popular brands like Cambridge Audio add Roon Ready certification to their gear. The brand's CXN V2 network audio streamer ($1,099) and flagship EDGE NQ preamp ($5,000) will have Roon's high-resolution streaming and music management technology built right in after a software update, which is available now.
With over 50 years of experience creating audio equipment, Cambridge Audio has always understood that its customers enjoy listening to their music collections in a variety of different ways. The addition of Roon Ready integration expands upon the wealth of options already afforded by its range of respected network audio streamers.
— Cambridge Audio

Both the CXN V2 and EDGE NQ will receive Roon Ready status from the software update, meaning they will enjoy the highest level of Roon support and features. Roon will discover them on the network and connect without any additional configuration, delivering the highest possible audio quality, with volume controllable by the Roon interface. Roon Ready devices have native support for Roon's unique RAAT (Roon Advanced Audio Transport) audio streaming technology, which is "designed to support a wide range of software and hardware applications without format support restrictions or quality compromises. It provides rich user experiences by integrating with displays, buttons, volume controls, and source switching capabilities." Roon describes RAAT as being like Apple's AirPlay, but for audiophiles — with support for high-resolution file formats including DSD and MQA. The Roon team has been "personally involved in testing and certifying the implementations to ensure the best user experience possible" for both the CXN V2 and EDGE NQ.

The CXN V2 is part of Cambridge Audio's midrange CX series, which also includes two integrated amplifiers and a CD transport. In addition to its new Roon Ready support, the CXN features Chromecast built-in, making it easy for users to access content from Sirius XM, Soundcloud, and hundreds of other music sources. Spotify Connect and Apple AirPlay 2 round out a nearly exhaustive list of wireless sources. The only omission is bluetooth, which easily can be added via an optional adapter. Wired digital inputs include asynchronous USB, optical, coaxial, and ethernet. There are no analog inputs; the CXN is an all-digital device — essentially a DAC with a streamer and a volume control built in. All sources are passed through Cambridge's proprietary ATF2 technology, and upsampled to a hi-res 24bit/384kHz format using "polynomial curve fitting interpolation." The digital-to-analog conversion is handled by a pair of Wolfson WM8740 DAC chips.

The EDGE NQ Takes Things Up a Notch
The EDGE NQ, from Cambridge's flagship EDGE range, is an entirely different beast. Unlike the CXN, it is a fully-featured analog preamplifier, which happens to have a DAC and streamer integrated into the design. As such, its thorough suite of digital inputs (ethernet, USB, optical, coaxial, and HDMI with ARC) is joined by both balanced (XLR) and unbalanced (RCA) analog inputs. Like the CXN, the EDGE NQ features Spotify Connect and AirPlay in addition to its newfound Roon Ready status. But on the EDGE, Bluetooth with aptX HD is built in, with no additional adapter required. Some interesting features of the EDGE NQ include a DC-coupled topology used in place of conventional capacitors, and a solid state volume control. There is also a fixed-volume line-out mode, should you want to use the device's streaming and DAC functionality with your own analog preamp or integrated amp.

If you don't go the Roon route, the CXN V2 and the EDGE NQ both support Qobuz and Tidal independently of Roon, so you can still enjoy high-quality music streaming using Cambridge Audio's built-in StreamMagic platform. Why would anyone eschew Roon when it's almost unanimously considered the best way to enjoy file-based digital audio? There are a couple of major downsides to Roon. The first is a practical concern: the program requires some kind of device — either a dedicated server or a computer running Roon software — to be running on your network, in the background, at all times. Some users won't want to deal with that added layer of hardware complexity. The second concern is cost. Roon is a subscription service. On top of whatever you pay for Tidal or Qobuz, using Roon will cost you $119 per year (about $10 per month). If you know you're going to stick with Roon for the long haul, you can pay a one-time fee of $699 for a lifetime subscription. That fee shot up from $499 in November of 2019. Many music lovers will consider the Roon experience to be worth the price, but it can be a hard sell for audiophiles on a budget. Cambridge Audio is banking on the fact that a majority of music lovers will pay for Roon in order to enrich the experience of using their music streamer of choice.